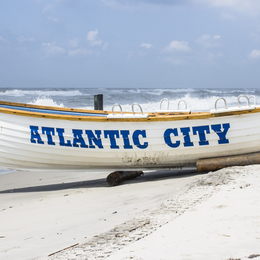 The Economic Impact of Stockton University on Atlantic City
Among the most important developments that will play a role in shaping Atlantic City's economic fortunes over the coming decades is the opening last fall of Stockton University Atlantic City in the city's historic Chelsea neighborhood.

Stockton's arrival (or, more accurately, return) to Atlantic City has understandably generated significant hope. After years of significant economic dislocation and distress tied to the aftermath of the national housing crisis and Great Recession and a deep localized casino industry retrenchment, the university's new campus should make important contributions to the local economy in the years ahead. How significant will Stockton's impact on the seaside resort's longer-term economic fortunes be?

I consider this question in the most recent edition of The South Jersey Economic Review, a bi-annual publication produced by Stockton University's William J. Hughes Center for Public Policy that focuses on the South Jersey regional economy. Specifically, I analyze the economic effects to date of three relatively recent university/college openings: University of California, Merced in 2005; Nevada State College in Henderson, Nevada, in 2002; and Georgia Gwinnett College (GGC) in Lawrenceville, Georgia, in 2006.

While drawing out general implications that might apply to Stockton University Atlantic City's future impact on Atlantic City is hardly straight-forward—a fact that reflects the unique circumstances of each of these institutions' openings and short histories, along with important differences in their respective local host economies—there are nevertheless several noteworthy findings.

First, the "anchor" status these institutions play in their local communities yields a host of positive economic benefits. Among others these include: these institutions' procurement expenditures (which increase the demand for goods and services supplied by local businesses); general "foot-traffic" expenditures that support local businesses near a campus; real estate effects (e.g., those tied to student housing needs); broader community engagement-related benefits (e.g., student volunteerism and internships); increases in educational attainment; and broader diversification and commercial development impacts. Together, these myriad benefits allow these institutions to play a key role in stabilizing their host neighborhoods. As the report notes, Stockton University Atlantic City's ability to do this should be enhanced because it (unlike the other three institutions studied) is located within Atlantic City's central business district.

At the same time, the report finds that the three comparative institutions have not radically transformed or diversified their local host economies. In other words, to date, they have had relatively modest effects on the industrial compositions of their local economies. While each of the three communities studied has experienced important increases in professional and business services employment, most other changes have been relatively small. Equally, these openings did not generate significant economic outperformance for their local economies. As the report notes, this is not terribly surprising. Despite their heft as economic anchors, these institutions remain small relative to the broader local economies in which they reside.

Most importantly, however, the report finds that these institutions have had a significant effect on the educational attainment of their host communities. For example, since UC Merced's opening, the proportion of 18-24-year-olds who hold a college degree has risen from just 1.4 percent to 7.7 percent in the city of Merced. This proportion also increased (albeit more modestly) in Henderson, Nevada, and Gwinnett County, Georgia, wherein GGC lays. The share of Atlantic City's 18-24 cohorts who held a college degree is just 3.5 percent.

Indeed, the report concludes by noting that the many broader positive local economic development effects that Stockton University Atlantic City will surely generate for Atlantic City over the coming decades are, in the long run, likely to be dwarfed by the far more significant educational ones it delivers to those who walk through the doors of its new Atlantic City campus. The benefits of those students' Stockton education will, moreover, eventually be shared and enjoyed by the broader Southern New Jersey regional economy.

Oliver Cooke, Ph.D., is associate professor of economics at Stockton University, where he teaches courses in macroeconomics, ecological economics and political economy. He has 20 years of experience conducting research on metropolitan area and state economies, labor and real estate markets and public policies. He created and authors the bi-annual South Jersey Economic Review. He regularly consults for a wide variety of public and private sector institutions. He was a regional visiting scholar at the Federal Reserve Bank of Philadelphia in 2018.

To read the digital edition of South Jersey Biz, click
here
.

Published (and copyrighted) in South Jersey Biz, Volume 9, Issue 3 (March 2019).
For more info on South Jersey Biz, click
here
.
To subscribe to South Jersey Biz, click
here
.
To advertise in South Jersey Biz, click
here
.