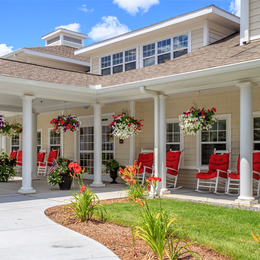 Moving Forward
Monroe Township and Washington Township have made strides to help bring more businesses to the area.

Monroe Township and Washington Township have a few things in common—both are centrally located with easy access to the Shore, Atlantic City and Philadelphia; have a rural feel with open land and parks; and both areas are open for business.

Monroe Township recently went through a lot of changes in its local government, with a new mayor—Rich DiLucia—and four new council members. Katherine Falcone, councilwoman at large, founder of the Williamstown Chamber of Commerce and president of SOS Group, Inc., a family-run business, says each person brings their own area of expertise and diversity to "move Monroe Township forward."

"I bring expertise in economic development; our new mayor is a retired union leader with a lot of experience with contract negotiations; Greg Wolfe is a retired detective sergeant who brings public safety and parks and recreation experience; and Pat O'Reilly is technology driven and dedicated to installing solar for the township for cost savings with the goal of stabilizing taxes," Falcone says. "This new regime is hungry for new business."

"They focus on the areas they are passionate about and have the most experience with, which is very refreshing," says Shannon Morgan-Leonen, economic development consultant. "It's exciting to see what is in store for the town."

With new council members on board— along with new ideas and a different mindset—and the addition of Morgan-Leonen, Falcone says the process of businesses locating to Monroe Township is easier than before.

"We know things are challenging in the world of Amazon and online shopping so we are dedicated to thinking outside the box to attract unique businesses," Falcone says. "With a population approaching 40,000 people, a lot of additional ideas are circulating and in the works."

And Monroe Township already has quite a bit to offer, especially its location, where many travelers pass through to get to the Shore and neighboring towns Washington Township and Glassboro.

"The Black Horse Pike goes right down the middle of our town with our iconic Geets Diner open again for business," Falcone says. "Monroe Township is the center of steep history where you can still find a rural feel of a hometown. We're at the forefront of exploding and coming into its unique identity ready to be carved into the future."

Morgan-Leonen says what sets Monroe Township apart from others is that they "have two centers of town."

"We have Main Street and Route 322," she says. "We have two breweries—13th Child Brewery and Cross Keys Brewing Co.—on opposite ends of each other on Main Street, and we have The Grand Theater which is a focal point of Monroe Township. We're fortunate we have those two areas to develop; we're unique in that way.

"It's already a wonderful town. We want to make it a place that people want to come to for various reasons."

Washington Township
Mayor Joann Gattinelli moved to Washington Township in 1979 as a teenager and has seen the town go through many changes since. One thing that hasn't changed—its sense of community.

"I've always loved that about the town," she says. "And my passion is to have that sense of community even more now."

Which is one of the reasons why she stayed in Washington Township. She also knew the town could be so much more than it is now. "We had to be more business-friendly. I felt the need to be able to bring more businesses in; to give our residents what they are looking for," Gattinelli explains.

Gattinelli started Shop Washington Township—a tax reward program for residents that supports local businesses at the same time. It's a multi-faceted program that allows a portion of purchasing dollars spent on goods and services in Washington Township to be applied to residents' property tax bill and reducing their taxes at the end of the year.

"It's a win-win for everyone," she says. "Whether you own a home or not, you're still able to participate in this program and support local business."

One local business that brings a lot of revenue to the township and is currently undergoing a major expansion is Hollydell Ice Arena. They are adding a third rink and recently installed Dunlops Bar & Grill, a second floor bar and restaurant.

Brian Bailey, owner of Get Shot by Brian and president of the Greater Washington Township Chamber of Commerce, says Gattinelli is heavily involved in bringing new businesses to town, and just like Monroe Township, they recently hired an economic development consultant to implement new ideas and bring a fresh perspective.

"We all want to make Washington Township better and will do what it takes," Bailey says.

He said the chamber of commerce is reinventing itself as well, creating new events to bring more business leaders together. "We had a 'Best of' event that was huge and was well attended, and we're also being more involved in the community—helping with scholarships for local students and giving back to the community," Bailey says.

Speaking of community, Gattinelli and Jefferson Washington Township Hospital are currently teaming up for a new bike share program where residents and their families can rent bikes. Gattinelli thought of the idea because of the amount of parks Washington Township has to offer, such as Washington Lake Park.


"We thought it would be appropriate for our parks, as well as Gloucester County because the county right now is working on a road program for bikes," she says. "You get to spend time with your family and working toward wellness. When I talked to [Jefferson Health – New Jersey President and CEO] Joseph Devine and explained the program, it was a no-brainer."

In addition to the bike share program, Jefferson Health has been a crucial part to the community with its hospital in the township. So it's no surprise the health care system is in the middle of a $222 million expansion to bring more services and updated facilities to its residents. Construction started last July and will consist of two phases. An eight-level enclosed parking facility with 850 parking spaces is being built, and the next phase will be the start of a seven-story patient tower with 90 new private patient rooms, a new same-day surgery unit, new dining area and a brand-new two-story lobby.


"This is extremely needed," Devine says. "We needed to make it more appropriate for patients—being able to move them to private rooms, and handle the capacity of critically sick patients in the future.

"It's been great because we started as a small hospital and we just kept expanding," he continues. "When I first started here there were two buildings and farmland in 1986. Now it's very robust and complex in the medical community with physician offices, an ambulatory campus, dialysis, etc. It's been great to be able to serve those residents and continue to expand that care even more."
What Businesses are Saying
KAREN DIXON, Campus marketing director, Cardinal Village
"Being part of the Washington Township community, both residential and medical for
30 years, we have found everyone to be very supportive in helping us to help seniors. Washington Township is a true community in every sense of the word and a great place to live."
SCOTT E. SILEO, CLU, CHFC, Agency Owner, The Sileo Agency
"I was a founding member of our chamber of commerce, which brought me into contact with some of the best that our local business community has to offer. I have grown personally and professionally as a result."
CHARLES MURACCO, Founder, CEO, CLM Advisors
"Living in Washington Township for 46 years, I learned a lot about community pride. That sense of community has helped me build a business on the same fundamentals. As was said when
I played and coached here for 40 years, 'Go Township!' ... I take pride in Township."
CLAIRE RIGGS, Strategic communications partner, Graphics Solutions
"The first part of the Gloucester County tagline notes we're 'close to everything,' and that
goes for [Washington Township], too. It's a plus to be able to attend association and chamber networking events and/or connect with our clients over breakfast or lunch. … Our location benefits us as we're centrally located to the majority of our clients throughout the tri-state region."
JOHN PETTIT, Vice president, business development officer, First Bank
"First Bank first put down roots in Williamstown in April 2007 as we felt there was a tremendous opportunity for growth in the area, as well as a vibrant community, which fits our community bank footprint. The synergy between business and community
in Williamstown is strong; they work together to achieve great things and work continuously to strengthen bonds."
MEGAN PARKER, Spokesperson, Visit South Jersey

"Williamstown is well-positioned for winery growth because of its abundance of rich agricultural lands abutting convenient major roadways, local shopping and cuisine. It's location between the coastline, in particular Atlantic City and Philadelphia, make it well-positioned for growth like we've seen in nearby Hammonton. Gloucester County has very positive relationships with the craft beverage industry."