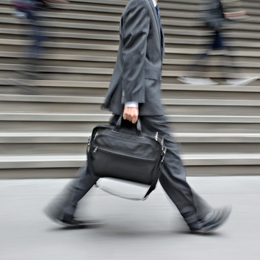 On the Move
Openings, closings, hirings and retirings in our region.

Chris Deakyne has joined Wohlsen Construction as MEP field coordinator.
John J. Taylor has been appointed to director of the Pennsylvania practice of Archer Public Affairs, a governmental and external relations affiliate of Archer.

Investors Bank has appointed Christopher Warren to senior vice president and team leader for the commercial banking team in the Burlington and Camden County markets. Warren will be located in the Mount Laurel office and report to market executive John T. Harrison.
Lannae G. Ewing, MSN, APN, MBA, was recently appointed to assistant vice president of cardiovascular services at Lourdes Health System. Ewing had previously served as the administrative director of cardiovascular surgical services and director of value-based care programs at Lourdes.
Matthew Clements has been appointed senior vice president, head of retail sales and product for Columbia Bank. In this role, Clements will be responsible for developing sales practices for the bank's retail branch network, designing programs to increase productivity and facilitating new product development.
Kevin Kirwan has been promoted to senior vice president and chief environmental and operational excellence officer for American Water.
Cherylle C. Corpuz, Esq. has joined Morais Law. Corpuz has more than 25 years' experience in employment- and family-based immigration matters.
Virtua has hired Sarah Fawcett-Lee, CFRE, as senior vice president of Virtua Foundation.
Rutgers University School of Business–Camden dean Jaishankar Ganesh will resign as dean and return to the faculty effective July 1.
Kerrin Yannotta has been named vice president, business development officer for SBA commercial lending for TD Bank.
Duly Noted
Inspira Health was recognized with the New Jersey Hospital Association's Community Outreach Award for its work as a founding member of the Cumberland County Housing First Collaborative. Since the collaborative's inception, Inspira has provided behavioral health services, logistical support and more than $150,000 to help end chronic homelessness in Cumberland County by 2020.
The Gloucester County Chamber of Commerce has launched its second annual Fall in Love with Business campaign through March 11. Each week the chamber posts weekly prizes on its social media pages—Facebook, Instagram and Twitter. Each person that shares, likes or comments on those posts will earn one point per action. Weekly promotional emails are also scheduled to be sent to members. By forwarding the email to 10 friends, that person will also be entered to win that week's prize. There is a limit of four entries per person per week, but there is no limit as to how many times a participant can win.

Some of the prizes include a $250 gift certificate to The ChopHouse, $250 gift certificate to Hand and Stone Massage in Glassboro, dual membership to both the Gloucester and Burlington County Chamber of Commerce, free business card design and print from Bellia Print and Design, a drone from PCH Technologies and more. For more information visit GC-Chamber.com.
The New Jersey Hospital Association held its annual awards program to honor several individuals and organizations for their commitment to the state's health care system and the patients and communities they serve. Below are the winners from our area:
- 2019 Distinguished Service Award—Dr. David Condoluci, DO, MACOI, senior vice president and chief patient safety and quality officer of Jefferson Health New Jersey
- Community Outreach Awards: in the category of enhancing access and quality of care to reduce disparities—Inspira Health Network; in the category of improving nutrition and wellbeing—Virtua's Mobile Farmer's Market.
Ancero, LLC, a cloud solutions and IT services provider, received the system and organization controls 2 Type II certification, which means Ancero meets the strict information security and privacy standards for the handling of customer data established by the American Institute of Certified Public Accountants.
The Interstate Renewable Energy Council named New Jersey as one of four states in its 2019 Clean Energy States Honor Roll. Notably, New Jersey was identified as having the "Most Growth Potential" of any state, in particular for its community solar pilot program and its aggressive energy storage goals.
The Greater Woodbury Chamber of Commerce elected new officers and two new directors at their annual reorganization meeting: Jeff Morris, founder and president of Morris Graphics, was elected president; Tim Jennings, president of Telecorp, was elected first vice president; Pat Nolan, COO of Inspira Medical Center Woodbury, was elected second vice president and two new board members were elected—Jim Kelleher of Edward Jones and Krista Collins of Republic Bank.
Law firm Hyland Levin LLP has changed its name to Hyland Levin Shapiro LLP.
Senior associate Rebecca A. Berger has been named partner with Charny Karpousis Altieri & Donoian, P.A.
The Rutgers School of Business–Camden has received reaccreditation from AACSB International, the premier accrediting body for business schools in the United States and around the world. AACSB accreditation is regarded as the highest level of certification for business schools.
The Nemours Children's Health System board of directors announced Robert G. Riney as its chair, effective immediately. Riney has served on the Nemours Foundation Board since 2006.
Debra P. DiLorenzo, president and CEO of the Chamber of Commerce Southern New Jersey and Kathleen A. Davis, executive vice president and COO, will retire at the end of 2019. Christina M. Renna will take over as president and Meredith K. Lorrilliere will serve as senior vice president, operations special events and communications effective Jan. 1, 2020.
American Water Works and Campbell Soup Company were named to the 2019 100 Most Sustainable U.S. Companies list from Barron's. American Water ranked highest for New Jersey-based companies, coming in at No. 23.
The Philadelphia Chapter of Credit Unions named American Heritage Credit Union employee, Julian Gerace, the chapter representative for the Credit Union Ambassador Contest.


To read the digital edition of South Jersey Biz, click
here
.

Published (and copyrighted) in South Jersey Biz, Volume 9, Issue 2 (February 2019).

For more info on South Jersey Biz, click here.
To subscribe to South Jersey Biz, click here.
To advertise in South Jersey Biz, click here.