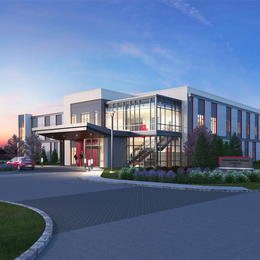 Business is Booming
New construction and several redevelopment projects can be seen all over Camden County, creating jobs and boosting the local economy.
Camden County is known for many things—its proximity to major highways and Philadelphia, access to public transportation such as the PATCO Speedline, an impressive park system and outstanding school systems to name a few.

It should also be known for its exponential business growth. More businesses are moving to Camden County, new properties are being developed and several others are being redeveloped and/or undergoing major renovations. It's happening all over the county in many sectors, from health care and commercial properties to residential housing and even retail. The result? More jobs created and more residents eager to support these new businesses and services, which means a strong economy.

"It definitely means we have more jobs being created and maintained in Camden County, which will help us reduce the unemployment rate. And it's also good for economic development as a whole in Camden County and as a region, as we have more people purchasing goods, dining and paying for services in Camden County," says Lou Cappelli, Camden County freeholder.

Cherry Hill is a prime example of the commercial and retail growth. Panda Express— a Chinese restaurant chain—recently opened on Route 38. And nearby on Route 70, Trader Joe's, TJ Maxx, HomeGoods, Shake Shack and Carhartt—a workwear retailer—are coming to Garden State Park, with some of them possibly being opened by next year.

A mile and a half away on Chapel Avenue, Jefferson Cherry Hill Hospital is in the middle of Phase 2 of a $165 million renovation, set for completion in summer 2020. Phase 1 included a parking garage and a brand-new, 102,000-square-foot Outpatient Pavilion, which added more ambulatory services such as advanced ENT, expanded orthopedics, neurosciences, advanced GI services and outpatient services.

"These are the kinds of things that historically in the past, patients always had to go to Philadelphia for," says Joseph W. Devine, president, Jefferson Health New Jersey. "As part of Jefferson, we are providing them right here in Cherry Hill."

Other highlights from Phase 2 include a seven-floor patient tower with 90 private patient rooms, a new pharmacy and helistop, and a future surgical services department with six operating rooms. Devine, who notes the Cherry Hill hospital "has always been a vibrant location," says it was time to make changes and add necessary services and resources to serve the residents of Cherry Hill and the rest of Camden County.

"Everything is modernizing and changing, and we needed to figure out what the future will be with that location," Devine says. "It was time for us to invest into something that would be acceptable to the consumers in the area, especially based on all the transformation in Cherry Hill in general."

Cooper University Health Care and Addiction Recovery Systems (ARS), which operates addiction and substance abuse treatment centers, is also investing in Cherry Hill on the former site of Baker Lanes on Cuthbert Boulevard and building a state-of-the-art, $27 million, 90-bed inpatient treatment facility— the first of several planned treatment facilities in the region. The center will offer evidence-based addiction treatment services, wellness programs and recreational areas for patients, including a yoga room, indoor basketball and volleyball courts and a large workout gym.

One of the biggest sources of economic activity is the Cherry Hill Mall. "It's the largest commercial center in Cherry Hill and possibly Camden County, and it's recognized as one of the most successful malls in the entire country," says Jeffrey Nash, Camden County freeholder. "What we're seeing at Cherry Hill Mall is economic success and we see businesses moving into Camden as well."

That includes American Water, which recently moved its headquarters to Camden as part of a $1 billion makeover of the city's waterfront. Its previous headquarters was on the other side of the county in Voorhees for over 30 years. Creating strong relationships over the years with county officials helped make the transition go seamlessly and both have worked together to support the business and the community.

"One of the most important things Camden County has done to help American Water is the willingness to collaborate and develop strong partnerships," says Ruben Rodriguez, senior director, external communications for American Water. "The county and city [of Camden] have both been tremendous partners throughout our time here. We have really seen that over the last few years with our move to Camden. Everywhere we looked, we always have someone ready to work with us, whether it's looking for opportunities for workforce development or how we can better service the community. The willingness and ability of everyone to work together toward common goals has always been a huge help."

"We recognize businesses employ residents and employment opportunity is the most important thing a government can help facilitate," Nash says. "It's critical and something we take very seriously."

While American Water's headquarters is no longer in Voorhees, many other businesses started in town this past year—34 to be exact, according to Mayor Michael Mignogna. One that just opened this month is Royal Farms, a convenience store chain taking South Jersey by storm. This is the chain's fourth location in Camden County, and it has landed in surrounding counties as well. Mignogna welcomes the competition with another popular convenience store chain, Wawa.

"Competition is always a good thing for business," he says. "Wawa has always been the gold standard for South Jersey; Royal Farms is challenging that."

The biggest piece of property in town officials are working to revive again is the Voorhees Town Center, formerly known as the Echelon Mall. Recently an agreement of sale was reached between the new developer—Brandywine Financial Services Corp.— and the town center's current owner, which was a big step in saving the property with hopes of turning it into a destination. Brandywine Financial Services Corp. has put together a redevelopment plan that Mignogna hopes to complement the successful Restaurant Row on Town Center Boulevard.

"Some of the ideas we hope that will go there are a microbrewery, some type of experiential entertainment, some type of housing element," Mignogna says. "Certainly at the very least, town hall and Boscov's, as well as significant other properties will remain.

"This is our biggest taxpayer in the township; we have to work very hard to make sure it's successful."

In the next town over, Gibbsboro, an affordable housing project broke ground last month on Route 561, called Freedom Village. Project Freedom, Inc., a nonprofit housing developer, is constructing four L-shaped three-story buildings containing one, two and three bedroom wheelchair accessible units. The project was awarded $100,000 from the freeholder board's homeless trust fund.

"It's sufficient and universal for somebody in need of affordable housing, but 100 percent barrier-free so it attracts people with physical disabilities," says Tracee Battis, director of development for Project Freedom.

Battis says New Jersey lacks affordable housing, especially in South Jersey and even more so for those who have disabilities. Between filling this need in Camden County and having it in an ideal location near the Gibbsboro Senior Center, she and Cappelli say it's a win-win for residents and the county alike.

"We're starting to see housing being built rather than municipalities being paid not to build, which was the old system," Cappelli says. "A lot of these projects are benefiting veterans which I think is important as well."

There is also new housing in Pennsauken. Haddon Point luxury apartments, market-rate apartments constructed by Delco Development, recently opened at the site of the former Old Pennsauken Mart. It's Delco Development's first residential community and they are enthusiastic about this new addition to Camden County and catering to its residents.

"We are seeing a trend of people who are downsizing along with people relocating to the area as businesses are moving into Camden," says Nina Beacher, director of residential development for Delco Development. "Most renters are looking for a maintenance-free lifestyle and a sense of community which new apartment communities like Haddon Point provide for their residents. I think this will continue over the next few years."

Also in Pennsauken is the Camden County Boathouse, situated on Cooper River. It provides entertainment on the river during the regattas held every year and inside the boathouse as a wedding venue, which recently underwent a major renovation. What it also provides, and it may surprise you, is a huge economic boost to the county. Nash says the regattas are an economic powerhouse, bringing in millions of dollars each year.

"The regattas have been the catalyst for so many events at Cooper River," Nash says. "There was a study done by Camden County showing that the national regattas that take place at Cooper River that are facilitated by the boathouse generate $20 million a year to our local economy. Every time there is a regatta, every restaurant and every hotel in the region is filled. Families come from all over the country and they spend money in Camden County. Not only does the boathouse help the local economy, but offers residents a wonderful venue to have an event."

What Businesses Are Saying
JOE MANCINI, Owner, TriState Engineering and Surveying
"We wanted to be family men with businesses, not businessmen with families—so we chose to live, work and play in the same geographic area. Fortunately Camden County happens to offer us the ability to live up to that mantra. Additionally, our projects are in every part of the state and some over the bridge, so the accessibility to major highways and bridges is a great asset. We also enjoy having some excellent technical and engineering schools nearby to help us find well-qualified team members that also want to live/work close to home."

GERARD "JERRY" CHAMBERS, Director, Collingswood Foundation for the Arts
"Camden County is a very diverse and eclectic community with great proximity to the fifth-largest city in the United States (Philadelphia). The best part of having a business in Camden County is being able to enjoy providing the goods and services to such a great area and people."

CHARLES GRIMLEY, CEO, Grimley Financial Services
"Grimley Financial Services (GFC) depends on support teams like our legal network, accounting firms, tech support, HR support, bankers and many other partners too vast to list. Camden County has always provided a safe haven for our partners; hence we haven't had to confront instability via constant change and/or disruptions. Ease of flow is important in business and Camden County has always harbored a stable and sustainable business and economic environment, enough so to attract major Pennsylvania hospitals like Jefferson partnering with another terrific hospital, Kennedy Health Systems. Camden County has provided a fertile pipeline to attract and hire talented help as GFC grew over the years."

NICK WALL, Principal and founder, foodwerx
"The best part about having a business in Camden County is the endless opportunities that have crossed our company since moving to our location. From becoming one of three preferred caterers at the Camden County Boathouse to becoming active members in numerous networking groups in the area, we know Camden County has our best interest in mind."

ANTHONY BELLIA, President, Bellia Office Furniture
"Camden County is a home for many organizations that we currently do business with, including companies that have decided to make the city of Camden their home. We realize that in order to grow as a company we need to give back to the communities that have helped us in so many ways in the 45 years that Bellia has been in business. The people, the unique places and the tremendous opportunities that the city of Camden and Camden County provides are truly invaluable."

To read the digital edition of South Jersey Biz, click here.

Published (and copyrighted) in South Jersey Biz, Volume 9, Issue 1 (January 2019).

For more info on South Jersey Biz, click here.
To subscribe to South Jersey Biz, click here.
To advertise in South Jersey Biz, click here.