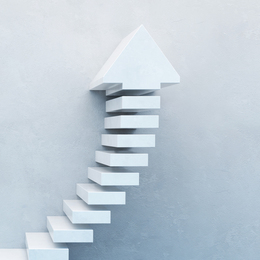 2019 Business Forecast
Despite a rocky start, signs point to a profitable 2019.
Welcome to 2019.

By the time this article goes to print the new year will be at least a few weeks old and still young enough to lend itself to a fresh perspective and optimism for the coming months.

That is, once the government shutdown is finally settled and allows for positive forward progress, of course.

"What is happening now is overshadowing everything [positive that could be happening in the economy]," says Jo-Ann Weiner, EA, CFE, NTPI Fellow, of J.L. Weiner and Associates. "It just has a tremendous negative impact. I see no positives coming from not paying 800,000 people over an extended period of time."

While the shutdown has implications on numerous levels, as an accountant it is particularly noteworthy to Weiner as tax season approaches.

"We're coming into a year where the IRS has been given challenges to cope with due to the numerous changes made," she notes. "There are tax law changes to be implemented and discussed, forms that need to be changed, revised and clarified. The IRS needs a sufficient response time to implement the massive changes. There appears to be insufficient consideration to that."

During this period of uncertainty, Weiner adds it is important for individuals and business owners to remain vigilant and adhere to the guidelines for success they typically follow, even if the government isn't.

"Keep a record of everything," she says.

"Keep a copy of everything, and follow up to be sure when all this is resolved you're given proper credit."

With the shutdown starting on Dec. 22, not only has it tainted 2019 so far, but it closed out a strong 2018 on a decidedly sour note.

"2018 was a solid year for U.S. growth, driven by consumer spending and business development, both of which were boosted by personal and corporate tax cuts," says Rhea Thomas, economist with Wilmington Trust/M&T Bank. "The labor market has been robust nationally, and New Jersey's labor market has also mirrored this, with the unemployment rate at 4 percent, the lowest since 2001.

"Sectors such as manufacturing as well as trade, transportation and utilities have benefited from broader U.S. economic growth," she continues, "with New Jersey experiencing strong job growth in these areas in 2018."

It will undoubtedly take some time for the government to recover from the shutdown, but if the country is able to maintain the strongholds it had at the closing of 2018, there is potential for 2019 to carry on in a positive direction.

This is particularly true in the commercial real estate realm, says James Whitesell, executive vice president of leasing for Whitesell Construction Company.

"Despite many interpretations regarding the U.S. economy's direction, we believe 2019 will be another good year for commercial real estate," he says. "We continue to experience strong prospect and leasing activity in our portfolio, and after completing a significant number of tenant expansions in 2018, we believe this trend will continue forward into 2019.

"Additionally, a number of new leases and renewals procured in 2018 were for longer than customary lease terms which we see as a good sign of positive market fundamentals," Whitesell concludes.

With strong gains in the commercial real estate sector South Jersey's economy benefits from the tenants who are taking advantage of the leases while the communities benefit from the tenants themselves. This is the trickle effect Steve Kehs, vice president of Triad Associates, says helped to create a robust 2018 and set 2019 up for success in his field of housing and community development.

"The economy of southern New Jersey finished 2018 in very good shape," he says. "Unemployment rates in all of the eight southern counties were at record lows. Housing starts finished the year well ahead of where they started.

"These strong numbers point to a couple points relative to community development," Kehs continues. "First, with a strong economy there is new, private sector investment entering the market that spurs both the construction of new homes and the rehabilitation of or sale of existing properties. Second, a strong economy means that retail and commercial activity that helps to anchor downtowns is helping to spur revitalization in many communities. More people with jobs have more money to spend on food, commodities, luxury items and basic necessities."

Kehs says he expects the region's economy to remain strong through 2019 and he is optimistic about ongoing improvement in community housing and development.

"The South Jersey economy in 2019 should be stable given the significant advances of previous years," he notes. "That doesn't mean there aren't challenges. There are too many foreclosed homes. There are still issues to resolve in our most distressed communities. But, on the whole, I believe the region is seeing new investment, new industry, new opportunities on the horizon, and I am optimistic."

Charles Muracco, CEO of CLM Tax Advisors, says with the possibility of such a strong 2019 ahead, the biggest deterrent he sees for business owners in the coming year is being fiscally irresponsible during this period of volatility.

"Those that budget and drive those numbers to every aspect of their business will fare better than those that 'shoot from the hip,'" he says. "A clear plan that is communicated to every employee and measured for every division, location, customer and vendor will allow the business to survive and thrive in any market."

Muracco adds that though the changes brought by the 2017 Tax Cuts and Jobs Act have initially been positive, it is too early to tell their long-standing affects into 2019 and beyond.

"Anytime people initially hear tax cuts, the initial impact is a positive one," he says. "Only time will tell whether this positive impact will be long lasting.

"The key for businesses will be to have a sound tax plan that will allow them to take full advantage of the tax savings," he adds. "The tax plan is only one piece of their overall fiscal management strategy that will create consistent long-term growth that falls to the bottom line and builds a balance sheet."

Tax cuts aside, while the state looks for other ways to strengthen the economy, there is possible income to be had in the legalization of marijuana, but there is uncertainty as to whether the legislation may finally be passed in 2019.

Charles Montecino, CPA, founder of Montecino and Ciaccia, has been following the process and believes the benefits of legalization would greatly bolster the state's economy.

"I think once they get retail stores open it will be a big revenue source for the state," he says. "Every state that has legalized it has gotten millions and millions in additional tax money. … [There is the possibility to] generate millions and millions in revenue.

"And hopefully, once it's legalized, it will have some impact on the crime rate," Montecino continues. "There will be less purchased illegally so once you take the crime out of it and the state, counties and local towns will have lower crime rates, you can use that tax money somewhere else."

Montecino does note the federal tax rules surrounding marijuana sales are complicated but with proper planning, as with any business, the venture could be a success.

While there is plenty to be hopeful for in 2019, what remains to be seen is how its beginning will affect its end. Now penned as the longest government shutdown in history, the transition from 2018 to 2019 has been anything but smooth, even if the economy has been strong. The hope is that optimism for the economy remains strong and the country is able to take the impacts of the shutdown in stride.

To read the digital edition of South Jersey Biz, click here.

Published (and copyrighted) in South Jersey Biz, Volume 9, Issue 1 (January 2019).

For more info on South Jersey Biz, click here.
To subscribe to South Jersey Biz, click here.
To advertise in South Jersey Biz, click here.