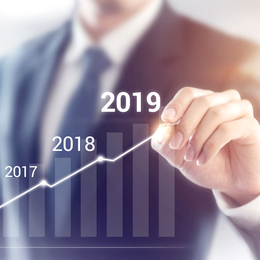 Close of Biz: New Year's Resolutions
With the new year quickly approaching, it's time to start thinking about your resolutions.
We thought it would be a fun idea to ask South Jersey professionals the following question: What is your most important professional goal for 2019?

Darren McMahon, clinical manager, Inspira Behavioral Wellness Centers Glassboro and Woodbury
"Specifically I'm working on growth of both programs I manage. We are expanding to serve children and adolescents for therapy and medication management; this means hiring staff who work with this population, as well as training and support for my current staff who don't have the clinical experience working with youth."

Nina Beacher, director of residential development, Delco Development
"My goal for 2019 is to focus on building professional relationships in the South Jersey area. My focus this past year has been on building and opening Haddon Point [in Pennsauken]. Now that we have moved in our first residents and are busy leasing, I really want to get more involved with networking groups to promote Haddon Point and our future residential projects."

Fred Berlinsky, Esq., president, Markeim Chalmers
"My goal for next year hasn't changed much—striving to ensure clients are happy with our service and the Markeim team has the tools and support needed to achieve success. And play more golf!"

Mike Regina, principal, Big Sky Enterprises, LLC
"My goal for 2019 is to strategically connect 5,000 people for the purposes of growing their network and [creating] business opportunities."

KC Isdaner, COO, The Bloom Organization
"I'm fortunate to be surrounded by great people and in the year ahead, my goal is to continue helping them grow, improve and achieve excellence both personally and professionally."

Jessica Carleton, learning & development specialist, Holman Enterprises
"I think my most important professional goal for 2019 would be to execute a strategy focused on uplifting and empowering women in my organization. Whether it's focus groups or enhanced training, I feel there's a big opportunity to unite the collective female voice and encourage more contribution across the board."

Manuela Morais, principal and managing partner, Morais Law
"Professionally, I see 2019 as a year of building and strengthening strategic relationships within the legal community. This includes local law firms, bar associations and as a board member of Women Owned Law."

Lloyd C. Birnbaum, Esq., Lauletta Birnbaum, LLC
"My most important professional goal for 2019 is to successfully manage the expansion and evolution of our law firm to meet and exceed the expectations of our clients."

Charles Muracco, CEO, CLM Advisors, LLC
"For 2019, my most important professional goal is to expand my knowledge and the knowledge of the staff of CLM to be the best value for the money for our clients."

Bradley Cohen, attorney, Earp Cohn P.C.
"My most important professional goal for 2019 is to take on at least one pro bono matter. As a lawyer, I feel a desire to give [back] by offering pro bono legal services when l can to those who are less fortunate."

Michael LaMaina, CFP, ChFC, president, Cornerstone Financial Advisors Inc.
"Looking ahead to next year, it is all about enhancing the Corner- stone Financial Advisors brand locally and nationally. We recently added another financial planning professional and additional administrative staff. Together with plans for a new website, comprehensive social media plan and other such efforts, we will further strengthen the personal service and resources we provide clients."

Chris DeSantis, chief innovation officer, Surety Title Company
"My goal in 2019 is to heighten our competitive position in the title industry by monitoring and evaluating market trends for our core divisions. With the implementation of new innovative technologies and marketing strategies combined with one-on-one personal attention, our client-centric approach will only strengthen."


To read the digital edition of South Jersey Biz, click
here
.
Published (and copyrighted) in South Jersey Biz, V
olume 8, Issue 12 (December 2018).
For more info on South Jersey Biz, click here.
To subscribe to South Jersey Biz, click here.
To advertise in South Jersey Biz, click here.