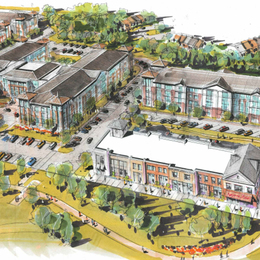 Developing a Destination
How Evesham Township became one of South Jersey's most vibrant, business-friendly communities.

Just about 10 years ago Evesham Township set a plan in motion that would alter the landscape of the town well into the future. The 2020 Vision Plan was inspired by the possibilities being opened up by the elimination of the old Marlton Circle where Routes 70 and 73 intersect. Although that circle caused traffic issues, it did provide access to the surrounding business properties. The planned overpass would create new traffic patterns and also limit visibility of the businesses below it, so the township felt it was a good time to create a master plan for future economic development.

Leah Furey, township planner, says at the time the Recession helped create a breather in terms of development in Evesham. "We were able to see what areas of town were more tired and rundown and we wanted to encourage investment in these areas rather than everything being [put] on undeveloped land," she says. The township hired an urban design firm and invited residents to share their thoughts on the future for Evesham. This input was used to create the Evesham2020 Vision Plan.

"When we say 'Vision Plan,' it's really a big picture view of what we want to see, what do we want the township to feel like, look like, and then we have to consider the land use policies and create ordinances to implement the projects," Furey says.

Some of the goals included making Main Street more vibrant, creating cohesive architecture in Evesham Crossroads (Routes 70/73) and transforming the outdated and vacant retail centers.

Since then, an astounding amount of redevelopment and capital improvements have been made in Evesham. A popular new Aldi grocery store was added to the Staples shopping center on Route 70, and it included a facelift of those existing strip mall facades. Also on Route 70, a super Wawa was a convenient addition to an underutilized spot at a busy intersection. Nearby, the former Olga's Diner has since been demolished and construction of new headquarters for Reproductive Medicine Associates is underway and almost completed.

One of the largest projects is the now fully operational center called The View on Route73. Previously a mostly vacant office condocomplex running along Lincoln Drive West, the spot now includes an LA Fitness, Dunkin Donuts, Marino's, Naf Naf Grill and others.

In speaking with outgoing Mayor Randy Brown, who has been in office for 12 years, there is one project he is particularly proud of—The Shoppes and Residences at Renaissance Square at the former Tri-Towne Plaza. He says he had a specific vision for this spot, one he wasn't willing to give up on. Inspired by his memories as a kid biking to that Kmart, Brown says he wanted to create something walkable for the community.

There were proposals for a flea market with lower-end stores, but Brown and the council thought residents deserved better. The result is a mixed-use area that will include a linear park running along Route 70 with pedestrian paths that link to the adjacent shops, restaurants and rental apartments. Construction is underway on the site, which includes a 168-unit apartment building, a Dunkin Donuts with drive-thru, a two-story Evesham Mortgage financial center, a 24,000-square-foot standalone building with retail on the ground level, and pad sites for two restaurants, LaScala Italian and La VezMexican. Just across the way, Virtua's new facility is open, offering primary, surgical, therapy and lab services, and next to that will soon be a children's daycare center.

They anticipate longtime Evesham residents, many of whom may now be looking to downsize, to have interest in moving into the apartments, allowing them to stay intown. "Twelve months from now the area will be highly active; 24 months from now people will be living there and enjoying every aspect," says Brown, highlighting the access residents will have to medical and professional services, plus dining and shopping. "This will be a jewel in the center of the community and is easily on the top five of projects I'm proudest of."

Other recent additions to Evesham are Duck Donuts, Shake Shack and honeygrow, not to mention Chickie's & Pete's, a high-profile location previously occupied by Champps. "Champps didn't sit idle," says Evesham councilman Bob DiEnna. "The burners were still warm and the owner of Chickie's was in there looking at the site. We have several locations like that, where we've heard from other business owners, 'If the lights go out, they're not going to be out any longer than flipping the switch.'"

Olga's Diner will also be making a come-back, where the owners of Lucien's are opening a diner-style eatery on the former Carrolo's site on Route 73. Mission BBQ is also slated for a parcel of land across from there at Greentree Centre. The now-vacant Scaturro's will become a Royal Farms convenience store and gas station, adding to the Maryland-based chain's ever-growing South Jersey locations.

"I'm contacted on a regular basis from vendors in other cities and states. … This is one of the hottest corridors and they want to know when someone is leaving," says Brown.

Incentives have helped draw developers, and Brown says it was only practical. "[Evesham is] competing with 566 towns in New Jersey and 1,200 in Pennsylvania to attract business. How would we have been able to attract people to invest $50-100 million in parcels of land? We wanted to win and not only did we win, but we won the Super Bowl of municipal government by being named the No. 1 town."

Brown says there are detractors who say PILOTs (payment in lieu of taxes) are just something to attract developers. "PILOTs are a way that we as a community can dictate the architecture, landscaping and safety of a site. It's one of the multiple tools in the politicians' toolbox," he says.

The Gateway Apartments on Main Street, which were built on the former municipal complex that sat vacant for 10 years, is now off its five-year PILOT program, and at an assessed value of $7 million, Brown says this is tax revenue for the schools, fire department, municipal services, etc. "If we had left that property we'd be collecting zero dollars," he says. "That's the story on all of these PILOTs— to leave the town in a better place. As the PILOTs rotate out, the fully taxed revenue that will come in is higher than it is today."

Looking back on his tenure as mayor, Brown says he had to make hard decisions, but he is grateful for the support of his council who helped carry out his vision. "If you don't evolve, you perish," he says. "We have made Evesham a destination point.

When people wake up, they say, 'What should we do today?' and they can go shopping at the Promenade, then get lunch at Chickie's. … That's what our town has become—a destination."

Evesham now seems to be looking toward its historic downtown district as the next stage of revitalization. "On a scale of one to 10, I would give our downtown a five for vibrancy, but 10 years ago it would have been a one," says Brown. "It needs food, parking and other ideas for township uses. For Evesham Township to sit atop as a leader in2030, it's got to continue to be progressive. It's not going to look like Haddonfield or Moorestown, it's not built that way. … But we're getting there."

Part of deciding how to improve downtown includes another vision study. Furey says, while the 2020 Vision Plan touched on the downtown area, it never went as far as figuring out how to get from concept to implementation. Evesham hired the same design firm and invited the public to weigh in. "People told us they wanted more community event areas, a playground, a public art space," she says. "We also had a stakeholders meeting for downtown property owners and got good feedback on the sketches we provided of how things might look, but there is concern. Some people's buildings are changed, but what's important is that this is just an idea. … We're encouraging and incentivizing, putting a framework in place for those who want to revitalize."

A couple of things are already underway downtown. Furey says the Harvest House at 52 East Main, which is on the National Historic Registry, currently sits nearly 100 feet back from the road on 1.2 acres of land. "Over time they put a parking lot in front of it," she says. "We wanted to find a way to create a better use of the lot so we made a redevelopment plan to move the house forward and open the area behind it for additional development. It's going to be respectful of the historical value while creating new value."

Mark McKenna, whose mother owns Pat McKenna Realtors located on Main Street, says things are really moving in the right direction. He highlights the Harvest House project, which will become a senior art center and add a 54-unit apartment building behind it.

In fact, the real estate firm is in the midst of its own redevelopment project. "We just received the approvals for a new building from the planning board on Dec. 6," McKenna says. "We're knocking down our previous building and putting up a new facility that will have 4,000 square feet of office space and 23 apartments."

From a real estate perspective, apartments are in big demand. Between empty nesters and the more transient millennial population, McKenna says home ownership is not as important as convenience.

"According to an economist, in 2016, 65 percent of all building permits in New Jersey were for apartments," he says. "In the '90s, Marlton was a really stagnant town. Property prices were flat and there was little growth until the housing boom in the early 2000s. After 9/11 there was a shift in buyers' needs and wants. Everyone thought bigger was better and they were building houses with 4,000 to 6,000 square feet. The Recession in 2006-2011 caused buyers' needs to change once again. Now everybody thinks smaller is great. They want nice houses with great amenities, but the square footage is not as important."

Evesham's downtown vision plan is still in the early stages, but in combination with the progress of the Routes 70/73 corridor, Furey says it will all tie together. "A cohesive plan is going to give residents and businesses more of a community gathering space and add more to an already great town," she says.



What Businesses Are Saying


REPUBLIC BANK, Bridget Wiese, vice president and Marlton store manager


"Evesham has a strong economy with a great deal of market potential. The success of our Marlton location, which has been open since 2015, has driven us to build another store only five miles away in Evesboro. This new location is slated to open in December and welook forward to further capitalizing on the momentum of our other stores and exceeding the expectations of both business and personal banking customers in Evesboro."



WCRE, Jason Wolf, principal


"The Marlton business district has proven to be valuable for our team due to its convenient location, amenities and access to all major roadways. The business community in Marlton is a great place to work and play and we are proud to be based here. There have been many recent developments of housing, office, retail, health care and other uses here which has provided businesses and residents with access to amenities to enjoy for business, personal or pleasure."



CHARNY KARPOUSIS ALTIERI & DONOIAN, P.A., Karen Rose Karpousis, partner


"Our firm relocated from Mount Laurel to Marlton in August 2017. A key factor in our choice of location was convenience, for both our clients and staff. Route 73 at the intersection of Route 70 provides easy access to virtually all areas of South Jersey. Our office is also in close proximity to downtown Evesham and Main Street Marlton, which is home for a multitude of shopping and great restaurants. It is a bustling town and full of life. I've witnessed many new businesses opening and more families have decided to make Evesham their home."



CROSS COUNTY CONNECTION, Bill Ragozine, executive director


"Cross County Connection Transportation Management Association has been located in Marlton since we were founded in 1988. The business climate here is excellent and there are lots of opportunities for activity and growth, which is one of the reasons we have been here for so long. But just as importantly, since the beginning, Evesham has been a member, active supporter and promoter of our nonprofit organization which was established to help the general public with their transportation issues."



EVESHAM MORTGAGE, LLC, Robert "Kell" Kelley, president, sales & marketing


"Evesham Mortgage has been doing business in Evesham Township since April of 2008. Our founder, Rick Brown grew up in Evesham and decided to raise his family here. Naming the company after the town he grew up in was a reflection of his commitment to the area. Evesham is a thriving and ever-expanding town that has attracted some of the top businesses and their employees in the area. The town has grown and continues to provide an excellent climate for businesses to thrive and offers such diverse products and services to its residents. Evesham Mortgage is very proud to be part of this great town and we look forward to moving into our new expanded office location in early 2019."

To read the digital edition of South Jersey Biz, click here.

Published (and copyrighted) in South Jersey Biz, V

olume 8, Issue 12 (December 2018).

For more info on South Jersey Biz, click here.
To subscribe to South Jersey Biz, click here.
To advertise in South Jersey Biz, click here.