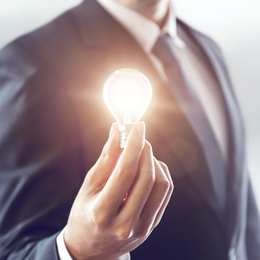 Visions of a World-Class Region
18 of South Jersey's industry leaders share their outlook for the future of this region.
When we presented our first Visions of a World-Class Region at the end of 2017, the predictions and views we received from the area's top professionals were quite accurate in regards to what happened in 2018.

Health care mergers and partnerships were predicted, as well as more time and effort given to research; job growth; South Jersey becoming a major distribution hub; and commercial real estate in high demand—just to name a few.

Once again, we asked professionals to predict how this region will develop relative to their industry, and with an ever-changing economy, it will be interesting to see how this area transforms in 2019 and in years to come. We present our second annual Visions of a World-Class Region.

Daniel Sulpizio, senior vice president, director of retail banking, Parke Bank
"In recent years I have seen the South Jersey region embrace volunteerism more than I have ever seen in the many years I have lived and worked here. There are more and more opportunities to give back and individuals and business owners are stepping up to the plate to help others by donating time, talent and treasure. Our world seems to have so many distractions from catastrophic weather events to personal tragedy to unrest in our own government. Having us all work together builds a strong sense of community that will continue to make South Jersey the place to be. As a community bank, Parke Bank's focus is being active in the communities we serve and we invest in those areas by providing loans, deposit services and volunteerism."

Frederick Keating, Ed.D., president, Rowan College at Gloucester County
"Rowan College at Gloucester County is working with Rowan University's School of Osteopathic Medicine and the local business industry to develop cutting-edge, in-demand degrees and certificates in nursing and related health professions. This initiative will support the community with desirable medical facilities and ensure economic growth within the region. Through the 'eds and meds' partnership, students will gain valuable program advantages, in addition to accumulating workforce and labor credentials and experience leading to greater career opportunities. Blending academic and professional development reinforces the college's commitment to producing outstanding, well-qualified graduates ready for the workplace. This partnership is another example of how Rowan College at Gloucester County is changing the paradigm of community colleges."

Dan Posternock, managing shareholder, Law Offices of Posternock Apell, PC
"The manner in which legal services are being delivered in South Jersey has been evolving for many reasons, not the least of which is the consumer's increasing demand for prompt cost-effective solutions. Astute managers of law firms recognize that more than ever clients want fast, common-sense results than traditionally provided by lawyers. People want less legalese and shorter documents such as 'slimmed down' contracts and estate plans. Litigation involving 'principled' positions with little regard for the cost are less common. Reliance upon alternative dispute resolution methods such as mediation has become more frequent. A new term is inching its way into the conversation—limited legal license technicians.

"Our firm has long embraced these concepts, most recently bridging them into the world of students with special needs by offering education and collaboration. We expect other South Jersey firms to join us and, and in turn, to contribute to changing the landscape of how people will rely upon legal consultants for years to come."

Michele N. Siekerka, Esq., president and CEO, New Jersey Business & Industry Association
"There is an undeniable momentum in South Jersey when it comes to business. You can find it in the transformation of the waterfront in Camden; the growth of the health care and education industries and the vibrancy of the tech community, sparked by Rowan University and Rutgers-Camden University; the manufacturing, commerce and professional services operations throughout places like Haddonfield, Cherry Hill or Marlton; or the job creation we're seeing as part of Atlantic City's rebirth.

"There are challenges, of course. South Jersey is certainly not immune to the unfavorable business climate that afflicts our entire state. But business in the southern part of our state captures that bullishness New Jersey is renowned for. And business owners believe in themselves and in many cases feed off the energy that the region is, in fact, a destination for commerce, high-tech and research. It is indeed a growing place for opportunity and employment."

Greg Lalevee, Local 825 business manager, IUOE general vice president
"Local 825 Operating Engineers run the heavy equipment—cranes, bulldozers, pavers and pile-drivers— that keep our economy moving. We build roads, bridges, tunnels, pipelines and skyscrapers that people rely on. And while the strong economy has kept our 7,000 members working, including on projects throughout South Jersey—such as building new projects in Camden, helping to revitalize Atlantic City and replenish beaches up and down the Shore— we're also looking ahead to technology that is evolving quickly. All the newer equipment today has GPS technology built in. Robotics and remote-controlled equipment are becoming more common. It is vital that our members master these new technologies to stay in the driver's seat.

"In 2018, we applied to the NJ Department of Education to convert our training center into an accredited technical college, with the ability to offer associate degrees in applied sciences. Almost all the jobs of the future will require expertise in technology. We are doing everything we can to ensure that our members will be ready to fill those jobs."

Daniel J. Ruotolo, CPA, MS, managing partner, Ruotolo, Spewak & Co.
"One of the biggest challenges facing the region is technological advancement and its continued impact on business operations and workforce preparedness. High-paying jobs go unfilled due to a lack of qualified professionals and new positions are created as rapidly as technology advances. Data analytics and access to real-time, accurate information is just one example. Therefore, this growing gap between job skills and employers' needs is a challenge to overcome. Employees will need the ability to apply critical thinking, problem solving, creativity and teamwork. Collaboration is not only needed within businesses but between them and the region as a whole. I have seen South Jersey take positive steps with Burlington, Camden and Gloucester counties working together.

"The rapid change in technology makes the future hard to predict. However, the expansion of artificial intelligence and other technologies is here to stay, along with the impact on business and the workforce. It begins with understanding these advancements and utilizing them to stay competitive while providing customer and employee value."

Sharon Hammel, chief retail officer, Republic Bank
"I predict that small businesses in South Jersey will continue to play a critical role in the local economy. Small business owners often rely on loans from banks to finance their ventures, so I also see the Small Business Administration lending numbers increasing. At Republic Bank, we're proud to support local entrepreneurs and always aim to make smart lending decisions quickly. In addition, I hope that women in our region will continue to be empowered to start their own businesses and fulfill their entrepreneurial dreams. I recently had the privilege of meeting two female small business owners—Tammy Pular of Maxwell James and Courtney Dybalski of Melange—both beloved boutiques in Haddonfield that we honored on Small Business Saturday. They are excellent examples of women who are creating jobs, boosting the economy and philanthropically minded. Those are the people who will make a difference in South Jersey."

Sue Lehrman, dean, Rohrer College of Business, Rowan University
"As Rowan University grows, our institution will continue to have a tremendous impact on the business community in our region. A more educated workforce attracts businesses and industries to South Jersey, impacting the regional economy positively. In the William G. Rohrer College of Business, we strive to educate business leaders who are socially aware, responsible and equipped with the entrepreneurial mindsets needed to address some of society's biggest challenges. Through our work in entrepreneurship and innovation, we teach students from all majors how to turn their big ideas into business success stories. Our students graduate well prepared and exceedingly driven to become catalysts for the South Jersey economy as business and community leaders."

Christopher Gibson, president, Archer
"There is a much-needed shift in the business community to promote diversity and inclusiveness at every level in the workplace. While I'm proud of Archer's ability to make significant progress in this space, there is always an opportunity to do more. It can be sometimes challenging for organizations looking to evolve their practices and policies, but it's important. Our firm has taken initiative and recently created an entirely new position dedicated to tackling and promoting diversity and inclusiveness internally and externally. I foresee many businesses creating new programs and tools to attract and retain a new generation of talent, and hope it results in a more diverse workforce."

Ren Cicalese, CPA, managing shareholder, Alloy Silverstein
"The legalization of cannabis has the potential to change the whole dynamic of South Jersey's landscape. Our firm has been researching the tax implications, monitoring firms in legal states, making industry connections and closely keeping an eye on how New Jersey's proposed regulations will play out. It's really going to be unique. Proposed regulations will vary from city to city, township to township, but empty and vacant buildings—especially due to retail businesses hurt by online shopping—could end up seeing new business opportunities.

"Small businesses getting into the industry will face a host of repercussions when it comes to business operations including significant working capital, background checks, banking and credit union contacts, credit cards, an audit every two to three years, selecting the entity type, and so on. It's not a matter of if it's going to impact South Jersey; at this point it's when."

Thomas Kemly, president and CEO, Columbia Bank
"Columbia Bank's South Jersey region, which services Burlington, Camden and Gloucester counties, represents a pivotal area of future growth for us. As the local economy continues to prosper, we plan to continue building on our established reputation as a reliable, experienced commercial lender through ongoing support of regional small business expansion. And because of its strategic location, this region will also serve as an information and processing center as we continue to expand our residential mortgage offerings to selected areas of the Philadelphia and Pennsylvania markets. Our South Jersey region will also continue to offer the latest banking technology, including newly enhanced mobile apps and online cash management options, designed to provide a totally convenient banking experience."

Raymond Giunta, CPA, PFS, managing partner, Baratz & Associates, P.A.
"Our South Jersey clients are experiencing an uptick in the economy and growth in productivity this year. While we might still be behind the nation, this positive change is good news. However, with every opportunity comes a challenge. Businesses are finding that the increase in production requires an increase in labor. Those hiring unskilled labor for manufacturing, apprentices for unions, skilled technicians or educated/highly skilled workers are experiencing a drought in this region. With the national unemployment rate of 3.7 percent holding steady and average hourly earnings rising 3.1 percent year after year, the national labor market remains very strong. The 2017 Tax Cuts and Jobs Act and favorable New Jersey economic development incentives should provide future opportunities for growth. The challenge is to find the skilled labor force needed to benefit from this economic opportunity in our region."

Mary Ann Boccolini, president and CEO, Samaritan Healthcare & Hospice
"As the region's most experienced hospice provider, Samaritan's mission ensures that South Jersey residents receive the highest-quality care that honors their goals, wishes and values from the time of a serious diagnosis through advanced illness and at the end of life. Yet, too many people are not aware of the options they have when considering medical treatment decisions and often say they wish they had called Samaritan sooner. That is why Samaritan strives to educate the public about the benefits of palliative medicine, hospice care and importance of documenting one's health care wishes in an advance directive. In fact, Samaritan recommends advance care planning resources for all workplace wellness programs. Samaritan's experts are available to support the South Jersey business community and the growing number of employees who are caring for aging parents and grandparents."

Brian McClafferty, executive director, Delaware Valley Safety Council
"Since President Richard Nixon signed the Occupational Health and Safety Act (OSHA) in 1973, the growth of OSHA has been mirrored by the reduction of fatalities in the workplace. The effectiveness and value of safety training and hazard awareness cannot be overstated. In the petrochemical industry alone, the Basic Orientation Plus training program developed by the Association of Reciprocal Safety Councils, of which the Delaware Valley Safety Council is a member, has been credited with saving the industry over $287 million in lost man hours and training costs since 1999. Many large and small companies are now expanding their focus on and their prioritization of safety. This increased emphasis on workplace safety is paying handsome multidimensional dividends in the business world."

Dr. David Edwards, executive vice president, academic and student affairs, Camden County College
"The higher education landscape in South Jersey is ever-changing. Private and public sector employers have challenged college and university leaders to refine our degree programs to include workplace skill building and real world experience for our degree-seeking students. Business owners emphasize the need for college graduates with well-developed communication and critical thinking skills, as well as the ability to innovate and contribute collaboratively in the workplace.

"Our first-time college enrollees are increasingly focused on degree programs that provide cost-effective pathways to good jobs immediately following graduation. Some are opting for short-term, intensive training certification programs that include hands-on apprenticeships in the health care, advanced manufacturing and service sectors. New Jersey employers will continue to seek workforce applicants who made the fiscally responsible choice to get their start at a student-centered community college such as Camden County College."

Jeffrey Resnick, Esq., president, Katz JCC, Cherry Hill
"Continuing to foster a sense of community is essential to keeping South Jersey exceptional. At the Katz Jewish Community Center, we take pride in the variety and quantity of services we provide to our members, who in many cases span multiple generations. For us to continue to be a thriving JCC, and for any organization that is member driven, we must consistently offer new programs that appeal to all ages. The JCC also is constantly incorporating innovative fitness and wellness classes and programs for members, as well as updating facilities and equipment in our fitness center.

"We are focused on creating events celebrating Jewish holidays, and are proud to be a leader in offering programming directed to the special needs community. To keep up with our active older adult population, we are focused on offering 'Life Long Learning' classes and programs that span many topics including art, history, music, current events and theater. Every organization must constantly consider community-building practices to ensure that its members continue to be engaged. This has been, and will continue to be, our focus."

Wayne Meyer, president, New Jersey Community Capital
"Supporting the continued growth of local economies ensures that the future of South Jersey will be even brighter. At New Jersey Community Capital, we not only firmly believe this, but we are doing our part. Through strategic funding and capacity building, we are helping to revitalize local and regional assets that generate jobs and help communities thrive. As more and more public and private partners work across sectors, we can create truly comprehensive, integrated approaches to making sustainable and equitable investments in local communities and neighborhoods across South Jersey."

Joseph W. Devine, president, Jefferson Health – New Jersey
"Health care will continue its ongoing transformation in 2019. We will see more consolidation and collaboration, as well as partnerships focused on innovation. The ongoing demands for expansion and advancements in telemedicine, online scheduling, and alternative ways to visit your health care provider will continue. There will also be a continued focus on modern facilities, new technology and easier access to services. Expect to see more physicians move from private practices to employment with health systems, larger physician organizations and even venture capitalist firms. Ongoing efforts will continue to improve care in the areas of substance use, mental health and the opioid crisis. Expect to see the expansion of health care-related programs in academic settings—including universities, community colleges and even high schools—that result in an ever-increasing array and broader scope of career opportunities. And finally, health care providers must continue to become more customer-focused and affordable for consumers."


To read the digital edition of South Jersey Biz, click
here
.


Published (and copyrighted) in South Jersey Biz, V
olume 8, Issue 12 (December 2018).
For more info on South Jersey Biz, click here.
To subscribe to South Jersey Biz, click here.
To advertise in South Jersey Biz, click here.