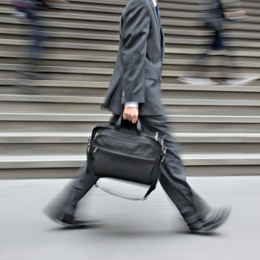 On the Move
Openings, closings, hirings and retirings in our region.
PS&S recently welcomed Russell Cipolla as a senior director heading up the new bridges and roads division for the company's land services group. Steven Ewing also recently joined PS&S as a senior director.

Frederick Lopez was appointed vice president and relationship manager for M&T Bank in Camden County. He previously served as vice president and relationship manager for small business lending with OceanFirst Bank.

Joyce L. Collier has joined the employment law, civil rights and complex litigation practice groups at Greenblatt Pierce Funt & Flores, LLC. Collier has30 years of experience as a trial lawyer in state and federal courtsin New Jersey andPennsylvania.

Megan Varrell recently joined the Gloucester County Chamber of Commerce as directorof membership and events.

Jonathan Chebra has been appointed senior director of federal affairs for the New Jersey Hospital Association (NJHA). Chebra will serve as the chief advocate for members' legislative priorities at the federal level as well as coordinate responses toregulatory developments.

The Food Bank of South Jersey has appointed Fred Wasiak as its new CEO.

Lawrence Greenawald, M.D. recently joined the medical staff of OurLady of Lourdes Medical Center. He specializes in general surgery.

The Occupational Training Center of Burlington County announced the retirement of longtime employee Gale Jugan. She has worked at the OTC for more than40 years, most recently serving as vocational evaluator.

Wolf Commercial Real Estate announced the hiring of David Spector as director of community relations.

M&T Bank has named Giuseppe Mastroeli business banking metro market manager for New Jersey. In this role, he will lead the team providing advice and solutions to small business owners.

Duly Noted
Virtua Health System has achieved the highest honor in nursing excellence through the Magnet Recognition Program of the American Nurses Credentialing Center. Only eight percent of hospitals across the country earn magnet-recognized status.

The Food Bank of South Jersey (FBSJ) and Feeding America recently partnered to send 21,000 pounds of food to support the Second Harvest of South Georgia—a sister food bank of the FBSJ.

Lourdes Cardiology has been named a 2018Guardian of Excellence Award winner for the third year by Press Ganey. The Guardianof ExcellenceAward recognizes top-performing health care organizations that have consistently achieved the 95th percentile or above of performance in patient experience.

American Heritage Credit Union employees and their families donated 235 coats to the Delaware Valley Veterans Home and Veterans Multi-Service Center during their inaugural coat drive.

For the fifth straight year, The College of Healthcare Information Management named Virtua a 'Most Wired' health system for 2018 for its leadership in the use of information technology to improve health care.

Clearbridge Branding Agency has expanded, opening a second location in Glassboro on Rowan Boulevard. Their other location is in Millville.

Mortgage Possible employees delivered backpacks filled with supplies, goods and more to homeless veterans at Volunteers of America, Home of the Brave VOA in Camden to commemorate Veterans Day.