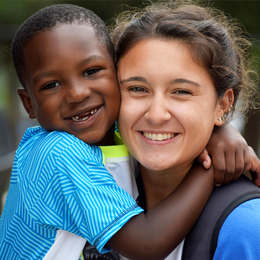 Difference Makers
17 nonprofit organizations that go above and beyond in our community.
South Jersey is home to many businesses that make an economic impact on the area, but it is also home to several nonprofit organizations that make an impact on the lives of countless individuals who need help and support. The leaders and volunteers of these nonprofits dedicate their time to serving others, offering a variety of services and programs that give these individuals an opportunity to succeed and experience a brighter future and provide a safe and caring environment.

We honor these programs that work tirelessly to help those in need and go above and beyond what is asked of them with our nonprofit stars of 2018.

People for People Veterans Resource Center — Camp Salute
The People for People Veterans Resource Center is located at Camp Salute, a veteran-preference, low-to-moderate- income affordable housing community in Clayton. The Veterans Resource Center supports Camp Salute residents and all veterans throughout the region by offering workshops and support groups dealing with topics such as PTSD, VA medical access, budgeting, cooking, vocational rehabilitation, veteran higher education and other life essentials. Camp Salute is the first of its kind in the country that combines extensive services and support with veteran issues, complete government and private social services and programs, as well as onsite veteran affordable housing.

The Boys and Girls Clubs of Gloucester County
The mission of The Boys and Girls Clubs of Gloucester County is to inspire and enable all young people to realize their full potential as productive, responsible and caring citizens. Additionally, they provide a safe, fulfilling and fun environment where every child is given the opportunity to succeed in life and experience a brighter future. They are part of a national movement with over 100 years of youth development experience in providing a safe place for youth, ages 5-18, to come to after school and during the summer at the club centers located in Glassboro and Paulsboro.

Cathedral Kitchen
Founded in 1976, Cathedral Kitchen (CK) has a long history of serving up hope to the homeless and those struggling to get by in Camden. Their mission is to use food to change lives, and they use food to nourish, train and employ people to offer them hope for improving their lives. CK serves more than 122,000 nutritious meals a year on- and off-site, and in addition to food support, CK offers free health and dental care and provides culinary arts job training. Over the past 10 years they have graduated more than 330 students who were previously unemployed and underemployed, and the majority have gone on to build a new career in the food industry with 86 percent securing employment shortly after graduation.

The Salvation Army — Ray & Joan Kroc Center
Opened in 2014, The Salvation Army Kroc Center in Camden houses an array of education, sports, faith, arts and supportive programs assembled under one roof, open to all. The programs, as well as the 120,000-square-foot building, have been designed to stimulate the mind, body and spirit, to provide hope and to transform local lives. In the past year, the Kroc Center has hosted hundreds of events, thousands of members, 15,000 volunteer service hoursand nearly 100,000 visits to fitness and aquatics offerings.

Camden County Habitat for Humanity
Camden County Habitat for Humanity(CCHH) engages in construction projectsto foster economic empowerment and sustainable community revitalization. Since1986, CCHH has helped over 60 families achieve affordable home ownership. They believe that no matter who we are or where we come from, we all deserve to have a decent place to live. To further support the community and affiliate, in 2008, the CCHH ReStore opened—a 25,000-square-foot home improvement retail outlet that offers deeply discounted new and used home improvement products, supplies, furniture and appliances to the general public.

Hopeworks
With a focus on education, technology and entrepreneurship, Hopeworks provides a positive, healing environment that propels young people to build strong futures and break the cycle of violence and poverty in Camden and in the region. Hopeworks trainees learn state-of-the-art computer applications such as geographic information services and website development, as well as the necessary professional skills to land future employment. Since its founding in2000, nearly 3,000 young people have become Hopeworks trainees and become connected to life-changing opportunities where their growing technology skills go to work for enterprising businesses within the community.

Liberty Lake Foundation
Established in 2010, the Liberty Lake Foundation (LLF) provides opportunities foryoung people to learn, grow and succeed. The foundation strengthens and supports families by providing tools, resources and youth development programs for parents to nurture their children to become a better people. The LLF believes that every child deserves the opportunity to flourish in a caring, supportive environment regardless of circumstances—and that it takes a village to make it happen. For the past five years LLF has awarded thousands of dollars in "camperships" (summer camp scholarships) to deserving children and teens to attend area camps.

Katz JCC
The Katz Jewish Community Center (JCC) is committed to promoting and enriching Jewish culture, heritage, values and lives by providing outstanding educational, social, fitness and wellness programs and experiences for the entire South Jersey community. The JCC welcomes individuals of every faith and culture to be a part of its vibrant organization. Always working toward creating an inclusive environment, the JCC provides programming and events for individuals of all ages with special needs.

Jaws Youth Playbook
Former NFL quarterback Ron Jaworski's foundation, Jaws Youth Playbook, focuses on a mission to improve the overall health and wellness of at-risk youth, primarily in the Greater Philadelphia region. To date, his foundation has donated over $5 million to much-needed playgrounds and programming to provide kids a safe place to play. A recent donation included a$100,000 donation to Cooper's Ferry Partnership to help revitalize the community through outdoor parks and safe placesto play at a park at 4th and Washington streets in Camden.

Robins' Nest
Since their humble beginning as a group home for girls in 1968, Robins' Nest has grown into a premier provider of community-based services across South Jersey. They currently offer more than 80 programs andservices to 10 counties in New Jersey, spanning from Cape May County into Mercer and Monmouth counties. Robins' Nest operates programs in three services areas: integrated health, child protection and permanency, and prevention services. Many of their programs are open to all community members, including their three outpatient counseling and wellness center locations and eight family success centers.

Catholic Partnership Schools
Catholic Partnership Schools strengthens and sustains the educational excellence of the five Catholic schools in Camden. They provide a safe, loving environment and enriched, student-centered programs where the students are set up for success and prepare their graduates for successful transition into college preparatory or technical high schools.

YMCA of Gloucester County
Founded in faith in 1912, the Y of Gloucester County strengthens the foundations of the community by delivering programming and services centered around youth development, healthy living and social responsibility. Supported by generous corporate donors including TD Bank and Investors Bank, as well as many local business and individuals, The Y of Gloucester County strives to serve anever increasingly diverse community. Swim lessons and aquatic programming in their heated pool, exercise programming for active older adults and school-aged child care are all vital components of their service delivery in the community.

Deborah Hospital Foundation
Founded in 1922, Deborah Hospital Foundation is the fundraising entity of Deborah Heart and Lung Center. Over the last 96 years, Deborah has never issued a bill to a patient; this achievement is solely made possible through philanthropy. At Deborah, it is believed no one should make medical decisions based on their personal finances. It is through the tireless work of the foundation and its legion of volunteers that itis able to alleviate this burden from the patient's decision-making process. Through support from individuals, corporations, foundations and grants, the foundation continues to raise the funds necessary to support its altruistic mission—to provide high-quality, specialized care to all who require its expertise.

Moorestown Community House
For 92 years, the Moorestown Community House has served as home to scores of clubs and organizations, supporting them by providing space at deeply discounted rates. It has been a community gathering place hosting such events as the annual tree lighting, children's holiday shop, summer movie nights and patio parties. Not only does the house provide a gathering place for the community, it offers a beautiful space to hold milestone celebrations, fundraising events and business meetings. An independent nonprofit organization, the Community House relies on donations from the community and room rental fees to operate.

Archway Programs
Archway Programs, an affiliate of Woods, is a diverse, nonprofit, human services organization that has maintained its stellar reputation for educational excellence, individualized care, innovative services, integrity and strong sense of community since 1965. Serving individuals of all ages, it offers an array of unmatched services and several model programs. Over the course of its history, Archway Programshas evolved, driving positive change through innovative development and expansion of services providing new opportunities throughout the community. The Archway School at Cooper's Poynt, its newest program launched this fall, features an approved private school for students with disabilities located in a Camden public elementary school.

ACCSES New Jersey
ACCSES New Jersey is a statewide association that provides leadership and support to 41 nonprofit, community-based organizations that advocate for and serve people with disabilities in community-based programs located throughout the state. Its members provide a wide array of employment and support services, with the aim of helping individuals with disabilities achieve economic and social independence. ACCSES NJ has the distinction of being the state's Central Nonprofit Agency under the Set-Aside Lawfor Rehabilitation Facilities, which mandates that a portion of state government purchases come from products and services produced by workers with disabilities.

Seabrook
Seabrook—an alcohol and drug addiction and co-occurring disorder treatment provider—is accredited by the Commission on Accreditation of Rehabilitation Facilities. Founded in 1974, Seabrook has multiple locations providing a variety of evidence-based, abstinence-centered treatment options. It provides a safeplace for residents and families to pursue the sobriety journey and hone critical recovery skills.

UrbanPromise
For the last 30 years, UrbanPromise has provided a safe and loving place for kids to learn and grow. Over 800 children are attracted to their programs each year for free after-school programs and summer camps that include homework help, tutoring, games, field trips, healthy snacks and most importantly, lotsof caring adults. UrbanPromise also includes a K-12 school with a graduation rate of 96 percent and the goal of a college education for each student. Additionally, they boast a wellness center that provides trauma informed care and counseling to each child and helps them build skills to cope with adversity.

UrbanPromise was recently awarded the Nonprofit of the Year Award from the Nonprofit Development Centerof Southern New Jersey and was profiled for the third time on Nightline with Diane Sawyer.

To read the digital edition of South Jersey Biz, click here.

Published (and copyrighted) in South Jersey Biz, Volume 8, Issue 11 (November 2018).

For more info on South Jersey Biz, click here.
To subscribe to South Jersey Biz, click here.
To advertise in South Jersey Biz, click here.