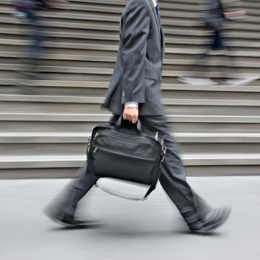 On the Move
Openings, closings, hirings and retirings in our region.
Corinne Giletto has joined Vantage Real Estate Service's sales team.

Surgeon Victor Bondar, MD, recently joined the medical staff of OurLady of Lourdes MedicalCenter. He specializes in oncologic surgery.Bondar comes to Lourdes from the Veterans Administration Medical Center at the University of Tennessee in Memphis, Tennessee, where he was a faculty member and an assistant professor of surgery.

Christopher Wolf has been appointed vice president, commercial loan officer for Columbia Bank. Wolf joins the bank's middle market lending group based in South Jersey. Prior to joining Columbia, he held commercial banking positions at Ocean First, Fulton Bank and M&T Bank.

Frank Aghassi has been appointed vice president, commercial loan regional manager for Columbia Bank.

Eli Berkowitz has joined the sales team in charge of business development at Morris Graphics Inc.in Woodbury.

Ali Zaidi has been named the Burlington County district manager for Wells Fargo and will oversee nine branchesin the county. Zaidi joins Wells Fargo from TD Bank where he servedas vice president, retail market manager in Massachusetts, where he was responsible for managing 21 retail branches in the Northern New England market.

WCRE recently expanded their regional team, adding three new hires. April Loomis recently joined as a senior sales associate focusing onthe South Jersey market. She brings over 25years of professional experience with major corporations in the region, having recently served as a contractsmanager at Lockheed Martin and Comcast Corporation. Mitchell Russell is the firm's newest sales associate in Pennsylvania and Nora Farghaly has been hired as marketing coordinator and administrative assistant.

Duly Noted
Advanced Enviro Systems has moved into a21,000-square-foot facility in Camden, utilizingthe tax incentives offered through Grow NJ.The move will bring 27 new full-time positionsto South Jersey.

Cashiers at ShopRite stores owned and operated by the Ravitz family collected$16,366 in donations during the month of July for the Leukemia & Lymphoma Society. The following stores contributed to the donation: ShopRite of Marlton, ShopRite of Evesham Road in Cherry Hill, ShopRite of Garden State Pavilion in Cherry Hill, ShopRite of Mount Laurel and ShopRite of UnionMill Road in Mount Laurel.

Joyce K. Zimmerman, CNMT, MBA, LRT, FSNMMI-TS, with the medical affairs department at Lourdes Medical Center of Burlington County, was recently honored with a 2018 Fellowship Award from The Society of Nuclear Medicine and Molecular Imaging–Technologist Section.

Markeim Chalmers Senior Vice President Scott Martin has been appointed to the Coaches vs. Cancer Executive Committee— a nationwide collaboration between the American Cancer Society and the National Association of Basketball Coaches. This organization provides awareness and raises funds to directly support the society's mission—to save lives by helping people stay well and get well by finding cures and by fighting back.

The Occupational Training Center of Burlington County has opened a new group home on Concord Road in Marlton. The 2,136-square-foot facility will house four full-time residents with intellectual and development disabilities.

Kathleen V. Greatrex, MD, radiologist and chief of breast imaging at Lourdes Health System, was recently elected to serve as treasurer of the executive committee for the New Jersey State Board of Medical Examiners.

Surety Title Company, LLC, announced a merger with Title Village Title Agency based in Lawrenceville, further strengthening both companies' long-standing commitment to clients and employees.

Children and family services organization Robins' Nest celebrated its 50th year on Sept. 11.

Heather Casparro, who graduated from Rowan College at Burlington County in May with a 4.0 GPA, was elected to serve as the 2018–2019 alumni trustee.

Charny Karpousis Altieri & Donoian, P.A. senior associate Rebecca Berger has been appointed co-chair of the Burlington County Bar Association–family part section.

Our Lady of Lourdes Medical Center's Cardiac Rehabilitation program was recently certified by the American Association of Cardiovascular and Pulmonary Rehabilitation. The certification recognizes the program's commitment to improving patients' quality of life by enhancing its standards of care.

The Gloucester County Board of Chosen Freeholders presented the Gloucester County Military Service Medal to 95 veterans at the Gloucester County Military Service ceremony on Sept. 15.

To read the digital edition of South Jersey Biz, click here.

Published (and copyrighted) in South Jersey Biz, Volume 8, Issue 9 (September 2018).

For more info on South Jersey Biz, click here.
To subscribe to South Jersey Biz, click here.
To advertise in South Jersey Biz, click here.