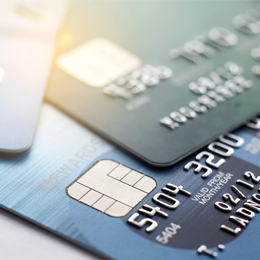 How to Use Corporate Credit Cards Wisely
Companies may provide their employees with corporate cards for the payment of approved, business-related expenses.
They can be efficient and economic options for paying the bills, but only when developing a strategy and putting protections in place.

After nearly 40 years in the financial services industry, there are some golden rules to keep in mind when using corporate credit cards. Here are some tips I have used to help guide me along the way:

1. Know the rules
One of the primary benefits of using a corporate credit card is the fact that they allow employers to more closely monitor the spending of their employees, especially when they are out of the office on travel. Any company that issues a corporate credit card should make sure that their policies regarding procedures, spending limits and restrictions are understood and followed by employees.

2. Avoid the pitfall of unapproved charges
One common threat comes from unapproved charges. This involves mixing personal expenses with business spending. Cardholders may be tempted to skip the hassle of performing a separate transaction on a personal credit card, instead simply including unapproved expenses on the corporate card.

3. Use common sense
Perhaps one of the biggest dangers comes from a lack of simple common sense. Ask yourself, "Is this 100 percent related to my job?"

4. Theft and loss
Just as consumers should always keep their credit cards in safe places to prevent theft or loss, employees also need to ensure the security of their corporate cards.

Just as with a personal credit card, the loss or theft of a corporate credit card should be reported as soon as possible to prevent fraudulent charges and to begin the process of receiving a new card and account number.

5. Treat it as if it were your money
A corporate credit card shares many similarities with a personal credit card, but includes the added wrinkle of involving an employer in the process. Cardholders who educate themselves about the rules for their company and for the card can avoid the pitfalls as they enjoy the benefits.

In the end, it makes sense to treat a corporate card in much the same way as a personal card. Would you do the same if it were coming out of your pocket?

David J. Hemple is president and CEO of Century Savings Bank. Century, once a modest building and loan association founded in downtown Bridgeton in 1865, is a thriving community bank that now serves Cumberland, Gloucester and Salem counties with six branch locations, 75 employees and $450 million in assets.

To read the digital edition of South Jersey Biz, click here.

Published (and copyrighted) in South Jersey Biz, Volume 8, Issue 8 (August 2018).

For more info on South Jersey Biz, click here.
To subscribe to South Jersey Biz, click here.
To advertise in South Jersey Biz, click here.