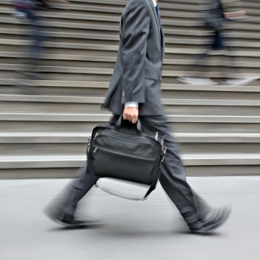 On the Move
Openings, closings, hirings and retirings in our region.

NAI Mertz's Jonathan Klear has been promoted to senior vice president. Klear, who was formerly a vice president with the firm, is based outof the Mount Laurel headquarters. For more than a decade, Klear has specialized in industrial sales and leasing throughout South Jersey and the Greater Philadelphia market.

Lewis Clark Jr. is the new vice president of marketing, media and public relations at Deborah Heart andLung Center.

Mindy Sayres has been promoted to associate principal at GZA GeoEnvironmental, Inc. Sayres has more than 30 years of experiencein the environmental field, leading a wide variety of geologic, hydrologic and contaminant investigations for private industry, government agencies and developers.

Greg Wood is the new assistant vice president and business development officer of ParkeBank's Spruce Street, Philadelphia branch.

Rowan University's Dr. Stephanie Farrell recently assumed the presidency of the American Society for Engineering Education.

Adinolfi and Packman, P.A. associate Kevin J. Murphy was elected as secretary to the military law and veteran's affairs section of the New Jersey State Bar Association for a one-year term.

MaryAnn Ragone DeLambily recently joined the Alicia Rose Victorious Foundation as development assistant. She plays a critical role in the developmentand implementation of a strategic plan to raise vital funds for the organization through corporate, business and individual donations.

The Columbia Bank Foundation has appointed Amy Dupuis as executive director.

Chad Shank has beennamed dental specialist within the business banking division at M&T Bank for Philadelphia and South Jersey. Shankwill specialize in providing dentists with all the bank lending and deposit products needed to start, expand; or sell their practice.

Susan Manzi, CPA, MHA, has been named chief financial officer of Samaritan Healthcare & Hospice. Manzi will oversee all of the organization's financial functions including strategic financial planning, budgeting, forecasting, accountingand revenue cycle.

New Jersey Board of Public Utilities (NJBPU) President Joseph L. Fiordaliso has been named secretary- treasurer of the Mid-Atlantic Conference of Regulatory Utilities Commissioners (MACRUC). MACRUC promotes the region-wide advancement of publicutility regulation and the related regulatory, legislative and policy interests of MACRUC membership, consistent with MACRUC member state public utility commissions.

The MEMIC Group has hired Thomas Brennan as safety management consultantto support their continued growth in the New Jersey market.

Eric Broms has been appointed vice president, commercial loan officer for Columbia Bank. In his new position, Broms joins the bank's commercial real estate lending team. Prior to joining Columbia Bank, he held a variety of related lending positions at TD Bank.

Concord Engineering recently opened a new office in Princeton at Princeton Overlook Center.

Duly Noted
Carl Bagell, South Jersey managing partner of Friedman LLP, has been named 2018
Victorious Corporate Champion for the 16th Annual Birthday Bash hosted by the Alicia Rose Victorious Foundation (ARVF). ARVF was formed in 2002 in memory of Alicia Rose DiNatale of Voorhees, who died at the age of 17 from a rare form of childhood cancer.

The Cumberland County Bar Association recently installed Matthew J. Robinson of the Millville firm Robinson & Robinson, LLC, as president of the board of trustees for 2018-19. Robinson is the second youngest president in the association's 119-year history at the age of 35.

Dunkin' Donuts in Greater Philadelphia and the American Red Cross launched their annual blood donation partnership with a special event and community blood drive at Dunkin' Donuts in Sewell. Dunkin' Donuts is providing 28,000 free medium iced coffee and classic doughnut vouchers to present to Red Cross blood donors throughout the month of August to encourage blood and platelet donations.

Archer Law recently announced the addition of Timothy J. Cunningham as a partner in the public finance and governmental affairs practice groups. Cunningham is the former director of division of local government services and chairman of the local finance board of New Jersey Department of Community Affairs.
Home health care provider Executive Care opened its newest office in Toms River, serving residents in Burlington and Ocean counties. This is their ninth location in New Jersey.
Surety Title Agency Coastal Region
, a part of The Surety Title Family of Companies recently announced Lafayette General Title Agency of Toms River is now part of Surety Title Agency Coastal Region LLC.