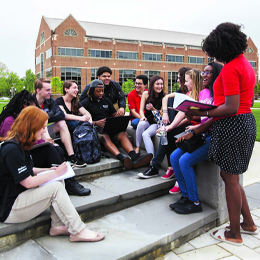 A Flourishing Relationship
More colleges and universities across our region are partnering together, making education more accessible and affordable than ever before.
It wasn't that long ago some people gave community colleges the nickname "13th grade"—not a name most schools particularly liked hearing. If that nickname was irrelevant years ago, it's almost nonexistent now thanks to schools making some big changes to bring more students in.

The biggest change— creating partnerships. By schools partnering together with universities, more programs are offered, transfer credits are accepted and aren't wasted, and receiving a quality education and college degree is more accessible and affordable than ever before for students.

They all have one common goal—to benefit each student as much as they possibly can.

"People who were doubtful can now be assured there is a way in, and right behind it comes the idea that we can help them economically in the beginning and also put out pathway design where we'll map out the degree back to us so we know exactly where you want to go and don't go off the road," Dr. Fred Keating, president of Rowan College at Gloucester County (RCGC), says. "We used to graduate an individual and say good luck, goodbye. That's certainly not the case anymore."

Joe Cardona, vice president for university relations at Rowan University, says there are two levels of partnerships. "There is the traditional level where you have discussions with community colleges and have an agreement and the appropriate offices know the appropriate people at the different schools to help the students transfer.

"But the next level, in which we've struck with Rowan College at Burlington County (RCBC) and RCGC, in those cases we looked at curriculums from a community college level all the way through a four-year degree level to make sure the curriculums align perfectly."

Cardona says in the past, Rowan University, as well as other universities, would accept 60 credits for an associate's degree from a community college, but, for example, 30 of those credits are electives so the student would have catching up to do and take more courses than they thought to.

"We cut a lot of that out and the beauty of the partnership—just like any other partnership—is it takes hard work on both ends to make it benefit the student and that's where we are right now with both RCBC as well as RCGC. We're working through thinking of new programs that students would find appealing."

"This has been innovative in a sense because [the majority of] these partnerships are on the county college campuses," Michael Cioce, acting president of RCBC, says. "Rowan University is our premier partner, but we have Wilmington University—an out-of-state institution—as well as Rutgers-Camden. Low and behold, if you put these partners on campus, what do you think that does to the number of students that go to these institutions? It goes hand in hand. You come up with a creative plan to get them on campus and it doubles down and confirms these are the institutions students want to enroll in and get their degrees from."

AFFORDABILITY
Rutgers University-Camden and Camden County College (CCC) offer a tuition program called Bridging the Gap, which reduces Rutgers-Camden tuition up to 100 percent.

"It was designed to encourage students to earn a bachelor's degree in four years with little to no tuition cost and graduate with as [little] debt as possible," says Michael Sepanic, associate chancellor for external relations at Rutgers-Camden. "Bridging the Gap is designed to get back to what higher education was—a four-year degree."

CCC students who graduate after two years and then get accepted into Bridging the Gap could earn both an associate's degree from CCC and a bachelor's degree from Rutgers-Camden for $20,000 or less.

"That's what you expect with partnerships like the one we have with CCC—you expect public universities to work together like that," he says.

"CCC is an amazing partner and they understand and know the value of a Rutgers degree. They work with us and we work with them to make sure those students who want it, can have it."

And Sepanic says students can get a Rutgers degree without even leaving CCC's Blackwood campus.

"We have a very streamlined and smooth process for CCC students to earn associate's degrees. We want them to earn associate's degrees at CCC and transition right into Rutgers-Camden. Some of that happens with these students not ever needing to leave Blackwood because we offer a number of degree completion programs on-site. At CCC, students can get an associate's degree at Blackwood, and stay there and earn a Rutgers degree."

The 3+1 partnership with RCBC and Rowan University is the perfect combination of accessibility and affordability. Students can go to RCBC for three years and complete their fourth year at Rowan University all for around $25,000.

"That doesn't work everywhere," Cardona says, "but we're unique because of our location and also because of the leadership of each institution."

RETENTION
Students are leaving New Jersey in droves. According to the National Center for Education Statistics, 34,689 students in the Garden State attended out-of-state colleges in fall 2016—the third-highest in the country. This number hasn't changed much since 2008, and because of that, Senate Republican leader Tom Kean recently had legislation approved by the Senate Higher Education Committee to study why so many high school graduates attend college in other states.

In a way, it's a testament to how much students are highly recruited because they are more prepared than students in other states, but it's also negative because most students don't come back to New Jersey.

"Once a student goes somewhere out of state, they don't come back," Cioce says. "So I think the state [makes] investments within the community college. Burlington County invests in our institution because they want residents to stay and that's why our focus is quality. We know when a student comes here, they are going to receive a top-notch education at the fraction of the cost."

Keating says it's partly to do with the demographics changing over the past few years and fewer students in this area. And RCGC and Rowan University are adapting to those changes.

"Everyone knows New Jersey is the No. 1 exporter of high school talent. We are No. 1 in the country in sending our students out of New Jersey to be educated," he says. "If we have that stigma, we have to create more seats and access to students. We have technically thousands of students and we're educating them properly before they get to Rowan [University]. But if we took those 2,000-3,000 students to Rowan and said, 'Rowan— take them,' they don't have capacity. So students' get guaranteed access, a clear path, affordability and a relationship to stay at home.

"There is a goal of not just keeping these folks within the county and within the region, but within the state, too."

Although that is the objective, community colleges still benefit from partnering with schools out of state, like Wilmington University, as previously mentioned. It is no stranger to the area community colleges, as it has partnered with Salem Community College since 1974. In 2007, it began offering select degree programs at Cumberland County College and then-Burlington County College, as well as select courses on-site at Salem Community College.

Dr. Laverne T. Harmon, president of Wilmington University, says the success of those partnerships led to on-site offerings at then-Gloucester County College and it continues to expand its offerings in South Jersey. On May 2, Wilmington University signed the Online Programs Pathway Agreement with RCBC, "which will offer unique opportunities to RCBC's online students, and established Wilmington University as RCBC's preferred partner for online degree completion programs."

"We are a very transfer-friendly institution and our tuition is affordable—that made us an attractive partner for the New Jersey community colleges," she says. "More than three-quarters of our students enter as transfers. We specialize in serving this population and have experience working in Delaware, which is demographically quite similar to South Jersey in terms of both urban and rural environments. We were willing to bring our programs on-site to the New Jersey community colleges, easing the pathway for South Jersey residents to move on from an associate's degree to a bachelor's degree, and even a master's degree without having to commute long distances."

Keating says more traditional, fresh-out-of-high school students are taking advantage of these programs because it's becoming more attractive. "We are getting more and more of them primarily because of money," he says. "They are now understanding and accepting that by coming through us, they can get a guaranteed four-year education at an affordable price. It's not much of a gamble to them."

On the flip side, even more non-traditional students are coming through the doors of these colleges. Keating says these students are "coming to RCGC more aggressively," as of recent because they don't care about all the bells and whistles most universities offer. They want a degree and they want it quickly, without spending an excessive amount of money.

"Individuals are recognizing now you need credentials whether you like it or not, and you want to come back but need a softer, kinder, gentler way. We are a school where you can get what you need. You think, 'I don't need dorms, food or a social life. I need to get a degree, and I need the shortest path and to pay the least amount of money to get a quality education.'"

"Most of these students are driven, working New Jersey professionals who need to balance school, family and work obligations. That's not easy to do," Harmon says. "For various reasons, some of them faced barriers to completing bachelor's degree programs, yet they have aspirations to transform their lives through education. We understand the challenges working adults face in order to become competitive in an increasingly global society, as do our partner schools. Our collaborative efforts can provide academic pathways these students may not have had otherwise."

Cardona says schools are implementing more rigorous studies at the community college level as well, something that wasn't common previously.


"You see students in the labs at community colleges doing research—that was unheard of 10-15 years ago," he says. "Both levels of rigorous studies are happening at community college because of that nature of the tide with four-year schools. Students need to be prepared when they come here their junior year, so they need to do the same kind of research their freshman and sophomore years."


It's not just happening at the community colleges. The Joint Health Sciences Research Center—a $72 million, 95,000-square-foot project next to Cooper Hospital in Camden, is a collaboration of multiple schools. Slated to open in March 2019, it will offer a platform for research and job training in health care career fields.


"This is an example of collaboration among Rutgers-Camden, Rowan University and CCC to create a space where our faculties can have an appropriate research space where students can not only pursue those projects, but collaborate with each other. And that makes more sense than building three separate state-of-the-art research centers. It makes more sense for the taxpayers of New Jersey and get innovative results out of that facility. I think collaboration is the wave of the future."


"If you put it all together as a package, the opportunity for people now exceeds anything certainly in my generation or even millennials now," Keating says. "I think it's an exciting area and I think that's why community college is the pivotal point. We pride ourselves on helping those who really want to get a start in life."

Published (and copyrighted) in South Jersey Biz, Volume 8, Issue 7 (July 2018).

For more info on South Jersey Biz, click
here
.
To subscribe to South Jersey Biz, click
here
.
To advertise in South Jersey Biz, click
here
.