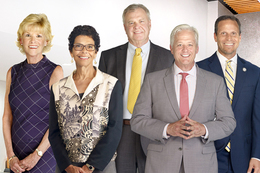 Power 50
Our annual list of South Jersey's most influential leaders.
Power can be a tricky thing. It can easily be abused, but it can also easily be used in the greatest of ways—to change and influence things for the better.

Ahead of you are the most influential professionals in our region who have used power to help the greater good of South Jersey. They come from many fields— health care, government, nonprofit and education to name a few, and are the reason why South Jersey is home to many successful businesses and universities. These individuals have not only impacted this area, but other parts of the state and beyond, and continue to spread their footprint.

You'll see on the next few pages why they are so successful, including surrounding themselves with motivating and hard-working employees who helped them get where they are today.

These individuals have the greatest passion for what they do and what they have produced is nothing short of extraordinary—with no signs of stopping.

MARLENE ASSELTA
President, Southern New Jersey Development Council
"I think a good leader shows humility, which doesn't mean you're unsure of yourself but rather shows a willingness to listen, learn and most importantly share success with others."

CATHY BENNETT
President and CEO, New Jersey Hospital Association
"Health care providers take care of people— that's what they do. But in this period of rapid change in health care, they also are being asked to own a number of other challenges, like affordability and price transparency, health outcomes (some of which are within their control, but many others that aren't) and social determinants of health like housing, nutrition and education. Despite the quality, innovative care that health systems provide for people every day, despite the $2.9 billion in community benefit our acute care hospitals provide annually, and despite the $23.4 billion in economic contributions to N.J. communities, today's environment is asking even more of our health care providers."

REGINALD BLABER, M.D., FACC, MBA
President, Lourdes Health System
Blaber is a practicing cardiologist and previously served as executive director of the Lourdes Cardiovascular Institute, vice president of cardiovascular services and chairman of medicine. Blaber serves on the boards of numerous nonprofit and community organizations.

DONALD A. BORDEN
President, Camden County College
Borden has served as president of Camden County College since July 2016. He previously served as superintendent of the Audubon Public School District from 2006 to 2013 and principal of Audubon Junior-Senior High School where he worked closely with Camden County College to provide both remediation and credit-bearing course offerings to the students.

THOMAS BRACKEN
President and CEO, New Jersey Chamber of Commerce
"What makes for a good business leader is someone who is concerned about and encourages action on statewide issues that have a positive impact on both the business community and citizens, and also someone who empowers employees and seeks input when making critical decisions."

IRA BROWN
Market President, M&T Bank
Brown has served as M&T Bank's regional president for the Greater Philadelphia and Southern New Jersey markets since 2010. His responsibilities include managing the middle market and commercial real estate activities of the bank, as well as overall operations of the region. Brown has been with M&T Bank for over 18 years and has over 34 years of experience in banking. He serves on the boards of the Central Philadelphia Development Corporation, Cooper's Ferry Partnership and the Barnes Foundation Corporate Council.

KEVIN CONLIN
Chairman of the Board, President and CEO, Horizon Blue Cross Blue Shield
Conlin has over 35 years of executive management experience in health care, with a concentration in hospital systems, provider management and managed care business. He has an extensive and diverse background in the hospital industry where he has held several leadership positions. Prior to his current role, Conlin was the company's executive vice president and chief operating officer. In this role, he was responsible for directing and managing all business activities of Horizon BCBSNJ, ensuring the implementation of company-wide strategy and driving operational excellence throughout the organization.

GERARD P. CUDDY
President and CEO, Beneficial Bank
"[Success to me is] when I know for certain that I've eased the burden of others."

KEVIN CUMMINGS
Chairman and CEO, Investors Bank
"There are a few things that keep me up at night. New Jersey's tax and regulatory environment has consistently ranked in the lowest percentile when compared to other states. The pension funding issue is a ticking time bomb that has not been addressed by the leadership of New Jersey for the past 10 to 16 years. [Additionally], our ability to attract new businesses and retain wealthy retirees is at risk and will continue to be a major obstacle to the financial well-being of all New Jersey residents. "

ROB CURLEY
Market President, TD Bank
"To me, success is based on making a positive impact in every way possible for my family, my friends, my co-workers, my employer and the community. Helping others energizes me."

VINCENT D'ALESSANDRO
Southern Region President, OceanFirst Bank
"A good business leader believes in the company vision, is dedicated to its mission, is in touch with the community and surrounds him or herself with a smart, focused team he/she is proud to help succeed."

JOSEPH W. DEVINE, FACHE
President, Jefferson Health, New Jersey Division
"Servant leaders are the best [leaders] in my mind. They have personal integrity, strong character; they are motivational, decisive, intuitive, excellent communicators, avid learners, strategic thinkers and adaptable. But most importantly, they truly care about all the people who work within the organization."

JOHN A. DIANGELO
President and CEO, Inspira Health System
DiAngelo has led Inspira Health Network since 2013, following 13 years as CFO. He has overseen rapid growth, including opening 10 urgent care centers and the new construction of Inspira Medical Center Mullica Hill opening late next fall. DiAngelo also provides leadership at the state and national levels, serving as a New Jersey Hospital Association board member and on the American Hospital Association's Metro Governing Council.

DR. ANTHONY DIFABIO
President and CEO, Robins' Nest
"Transformational leadership requires embracing the fact that you are a part of something larger than yourself. I truly believe—and my experience has time and again proven—that business leaders are most successful when they are able to leverage their own passion, commitment, skills and vision to engage and inspire others to achieve greatness."

MATT DOHERTY
Executive Director, Casino Reinvestment Development Authority (CRDA)
Before coming to the CRDA, Doherty was the former mayor of Belmar. During his tenure, Belmar was the only town in the state to have no tax increase for seven straight years; all while recovering and rebuilding from Superstorm Sandy. Prior to being mayor, Doherty was a financial advisor for firms such as MetLife, MassMutual and Investors Bank.

DANTE GERMANO
COO, Nexus Properties
"Leadership is something that is earned. Leading people in business requires you to earn their respect and confidence. I believe you can achieve that through hard work, intellect, motivation and compassion."

CHRISTOPHER GIBSON
President, Archer Law
Gibson has been with Archer for over 30 years, serving since 2010 as president and playing a major part in the firm's growth from a South Jersey firm to one of the largest law firms in the region. He also serves as chairman of the firm's litigation department and both the environmental law and eminent domain practice groups.

BILL GOLDERER
President and CEO, United Way of Greater Philadelphia and Southern New Jersey
As president and CEO, Golderer leads the United Way of Greater Philadelphia/Southern New Jersey's mission to end intergenerational poverty in the region. Prior to his current role, he founded Broad Street Ministry, a cross-sector collaboration addressing homelessness, and co-founded the social impact restaurant Rooster Soup Company. Additionally, Golderer serves as senior pastor at Arch Street Presbyterian Church.

PHOEBE HADDON, J.D., LL.M.
Chancellor, Rutgers University–Camden
"At Rutgers University– Camden, resiliency and opportunity define success on a daily basis. 'Resiliency' measures the ability of our students and our alumni to achieve their goals, and for our faculty to define new knowledge and research breakthroughs, by relentlessly applying their creative thinking to overcome obstacles. 'Opportunity' is Rutgers– Camden's commitment to making certain that the transformative Rutgers experience is accessible to everyone."

JOHN HANSON
CEO, Delaware Port Authority; President, PATCO; Chair, Camden County College Board of Trustees
"Good business leaders are motivated by a desire to serve others and to contribute to solutions. All of their decisions and actions are driven by their commitment to the ideals of service and contribution."

DAVE HANRAHAN
President and CEO, Capital Bank
"As a community bank CEO, I define success as getting to work alongside my top-notch team of South Jersey bankers—providing quality financial service and solutions to our local customers, and delivering best-in-class returns to the bank's stockholders in the process."

LORI HERNDON, RN, BSN, MBA
President and CEO, AtlantiCare
Herndon, who recently marked her 35th year with AtlantiCare, leads more than 5,800 AtlantiCare employees and 900 physicians and providers who serve the community in five counties. She's held many leadership roles since joining the organization as an intensive care staff nurse in 1983. She is committed to enhancing care for the communities served by AtlantiCare—volunteering for local, state and national organizations, and fostering opportunities for staff to grow professionally and personally.

VERNON W. HILL II
Chairman, Republic First Bancorp; Chairman/Founder, Metro Bank
UK Having launched the first Commerce Bank (now TD Bank) branch in 1973, Hill grew it into one of the fastest-growing franchises by focusing on customer service, namely convenient hours. After departing the company he founded, Hill jumped across the pond and formed Metro Bank UK in 2010—the first bank to open on London's High Street in over 100 years—offering customers in London's metro area a retail banking experience. In 2016 he was named chairman of Republic Bank and is also chairman of Petplan USA, the largest pet insurance provider in the world.

DR. ALI HOUSHMAND
President, Rowan University
"Rowan University's obligations to students keep me up. We constantly search for innovative ways to provide a high-quality, affordable education in safe environments for our 19,000-plus students—a place where they are respected; a place that is their second home. We must prepare students for their futures, enlighten them and challenge them—without saddling them with debt. We've made good progress. We'll make more."

ERNEST HUGGARD
President and CEO, South Jersey Federal Credit Union
Huggard is a certified public accountant and chartered global management accountant with 30 years of banking experience and is a member of the board of directors for the New Jersey Credit Union League. He is a retired lieutenant colonel from the New Jersey Army National Guard after 28 years of service and served on the board of education of Galloway Township for almost 20 years—serving as president for 14 of those years.

RALPH IZZO
President and CEO, PSEG
"The challenge for today's leaders is to motivate a diverse, multi-generational workforce that not only wants a rewarding career, but also wants to be inspired. Our employees want to be assured that their efforts are meaningful beyond the bottom line, that the work they are doing will serve a higher purpose—for the environment, or for their community. Workers want to be inspired, and it's the responsibility of those in leadership to provide that inspiration. How do we inspire? By sharing our purpose, by sharing our passion and, above all, by making sure that everyone feels that they are included—and that they will share in the success of the company and its mission."

DR. FREDERICK KEATING
President, Rowan College at Gloucester County
"To be a good business leader requires vision, skillful communication and conviction. Successful leaders are visionaries able to formulate and influence the future, and one of the most effective ways to achieve this is by being a persuasive communicator. Understanding what drives the people who you are trying to reach and being able to positively communicate ideas strengthens a leader's credibility. An individual who leads with conviction encourages others to collaborate, make contributions and work through challenges in order to accomplish the shared vision."

THOMAS KEMLY
President and CEO, Columbia Bank
"The simple answer is not any one thing [that keeps me up at night], but rather the passion and challenges of being a CEO. During the day, I'm faced with a host of challenges—a changing rate environment, cyber security, how to make our products and services even better, growing shareholder equity and keeping pace with banking regulations and technology—any one of which has the potential to keep you up at night. I find that nighttime provides me with the solace and solitude necessary to think things out and to prepare for the next challenges that lie ahead."

HARVEY KESSELMAN
President, Stockton University
"In September we are opening a new Atlantic City campus that will house 533 students in beachfront housing and serve 1,800 students in a new academic center. Although we are attempting to stem the outmigration of New Jersey high school graduates, what keeps me up at night is the inequitable distribution of state financial support to the senior public colleges, and whether Stockton can secure its fair share of funding to maintain our mission of providing a quality, affordable education to even more N.J. citizens."

ADRIENNE KIRBY PH.D., FACHE
Executive Chairman and CEO, Cooper University Health Care
"The longer I have been in leadership roles, the more I understand that leadership resilience and loyalty to the team are what differentiate great leaders. Of course you must have vision, be goal-oriented, communicate well and be able to inspire others, but those characteristics are just the very basics of leadership during these turbulent times. A great leader can handle bad news and doesn't practice 'hero to zero' behavior with their team. People can't excel in that kind of environment long term. Having leadership maturity means that you support and trust your team in both good times and in challenging times, and health care certainly has its share of the latter."

KRIS KOLLURI
President and CEO, Cooper's Ferry Partnership
Kolluri took the helm as CEO of Cooper's Ferry Partnership in January 2018, previously serving as CEO of the Rowan University/Rutgers-Camden Board of Governors since July 2014. During his tenure, he succeeded in leveraging existing education, research and medical assets in Camden to create new academic programs and build and sustain economic growth in the city and the broader South Jersey region. He is an expert in economic development, infrastructure management and operations with experience running multibillion-dollar public transportation/economic development agencies, as he served as CEO of the New Jersey Schools Development Authority and commissioner of the New Jersey Department of Transportation.

GREG LALEVEE
Chairman, Engineers Labor Employer Cooperative
Lalevee is the business manager of IUOE Local 825 and eighth vice president of the International Union of Operating Engineers General Executive Board. A member of the NJ Transportation Trust Fund Authority, he also serves as vice president of the NJ Building and Construction Trades Council.

BARRY MERTZ
CEO, NAI Mertz
"[Nothing keeps me up at night because] my wife says I fall asleep as soon as my head hits the pillow."

BILL MULLEN
President, NJ Building and Trades Council
As president of the Building Trades Council, Mullen directs the activities of the statewide body, comprised of 15 international building trades unions and 13 county councils—representing some 150,000 members. During Mullen's tenure, the council has been an influential voice for the union construction industry in New Jersey and played a key role in winning passage of many pro-worker initiatives—including project labor agreements, prompt pay legislation, renewal of the Transportation Trust Fund and Schools Improvement Program, and the extension of prevailing wage requirements to all public works projects.

RALPH W. MULLER
CEO, University of Pennsylvania Health System
As CEO, Muller leads a $7 billion enterprise that includes six hospitals and a joint-venture facility, a faculty practice plan, a primary care provider network, multispecialty satellite facilities, home care, hospice care, long-term care and rehabilitation care. He also serves on the boards of several national health care organizations.

MICHAEL MUNOZ
Market President, AmeriHealth New Jersey
"From my perspective, if you are doing work you genuinely enjoy and are able to have a positive influence on the people around you—both personally and professionally—you have achieved success."

PHIL MURPHY
Governor of the State of New Jersey
Sworn in as governor in January 2018, Murphy is the first Democrat to hold the job since then-Gov. Jon Corzine in 2010. His vision is to grow the middle class and jumpstart the state's economy by targeting investments in people and infrastructure.

GEORGE E. NORCROSS III
Executive Chairman, Connor Strong & Buckelew
Since founding his firm in 1979, Norcross has become known as much for his philanthropic efforts as his business acumen. He has helped make Cooper a regional leader in health care as he serves as chairman of the board for several of its organizations, and he is chair of The Cooper Gala, which has raised $12 million to benefit Cooper University Health Care. He continues to raise the profile of the city of Camden making it a major hub for health care and education.

DENNIS W. PULLIN, FACHE
President and CEO, Virtua Health System
Pullin is a seasoned health care executive with extensive operational and business development experience. Previously, he was president of MedStar Harbor Hospital and senior vice president of MedStar Health, a 10-hospital system in the Baltimore-Washington area. Pullin's business expertise is complemented by his personal commitment to improving access to health services in underserved communities. Looking ahead, he will play an integral role in Virtua's acquisition of the Lourdes Health System, which will result in enhanced care for South Jersey residents.

ANNETTE C. REBOLI, M.D.
Dean, Cooper Medical School of Rowan University (CMSRU)
Reboli provides oversight for all CMSRU programs, administrative functions and strategic initiatives and previously served as the school's founding vice dean. One hundred sixty-three physicians have graduated from CMSRU since its inception in 2012, and 373 medical students are currently enrolled. Board certified in internal medicine and infectious diseases, Reboli received her medical degree cum laude from Georgetown University School of Medicine and is a member of Alpha Omega Alpha (AOA) Honor Medical Society. Over the course of her career, she has garnered over $5 million in research support from a variety of sources, including National Institutes of Health, private foundations and industry.

MICHAEL J. RENNA
President and CEO, South Jersey Industries
"Over 681,000 customers in 204 municipalities across New Jersey and Maryland trust our utilities to provide their families, businesses and communities with safe, reliable, affordable natural gas service. That trust demands an unwavering commitment to safety. To make every day a safe day for our employees, our customers and the communities we serve never leaves my mind."

LINDA ROHRER
President, Rohrer and Sayers Real Estate; Chairman of the Board, 1st Colonial Community Bank; Board of Trustees, Rowan University
"'Sir' Griffin keeps me up at night. He's my 11-year-old only grandchild, and he and my daughter, Stacey, are the apples of my eye. I want to pass on to him what was shared with me—the value of work and the importance of contributing to his community. Other things I love keep me awake, too—my real estate business, banking, the William G. Rohrer Charitable Foundation and Rowan University. My overriding concern in all of these areas is that I be the best I can be, that I am prepared for every situation, and that I make a difference."

JIM SAMAHA
Senior Vice President, Comcast's Freedom Region
Samaha leads one of Comcast's largest regions, serving more than 2 million customers in Greater Philadelphia, New Jersey and northern Delaware. In addition to overseeing 5,500 employees, he is responsible for his region's marketing, customer care, engineering, business services and technical operations.

MICHELE SIEKERKA, ESQ.
President and CEO, New Jersey Business & Industry Association
Siekerka leads the nation's largest, most influential employers' organization, advocating on behalf of New Jersey's large and small businesses for policies that will make New Jersey more affordable and regionally competitive. Under Siekerka's leadership, the association's award-winning research on outmigration documented the loss of $20.7 billion in wealth from New Jersey over 11 years and set the agenda in Trenton for the enactment of a series of important pro-business reforms, including the recent repeal of the estate tax and the adjustment of the state income tax threshold for taxing retirement income.

ANGELA SNYDER
CEO, Fulton Bank
"[What makes for a good business leader in my mind] is someone who focuses on the development and the success of others."

GARY STOCKBRIDGE
Region President, Atlantic City Electric and Delmarva Power
Stockbridge is the primary executive responsible for engaging in stake-holder relations with state and local officials, community leaders, and business, consumer and nonprofit organizations within the Atlantic City Electric and Delmarva Power service areas. In that capacity, he plays a critical role in shaping policy and managing issues to deliver value to customers and key stakeholders.

SUSAN STORY
President and CEO, American Water
As president and CEO of American Water Works, Inc., the largest publicly traded U.S. water and wastewater utility, Story leads a team of 6,900 dedicated professionals who provide service to more than 15 million people in 46 states and Ontario, Canada. She served as chief financial officer before assuming her role as CEO in 2014.

TIM SULLIVAN
CEO, New Jersey Economic Development Authority
In his role as CEO, Sullivan oversees the EDA's strategic direction, leading policy and governance initiatives, and serves as the principal representative of the authority throughout the state.

STEVE SWEENEY
Senate President
"I measure success by the willingness to fight for what you believe in and the ability to improve the lives of others. In addition, effective business leaders must be able to recognize opportunities for progress, to act and make the tough but necessary decisions and possess the capacity to enlist the team effort of others. My experience has taught me that the more successful businesses have operated in partnership with their communities and have demonstrated a commitment to the well-being of the entire state and all of its residents."

CHRIS WARREN
Senior Vice President, Market President, BB&T Bank
In these roles, Warren is responsible for leading BB&T's business in the Burlington and Camden markets and delivering the full spectrum of solutions available through the bank's platform. His career spans over 35 years during which he had responsibility for a myriad of commercial banking segments, including small business, middle market and international.