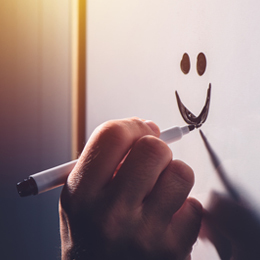 Staying Happy and Healthy at Work
These days we often spend more time at the office than home.
I hear it all the time from patients—from headaches and upper back stiffness to pinched nerves, sciatica and carpal tunnel syndrome—these are just some of the common conditions that can result from poor habits in the workplace. Even digestion and breathing can be affected. The good news is a few positive changes in behavior can keep you happy and healthy at work.
1. Take regular breaks. Sitting at a desk for eight or more hours every day takes a toll on our bodies. Failing to get up and even walk around your chair causes muscles and joints to stiffen, making it painful to stand. There is also a risk of muscle imbalances resulting in aches, numbness and mobility restriction.

2. Get up and stretch. Sometimes a few steps to the copy machine or break room is not enough. Stretching regularly reduces stress and strain on your neck, back and wrists. The pain that results can ultimately make you want to avoid certain activities or movements that are a part of everyday life.

3. Inadequate workspace setup. Ergonomics continues to be key in ensuring employee well-being. If a workspace is not set up properly to minimize stress and strain on your neck, back, legs and arms, soreness will likely result. Small adjustments in computer monitor and keyboard height or position can make all the difference.

4. Poor posture. How often has mom said, "Sit up straight." Ironically, gravity is often to blame for our slumping letter "C" position at no fault of our own. This may cause headaches, pinched nerves, shoulder impingements, sciatica and yes, bad digestion.

5. The little things. Throughout the day many of our normal habits lead to pain and discomfort without us knowing it. Crossing our legs, sitting with your heels on your chair's legs and toes on the floor, and cradling the phone between your ear and shoulder—these subconscious actions lead to excessive strain on our necks, backs and arms.

Whether guilty of sitting too long or dangling feet, take note of your actions. Stretch at least once an hour. Take a walk outdoors. Set a timer for posture checks. Trust me—you'll be healthier and happier at work and home.

Valerie Dellocono, PT, DPT, MTC is a Doctor of Physical Therapy and the Acting Director of Trinity Rehab in Marlton. She is a member of the American Physical Therapy Association and keeps current on evidence-based treatment by attending continuing education courses nationally. Her treatment philosophy is one that com- bines state-of-the-art technology with a teamwork-based, tailor-fit treatment plan designed to provide patient-centric care that takes the whole person—not just the diagnosis—into consideration.
Published (and copyrighted) in South Jersey Biz, Volume 8, Issue 6 (June 2018).

For more info on South Jersey Biz, click
here
.
To subscribe to South Jersey Biz, click
here
.
To advertise in South Jersey Biz, click
here
.