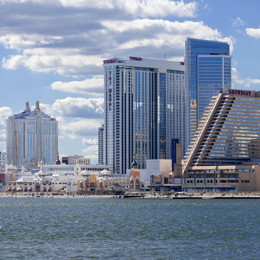 Change for the Better
Continued growth and change are making an impact on Atlantic City and showing it's the place to work, live and play.
On the west side of Atlantic County is Hammonton—known for its lush agriculture and wineries—and on the other side of the county is Atlantic City— known for its nightlife and famous Boardwalk. On paper, one wouldn't think the two towns have anything in common, but that couldn't be further from the truth. Both are going through revitalizations; adding new infrastructure, numerous businesses—large and small—and restaurants to areas in the towns that need a change and life brought back to them. And so far, it's been successful. Both towns, as well as the rest of the county, are being recognized for their efforts and making Atlantic County a destination.
"The redevelopment and revitalization is blooming," Jim Wood, president and CEO of Meet AC says. "Individuals see the possibility and bright future for Atlantic City with the brands, businesses and attractions that are establishing themselves here."
Casinos Making a Comeback
Not just one, but two new casinos are opening this summer in Atlantic City, and both plan on opening the same day—June 28. Ocean Resort Casino is taking over the former RevelCasino and Hard Rock Casino and Hotel is taking over the former Taj Mahal Casino.
"Opening the same time as us really confirms the fact there's confidence in the market," says Matt Harkness, property president of Hard Rock Hotel and Casino of Atlantic City. "There is clearly a sense of the re-growth and rebirth of Atlantic City, and quite frankly, Hard Rock is very proud to be a part of that."
Ocean Resort Casino wholeheartedly agrees, and calls both openings "a transformational moment in its history."
"It is a good thing for the city, and we view the opening of our two properties as a strong signal of revitalization of the city," says Rachel Wilkinson, director of communications.
Unlike Revel, which mostly catered to only high-end clientele, Ocean Resort Casino is taking a different approach and catering to as many people as they can. "In our view, the primary difference will be our approach to customer service and the experience guests have while on property," Wilkinson explains. "We aim to create a welcoming environment that allows people to access our casino, restaurants, spa, pools and entertainment venues with ease.
"It sits on 20 acres along the Boardwalk, and the previous owners made tremendous investments into the building of this resort. So while our approach to the customer experience will be vastly different to the previous owners, the property itself, with the renovations we have undertaken since January to create better flow, access and some tremendous additions to our entertainment and food and beverage offerings, makes Ocean Resort Casino a remarkable resort that will appeal to a wide variety of different audiences."
Hard Rock is also appealing to a wide variety of audiences. One way they are doing that is by offering 300 nights of shows with comedians and singers. They are hosting all different genres of music, from Carrie Underwood, who is opening on June 29, to Pitbull performing the next night, and country acts such as Blake Shelton, Florida Georgia Line and Toby Keith taking the stage throughout the summer.
"Without a doubt, one of the things we have going for us here as a Hard Rock property is the Hard Rock brand is one of the most recognized brands in the world. We're recognized as an entertainment brand and [that] gives us an advantage as a casino in this market that quite frankly is unique. That helps in the process of creating a destination resort which is absolutely what we're going to be," says Harkness.
Not Just the Blueberry Capital of the World

Although it's known as the Blueberry Capital of the World for having more cultivated blueberries than anywhere else in the world, Hammonton has so much more to offer. Agriculture is still a big sector in the town, with all kinds of farms in addition to blueberry and their wineries—DiMatteo Vineyards, Plagido's Winery and Tomasello Winery— always draw crowds. But now their down- town is becoming a destination with three breweries—Tomfoolery Brewery, Three 3's Brewing Company and Vinyl Brewing—in addition to their arts district and Eagle Theatre, which puts on hit shows year round. All of the above are putting Hammonton on the map.
"It's nice we are finally getting recognized," Hammonton Mayor Steve DiDonato says. "Hammonton has experienced a great renaissance in our downtown, between the art studios in the arts district, Eagle Theatre, and all the restaurants and breweries. It's a great place to live, work and play. There is a tremendous pride in the public investment in the town. When you think about the exuberant growth, it's fantastic."
The location is ideal, as the Atlantic City Expressway is minutes away and can get you to Atlantic City, other Shore points and Philadelphia—all within 30 minutes. With Atlantic City a short distance from Hammonton, DiDonato says a number of residents have worked at the casinos over the years and the new casinos will have a positive effect on Hammonton.
"Anytime you add more casinos in Atlantic City that employ a few thousand people, it's necessary for the county and necessary for Hammonton," DiDonato says.
Tennessee Avenue Renaissance Project

Thanks to a few local investors, the beach block once filled with vacant buildings, empty lots and boarded houses is on its way to becoming a "destination," as Evan Sanchez calls it. He and Zenith Shah, founders of Authentic City Partners—an organization that creates development projects in Atlantic City with the purpose of bettering the lives of community members—are in the middle of revitalizing that block with a mix of restaurants and small businesses. The Leadership Studio—a nonprofit yoga studio—opened in October last year, and MADE—a chocolate and wine bar—just opened last month. Hayday, a coffee shop named after William Hayday—the inventor of the rolling chairs on the Boardwalk—and Tennessee Avenue Beer Hall are expected to open this summer.
"We want to concentrate on bringing everything to one location and creating a destination," Sanchez explains. "You can go from the beach to Tennessee Avenue where you'll have a great experience. We want people to come to Tennessee Avenue and feel they could come on a Friday night and a Sunday morning and have different experiences both times."
Sanchez says there is a demand for these types of shops and products in Atlantic City, and each business is unique from every other one in city.
"We really believe there is a strong demand for independent businesses and people are looking for more authentic street experiences," he explains. "We are filling that need and engaging other small businesses and artists as part of the Hayday project. … There was not an independent coffee shop in Atlantic City and the demand for that has been crazy. … At Tennessee Avenue Beer Hall, there will be 100 beers—40 on tap—a huge outdoor beer garden with games and an outdoor screen to show movies.
"MADE is a unique concept I've never seen anywhere, including New York City and Philadelphia. It's a bean-to-bar and you can see the owners prepare and make the chocolate, wrap and package it. It's high- quality chocolate and combine that with a glass of wine at the bar and you can have an amazing time. It's a back-to-the-future model with salt water taffy being made in front of you on the Boardwalk."
Gateway Project
Another project in the works is the Gateway Project. This project, done by SOSH Architects, will consist of Stockton University's second location, the new headquarters for South Jersey Gas—a 58,000-square-foot tower—and an 880- spot parking garage. At the intersection of Atlantic, Albany and Pacific avenues, Stockton's student lounge and housing will overlook the beach and Boardwalk. It's a beautiful sight, butmore than that, officials and the administration hope this will help drive economic growth and social change in Atlantic City.
"From management to our frontline employees, we're very excited to move into our new South Jersey Gas headquarters later this year," says Marissa Travaline, vice president of communications. "With each milestone we met, from placing the final beam, to installing the glass at the building's entry, our employees have been following along and are eager to move into this innovative, state- of-the-art work environment close to the Boardwalk."
Travaline says this project is estimated to create approximately 925 jobs for South Jersey Gas, and the 200-plus employees who are currently located in various offices throughout the region will call Atlantic City their home office.
Tom Sykes, principal of SOSH Architects located in Atlantic City, has done a number of projects in and around the city, but said the Gateway Project has been a dream project and he is excited to see Atlantic City grow and have people interested in the city again.
"We are happy to be involved, and bringing a university into Atlantic City is such a great diversity opportunity," Sykes says. "This really broadens Atlantic City to an extent that it shows we're growing in ways we couldn't grow before."
AtlantiCare is also part of the Gateway Project as they are opening an urgent care center on the Stockton campus in September.
"We believe it is going to be a great thing for the economy and for Atlantic City," says Jatin Motiwal, vice president, AtlantiCare Physician Group and Regional Network. "We believe this will also help consumers and patients from neighboring towns, like Ventnor, where this is no urgent care. Providing this extended service would be beneficial for the entire neighborhood beyond Atlantic City." "In my opinion, this is one of the fastest turnarounds in the city I've seen in history," Mayor Frank Gilliam says. "The Gateway Project also with the excitement of two casinos coming back on board, which makes it even more iconic and exciting because it's the first time I've seen two casinos opening on the same day. It should be a very interesting and dynamic time around the southeast inlet. When you think about how the market has changed in Atlantic City, there's a buzz that's happening and energy around the town we haven't had in many years."
What Businesses Are Saying
OCEANFIRST BANK, Vincent D'Alessandro, Southern Region President
"For OceanFirst, being part of Atlantic County is really all about the connections we've made with people in the communities we serve. Of course, OceanFirst has the advantage of the foundation established by Ocean City Home Bank and Cape Bank. The people who work for us live in the community and they come to work every day with a knowledge base of what it takes to get things done. OceanFirst is a community-minded organization that puts our customers first and our staff is focused every day on what we can do for our neighbors in Atlantic County."
FRIEDMAN LLP, Audrey Sherrick, Partner
"We were excited to get involved in the rebirth of Atlantic City, as shown in our participation in the East Coast Gaming Conference and in our association with the many businesses that support the casino industry. It was also an opportunity to provide world-class services such as cyber security consulting, corporate governance and international tax planning to an underserved community. An established presence in Atlantic County also presented an attractive opportunity to serve the neighboring Cape May County tourism and hospitality industry."
SOUTH JERSEY BUILDING SERVICES, Mike DiVito, Owner
"I opened my company in Atlantic County because I currently live in Hammonton and it was an ideal situation for me to work from home. … The best part about doing business in Atlantic County is the people. My experience has been very positive, and I enjoy working with local businesses."
EAGLE THEATRE, Ed Corsi, Producing Director
"We were searching for a site for a professional theatre company that was centrally located to serve all of South Jersey and the Greater Philadelphia area. We chose Hammonton because of its prime location, charming downtown and pro-business atmosphere. Hammonton has small town feel, with a big city appeal."
SOUTH JERSEY GAS
Marissa Travaline, Director of Communications
"Atlantic County offers so much to our region, from the beaches and casinos to the diversity of our small towns, to the rich cultural history of this area, it has been an incredible experience to start our business here, to grow here and to plan for a long and successful future here. We're proud of the successful partnerships we've built with our local leaders, the investments we continue to make in our local communities and the ability to bring safe, reliable, affordable gas service to the very residents we still call our neighbors."