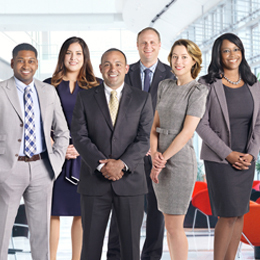 Twenty Under 40
20 Professionals on the Rise in the South Jersey Business Community
Being in your 20s and 30s is a delicate time. Some people are still finding themselves, others have found a career but are unsure whether it's right for them or not, and then there is this crop of individuals who have found what they are passionate about and are thriving. They are motivators, having created their own pathway to success and are making a difference in South Jersey not only with how they perform at their jobs, but outside of the workplace—volunteering at various organizations and being an integral part of companies on the board of directors. These individuals will impress you with their drive, tenacity and work ethic that's second to none. And they are just getting started.


Bradley S. Cohen
Attorney, Earp Cohn P.C.
Age: 31
Years in the industry: 9
As a trusts and estates attorney with an advanced legal degree in taxation, Cohen has a wealth of experience representing individuals, fiduciaries, beneficiaries and tax-exempt organizations in estates, trusts and tax matters. His practice is unique because he specializes in estate and tax planning as well as estate litigation. Recently, Cohen successfully represented a private university in a litigated estate matter that focused on a writing that the decedent allegedly intended to be his will. In 2018, he was selected for inclusion in the New Jersey Super Lawyers® Rising Stars List for Estate Planning and Probate Law.


10-year goal: "Professionally, I look forward to growing with my clients over the next 10 years and celebrating their accomplishments. Personally, I am a new father to my son, Lucas. I look forward to watching him grow and being a great father to him along the way."


What drew you to your field? "My late father was a successful trusts and estates attorney with his own practice. We had planned on practicing law together for a long time, but unfortunately, he passed away unexpectedly while I was completing law school. Prior to this tragedy, I had been serving as my father's law clerk. My father taught me many valuable lessons that I have utilized to become successful in my practice. He is what drew me to my field."


Yves Salomon-Fernandez
President, Cumberland County College
Age: 39
Years in the industry: 21
Considered an innovator and an entrepreneurial leader in higher education, Salomon-Fernandez has collaborated with Google, MIT, Genzyme/Sanofi and other leading partners to extend opportunities to deserving students in the community college arena who would otherwise not have them. She is also a thought leader who speaks, blogs and publishes in scholarly articles on issues related to college access and equity, evolving the academic enterprise and intellectual vitality on campus. Under her leadership, Cumberland County College is rated the No. 1 community college in New Jersey and is tied for No. 2 in the tri-state region by Money Magazine and CNN Money.


10-year goal: "To have significantly moved the needle to make higher education as a profession and as an impactful vehicle for socioeconomic mobility more equitable."


What is the most rewarding part of your work? "Seeing students who never thought they would achieve an under-graduate degree or a workforce training certificate achieve that feat, despite the odds against them. Commencement is by far the most gratifying experience."


Tony Rod
Vice President, The Flynn Company
Age: 38
Years in the industry: 15

A graduate of Villanova University, Rod is responsible for leasing and sales of industrial and office space in South Jersey, representing both owners and tenants. Since joining The Flynn Company in 2002, he has completed transactions in excess of 12 million square feet. Rod holds an associate broker's license in New Jersey and a sales license in Pennsylvania and Maryland.


10-year goal: "Of course I would like to enjoy continued growth and success in business, but at the risk of sounding cliché, I want to look back over the previous 10 years and know I was the best husband and father I could've been. My family motivates me to be successful and I'm hoping to discover a perfect balance."


How do you unwind? "I like to sit on my back deck and enjoy a cold beer with my wife, Melanie."


Christopher Jeremy Noll, PE, CME
Project Engineer, Environmental Resolutions, Inc.
Age: 33
Years in the industry: 11

Noll is a New Jersey-licensed professional engineer and certified municipal engineer who is responsible for providing engineering design, construction management and survey support services for a wide variety of municipal and county clients. His projects include site planning and design, storm drainage systems, municipal reviews, road reconstruction improvements, dam repair and inspections, and parks and recreation design. He is also the president of the South Jersey branch of the American Society of Civil Engineers as well as a business advisory board member to the Alicia Rose Victorious Foundation.


10-year goal: "In the next 10 years, I would like to become a partner at Environmental Resolutions, Inc. and continue to provide our clients with the family service they expect while continuing to grow the company. I also plan to continue the advancement of STEM programs at our local schools through furthering the student outreach programs championed by the American Society of Engineers."


What drew you to your field? "My grandfather, Eugene Noll, and my father, Christopher Noll, are both civil engineers so I was always very interested in engineering growing up. My father's work ethic and passion toward the field inspired me to become a civil engineer."


Justin Lane
Manager, Sales Retention, AmeriHealth
Age: 33
Years in the industry: 7
Lane's ability to foster meaningful relationships with brokers and customers earned him the responsibility of managing the team that handles some of the company's largest and most complex customers—an impressive accomplishment given he had no prior experience in health care when he started in 2011 as an entry-level sales representative. He'd been working several years as an entrepreneur, owning and operating multiple locations of a water ice franchise when he decided to make a career change. Lane entered the health care industry just before the onset of the Affordable Care Act, and his timing couldn't have been better.


10-year goal: "Ultimately I'd like to be in politics playing a key role in influencing the direction of health care policy."

What is the most rewarding part of your work? "Health care is complex. Knowing that I play a role in helping our members achieve a positive experience is very rewarding."


Rachel B. Brekke, Esq.
Attorney, McDowell Law
Age: 31
Years in the industry: 7
A Voorhees native who graduated from Rutgers Law School with a JD/MBA in 2011, Brekke is a South Jersey attorney who ran for public office at the age of 28. For the last decade, she has focused on public policy, working with organizations to understand the need for succession planning, and generating interest amongst young professionals to get more involved. Brekke currently serves on the board of directors for a number of non-profit organizations in Camden County, including the Camden County Bar Association and Cathedral Kitchen, and is also a Big Sister for Big Brothers Big Sisters—Independence Region and mentors her little sister, Taniyah, an 11-year old from West Philadelphia.


10-year goal: "Establishing a local law firm with its own non-profit supporting the community."


What drew you to your field? "You truly don't understand what your passion is until you feel it. Every single time I help someone, whether it's growing their business, protecting their family or pursuing their charitable interest—I feel it, and I'm so grateful for it."


M. Elaine Dasti, PE, ASHRAE
Building Services Group Manager, T&M Associates
Age: 33
Years in the industry: 11
Dasti is a licensed professional engineer in New Jersey specializing in mechanical, electrical, plumbing and fire protection design and engineering services. An accomplished project manager and respected leader at T&M, Dasti has helped develop the firm's Building Services Group, driving the new practice forward through the sale and delivery of more than $2 million in business. Dasti has established herself as a corporate ambassador—lending new insight to management practices, business development and corporate strategies—and is a valuable mentor to other women in her field.


10-year goal: "To expand the Building Services Group at T&M in order to serve markets nationwide, and to establish the firm as an industry-wide leader in the field of building services engineering."


What drew you to the field? "During college I had the opportunity to work a project involving the complexities of central building plants, and I took an immediate liking to the subject matter. Following college, I was offered a job as a mechanical designer at a leading engineering firm in New York City and was afforded the opportunity to work on projects such as the Bank of America Tower in Bryant Park and One World Trade Center. These projects immediately captured my attention and my passion for building design, project management and leadership has grown ever since."

Anthony K. Bellia
President, Bellia Office Furniture
Age: 38
Years in the industry: 14


Bellia, a third-generation president of Bellia Office Furniture, understands and values the importance of the community. Through his mission of increasing the magnetism of the tri-state area, he works tirelessly to positively impact the business growth of the region by creating more inspiring workspaces to attract and retain top talent and increase productivity. During his tenure, he has helped organizations improve the return on investment of their space by helping them achieve their organization-wide goals through strategic office design including maximizing productivity, boosting employee morale and retention, branding to new and existing customers, and reducing human resource claims for both businesses and educational facilities across the Delaware Valley.


10-year goal: "The Greater Philadelphia area is rich with highly educated and motivated candidates who want to work in inspiring environments. I want to help increase the retention of these qualified individuals by creating more inspiring workspaces. Interior solutions aren't just about aesthetics—they are an integral part of your company identity, what it represents and how it is viewed."
What is the most rewarding part of your work? "Relationships. I value the importance of helping clients succeed by providing a seamless experience when furnishing commercial interiors. I also understand the importance of giving back to the community and creating a warm, family environment for my staff."


Kristin Gimello
Business Development, ACCU Staffing Services
Age: 38
Years in the industry: 3

Gimello is a highly motivated professional who serves clients throughout Gloucester, Cumberland and Salem counties. She has been a valuable addition to ACCU's sales team, helping the family-owned business grow significantly in recent years. Gimello was born and raised in Gloucester County and currently resides in Woolwich Township.
10-year goal: "I am dedicated and driven to continue my successful career in sales and look to increase ACCU Staffing Services' prominence nationally in the staffing industry."
How do you unwind? "When not working, I enjoy spending time with my two daughters, family, travelling, cooking and working out."


John R. Culbertson, CPA
Partner, Bowman & Company LLP
Age: 36
Years in the industry: 17


Culbertson is responsible for a wide range of clients, including small businesses, individuals, estates, trusts and non-profit organizations. He provides accounting and audit services, tax planning and preparation, and business advisory services to his clients, and he frequently presents at internal client seminars and conferences.


10-year goal: "To be a leader both at Bowman & Company and in the local business community, to continue my work with local charities and to raise my children to become active and impactful young adults."

What advice would you give to other young professionals? "Learn your craft while building a strong network around you. Your network is your net worth in business."


Jordan Andrew Rosenblatt
President, Rosenblatt Brokerage
Age: 31
Years in the industry: 8
Rosenblatt runs and manages his company, Rosenblatt Brokerage, an insurance general agency focusing on life, disability and long-term care insurance. They specialize in insurance solutions for the high net worth client, focusing on estate and business planning needs. When not focused on the insurance world, he spends his free time with his wife, newborn son and dog, or you can catch him on the golf course.


10-year goal: "Continue to grow my business while staying equally focused on family and philanthropic endeavors."


What advice would you give to other young professionals? "My biggest advice, especially to younger professionals looking to grow their network, is to not get out there and just network to make connections. The biggest focus should be, and what has worked for me, is to build a lasting relationship with someone, and not just look for a quick sale. The more you get to know someone, the more business there is to be had as well as the chance to build a solid friendship."


Cassandra E. Boyce
Director of Development and Marketing, Robins' Nest
Age: 28
Years in the industry: 7

A 2011 Cum Laude graduate of La Salle University and Justice Through Service Award recipient, Boyce has the philanthropic passion and drive to improve the communities around her. Whether she's raising money to support meal delivery services for homebound seniors or uniting the solar industry to empower energy-poor communities worldwide, Boyce finds fulfillment in leveraging her business acumen and creativity to advance social change. She is thrilled to be a part of a dynamic team and to help transform lives across New Jersey.


10-year goal: "Within the next decade, I look forward to continuing my education in nonprofit management, taking on additional leadership roles within the community and helping to expand Robins' Nest's presence throughout the state."

What is the most rewarding part of your work? "I'm thankful for the wise mentors throughout my life who instilled in me the importance of hard work and helping others. I feel fortunate that I am able to apply my skills and passion to help improve the lives of others. No matter how long or hectic the day might be, my energy is renewed knowing my hard work is empowering someone else to become their best self."


Andrea Boscaglia
Vice President, Relationship Manager, Commercial Lending, TD Bank
Age: 32
Years in the industry: 10
Boscaglia is a relationship manager for commercial lending at TD Bank where she manages a portfolio of commercial relationships to help local business succeed. She is active in the South Jersey community by volunteering her time with various nonprofits and is part of the National Association of Women Business Owners of South Jersey. Boscaglia is a proud alumnus of Rowan University, where she received both her bachelor's of science and MBA in accounting.


10-year goal: "Ten years from now, I plan to continue to surround myself with individuals that value my work ethic and motivate me both personally and professionally."


What advice would you give to other young professionals? "It is never too early to develop your personal brand and build your network."


Laura Gomez
Marketing Manager, The Protocall Group
Age: 27
Years in the industry: 5
Gomez manages multifaceted advertising and marketing campaigns for recruitment, B2B and operational initiatives. During her time at Protocall, she has led a dynamic re-branding strategy across the company's social media platforms, website, marketing collateral and recruitment and sales messaging. A South Jersey native, Gomez graduated with a bachelor of arts in advertising at Rowan University and currently resides in Gloucester Township.


10-year goal: "I'd like to earn a master's degree while leading and mentoring a robust marketing team, or on my way toward a creative director role."


How do you unwind? "I enjoy being outdoors: going to the beach, hiking or travelling. I'm also an avid painter and DIYer, and those hobbies have always been an enjoyable escape for me."


John Dulczak
CEO and Founder, Labor First, LLC
Age: 39
Years in the industry: 20-plus
The product of a household where his father and grandfather were both union labor leaders, Dulczak sought a career path that allowed him to cater to vulnerable retirees. By 2005, he had become an expert in his field and felt equipped and ready to carve out his own place in the industry. Motivated by his father's and grandfather's experiences in the International Brotherhood of Teamsters, Dulczak ventured to provide more effective services for underserved health care services clients, which is when he founded Labor First.


10-year goal: "To continue to preserve at-risk retiree health care benefits for labor unions and their retiree populations, as well as improve the retirement health care experience for each and every one of our members."


What is the most rewarding part of your work? "Knowing I am helping protect thousands of retirees' health care benefits each and every day, while providing them with top-tier customer service and advocacy."


Jaime Gangone
Community Development Officer, Credit Union of New Jersey
Age: 33
Years in the industry: 8
Gangone has been with Credit Union of New Jersey for eight years, working her way up the ranks as this is her fifth position with the organization. In this role she strengthens relationships in key segments aligning with their strategic focus, develops strategic partnerships and represents the credit union at business and community events. When not spending her free time with her husband, Luca, and two children, Rocco and Eliana, she volunteers with the Burlington County Women's Advisory Council.


10-year goal: "To be a high performer in the credit union industry."


What drew you to your field? "The mission of the credit union—to help members improve their financial lives."


Kristen Grimley Kavanagh
Vice President of Operations, Grimley Financial Corporation
Age: 26
Years in the industry: 4
Grimley is responsible for the practical operation of Grimley Financial; she works closely with all of their vendors and also handles the networking, file transfer protocols, telecom and internet needs. She works hand in hand with her clients in regards to regular day-to-day business flow and special projects. She received her bachelor's degree and MBA from Saint Joseph's University, The Haub School of Business, and graduated Magna Cum Laude. Kavanagh is a South Jersey woman through and through, having been born and raised in Cherry Hill and currently resides there with her husband, Joe, and two dogs.


10-year goal: "I very much enjoy and embrace the inspiring aspects of entrepreneurship. My goal is to continue promoting corporate growth, employee welfare and to maintain a very high client satisfaction level. In a perfect world, I will achieve these goals while at some point balancing the wonderful gift of being a mother."


How do you unwind? "As a former all-state softball player I love sports and all kinds of sports activity. Reading, time at the gym, the beach, and hanging out with amazing friends and family are good for my stress reduction."


Sean M. Balliet, CPA, CFP
Partner, Baratz & Associates
Age: 39
Years in the industry: 17

Born and raised in South Jersey, Balliet knew from an early age he wanted to become an accountant. Growing up, he understood this profession would be the right combination of strength in math, business acumen and working with people—which in his mind was perfect for him. He is fortunate to have a wife and family who support him in this career.


10-year goal: "To continue as a partner at Baratz & Associates, affecting change in the areas that can benefit from improvement, assisting clients in all aspects of financial and tax planning for both business and individual gain, inspiring young accountants and staff with whom I work and continuing to strengthen a company that has been so good to me."


What advice would you give to other young professionals? "Make note of the best qualities in the leaders you admire and seek to model those yourself. Appreciate those who help you along the way, and also learn to adapt. Life can be filled with challenges—appreciate them as opportunities for change. My motto is always, 'Strive to be the best me.' We can appreciate and learn from every person and every challenge in our lives."


Jeffrey David Stomel
Project Manager, ProCat Distribution Technologies
Age: 32
Years in the industry: 1
Stomel was born and raised in South Jersey before moving to Washington, D.C., for college, where he obtained his bachelor's degree in accounting, master's in accounting and his CPA license. Upon graduation, he worked in Washington, D.C., and San Diego as a consultant for several federal agencies, universities, nonprofits and health organizations focusing on technology, finance and accounting. Stomel recently returned to New Jersey to join his family business, ProCat Distribution Technologies, where he currently assists the operations, finance, sales and marketing teams.


10-year goal: "To support ProCat in its quest to become a major software provider for regional distribution centers."


Advice for other professionals: "From a young age, I was always taught that "it's nice to be important, but it's more important to be nice. Always doing the right thing and striving to be the best version of myself has enabled me to continuously grow and experience the best life has to offer."

Ryan J. Niedoba
Partner, No Boundaries Advisors
Age: 30
Years in the industry: 10


Niedoba is the co-founder of No Boundaries Advisors, a specialized accounting firm focused on serving customers in the American homebuilding industry. Having great mentors through his teenage years who inspired him to learn the business from the inside out, coupled with his passion for being an active homebuilder, has helped his business succeed. His wealth of knowledge in the industry has taken him to nearly a dozen countries in the past 10 years presenting on various topics related to business performance improvement. He resides in Sweetwater with his wife, Cynthia, and son William, and is actively involved in several local organizations, including the preservation of Historic Old St. Augustine's Church in Philadelphia.


10-year goal: "To have homebuilder customers in every one of the 50 states working with our firm."

What is the most rewarding part of your work? "Seeing how quickly our customers' businesses grow and develop when they implement the plans we help them create. The impact we have made on the quality of life for so many families means the world to me."



Published (and copyrighted) in South Jersey Biz, Volume 8, Issue 5 (May 2018).

For more info on South Jersey Biz, click here.
To subscribe to South Jersey Biz, click here.
To advertise in South Jersey Biz, click here.