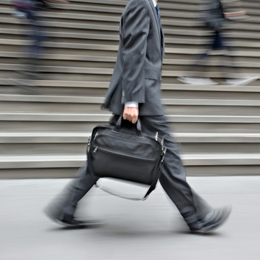 On the Move
Openings, closings, hirings and retirings in our region.
Jennifer Lucas, MBA, has been named senior director of finance for Kennedy Health Alliance.
The Rowan College at Burlington County board of trustees recently welcomed new trustee Dorion B. Morgan. Morgan, who operates his own law office, has served as the Burlington Township municipal public defender since 2003. He is also the founder and senior pastor of the Restoration Station Christian Fellowship.
In an effort to bring Primo Hoagies to a national level, the organization recently hired Derik Beck as the vice president of marketing and Adam Biedenbender as the vice president of development, specializing in franchise development.
Dilworth Paxson LLP announced the following additions to their firm: Susan B. Orr and Ernest L. Tsoules Jr., partners, Health Care Practice Group; Catherine Pratsinakis, partner, Litigation Group; Tiana Butcher Walters, partner, Corporate and Business, Mergers and Acquisitions, and Securities Practice Groups and Nicole Lai, associate, Intellectual Property Group.
Jeffrey Haines has been promoted to executive director at The Occupational Training Center of Burlington County.
Duly Noted
Lauren A. Beetle, partner with Hyland Levin LLP, has been selected as the 2018 Outstanding Woman of the Year in the category of law for Burlington County.
Virtua physician John Matsinger, DO, executive vice president and chief clinical officer, has been named one of 100 Hospital & Health System CMOs to Know in 2018 by Becker's Healthcare. Matsinger is the only chief medical officer in South Jersey to receive this recognition. The list features national physician leaders dedicated to strengthening their organizations through physician leadership development, patient safety initiatives and quality improvement, as described by Becker's Healthcare.
Inspira Medical Center Elmer has been named as one of America's Best Hospitals for Obstetrics by the Women's Choice Award. The award is a symbol of excellence in customer experience and signifies that Inspira is in the top 17 percent of 2,720 U.S. hospitals offering obstetrics. Inspira Elmer is one of only two hospitals in South Jersey to receive the award this year.
Hutchinson was recently presented with the highly coveted Associated Builders an Contractors' "Excellence in Construction" 2017 – NJ Project of the Year award for work on the Edison Retail Solutions Project. Hutchinson handled all of Edison's overall energy needs for its newly relocated 115,000-square-foot facility in Pennsauken, including lighting and HVAC.
During the annual ShopRite Partners In Caring Cheerios Contest, with this year's theme, "The Power of One" serving as a backdrop, ShopRite associates collected donations at checkout and held events in stores to raise awareness and money to fight hunger. Their efforts raised $1.5 million to support regional food banks in communities served by ShopRite stores. Each of the 40 winning ShopRite stores chose two ShopRite associates to be featured on a special-edition Cheerios box, and received prize money that was presented to local food pantries chosen by the respective store teams. Among this year's winning stores are ShopRites in Berlin, Chews Landing, Glassboro, Sicklerville, West Deptford and Williamstown.
The New Jersey State Nurses Association recently honored Tracy Carlino, senior vice president and chief nursing officer for Virtua, at its annual Institute for Nursing Scholarship and Awards Gala.
Transportation engineer Lauren Ohotzke, PE, of Dewberry, a privately held professional services firm in Mount Laurel, has been named Professional of the Year for 2018 by the American Council of Engineering Companies' New Jersey Chapter.