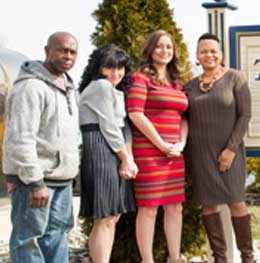 Recovering Hope
For those struggling with addiction in South Jersey, Center For Family Services offers support when it's needed most.
Asking for help is never easy—especially when it comes to getting clean and sober from an addiction. While most of us don't like asking for help, sometimes it's the only way to overcome life's obstacles and get back on your feet. But who do you turn to in your moment of need?
Insert: Center For Family Services. A force for positive change since 1920, their mission is to support and empower individuals, families and communities to achieve a better life through vision, hope and strength. And with over 90 different programs—ranging beyond recovery services—they are doing just that.
Linda Mur, Ph.D, LCADC, associate vice president, says Center For Family Services has a variety of recovery/addiction services—it's all a matter of what works best for the individual person.
"We offer both outpatient and intensive outpatient levels of care," says Mur. "People come to us anywhere from once a week to four times a week depending upon their level of need." Mur says visits could be just a 30-minute group session once a week, or for someone who needs more care, three-hour groups three times a week with an additional individual session weekly. That's the wide range of continuum of care Center For Family Services is offering.
"We also offer co-occurring support," explains Mur. "We have psychiatric services including psych evaluations and medication. We are in the Vivitrol Network which means we can dispense Vivitrol to clients who are having difficulty with cravings if they have an opioid addiction for instance."
Another step Center For Family Services has taken to fill the growing needs of the communities in South Jersey is the implementation of the opioid overdose recovery program called LifelineED. This program is located in the emergency rooms at Cooper University Health Care (in Camden), Jefferson Stratford Hospital, Our Lady of Lourdes Medical Center (in Camden) and Inspira Medical Center Woodbury.
"The opioid overdose response has increased in the last two to three years and has seen an expansion in terms of recovery support with peer specialists—people who have lived recovery support who are now helping others to stay engaged as they hit the bumps in the road," says Mur.
The peer specialists are the driving force behind Center For Family Services' Living Proof Recovery Center. Created for individuals in recovery and maintained by those same individuals, they've created a community in South Jersey offering connections to resource information, wellness classes, recovery support services, peer mentoring and coaching, support groups and so much more.
For Resha Allen-Jennings, a member of Living Proof Recovery Center for a year now, she has nothing but high praise for those in recovery who are bettering themselves at the center. "Everybody is friendly and the center is very family-oriented," she says. "If you ever just want to sit down and talk about something you are going through or need help—everyone is there to help you do just that."
Allen-Jennings first started with Living Proof Recovery Center as a welfare to work participant. Having been on welfare for five years, Allen-Jennings suffered from the loss of a child, had health issues and struggled to find a job. Thanks to Living Proof Recovery Center, her life has changed. She's now working full-time and is thriving. "I was able to come off welfare and I'm not struggling like I was at that time," says Allen-Jennings. "I'm not as stressed out as I was because I don't have to worry about how to get from point A to point B, pay my bills and take care of my kids—the center helped with all of that."
Elia Hopkins says she became a recovery coach at Center For Family Services because she found herself happy to help others while she was receiving assistance at the Living Proof Recovery Center. "I helped a lot of people do things like apply for assistance, social security and stuff like that just because I wanted to. I figured out that I was really good at helping others so when the chance came to become a recovery coach I thought, that's perfect," she says. "I want to help people and I want to give back in the way that people helped me when I was still in addiction and wanted to get clean."
As a coach, Hopkins now helps others with addiction choose the path of recovery that is best for them by displaying options and educating them—with firsthand knowledge about how difficult it can be to ask for help.
"Living Proof Recovery Center has changed my life in so many different ways," Hopkins says."I watch people come in here and change their lives. It's so surreal to know that we can't fix the world, but just helping one person at a time to better themselves is amazing to me. The center is definitely an asset to the community."

To get help for yourself or a loved one, call (877) 9-Access.

Interested in supporting the recovery community? Visit CenterFFS.org or call (856) 651-7553 ext. 40130 to find out how you can:
• Volunteer as a recovery coach
• Remove barriers to treatment and create opportunities for success
• Lead workshops at the recovery center
• Make a donation to expand recovery services in South Jersey


Center For Family Services
CenterFFS.org

Published (and copyrighted) in South Jersey Biz, Volume 8, Issue 4 (April 2018).
For more info on South Jersey Biz, click here.
To subscribe to South Jersey Biz, click here.
To advertise in South Jersey Biz, click here.