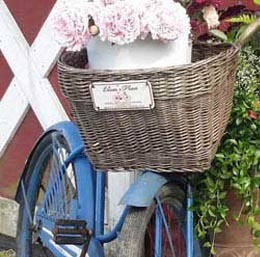 An Energized Community
Salem County offers great business opportunities and affordable properties in a setting filled with beautiful farmland and landscapes.
It's hard to find all of what Salem County has to offer anywhere else in the state—affordability, old-fashioned values and preserved land that is cherished by most in the community. Unique is the first word to come to mind.
"Salem County is unique in the beauty of its landscape and its people," Kathleen Mills, director of economic development for Salem County, says. "A rural lifestyle is complemented by the growing business sector. Affordable property and homes make this a unique place to raise a family, grow a business and still be close to large urban centers."
They have also made it their goal to become a destination for businesses looking to move, expand or start from the ground up by adding infrastructure, such as a rail line and intermodal transportation.
"Our goals for 2018 include the focus of population growth through sustainable job opportunities, which includes the desire to diversify business in Salem County," Mills says. "An emphasis has been placed on upgrading and adding infrastructure to attract and retain business in the county. … The extension of the [county] rail line and the recently finished Salem Port study have encouraged a new enthusiasm for businesses to look at Salem County."
The county rail line is a $3.5 million project that broke ground in late 2017 to help drive forth economic development in the city of Salem and other parts of the county, and the Port of Salem study, conducted by the South Jersey Transportation Planning Organization, provided a blueprint moving forward for "creating intermodal transportation opportunities to attract business to Salem County."
"The rail line is being extended through [the city of] Salem all the way to the Port of Salem," Mills says. "This will bring businesses, with the option to use port/rail or truck to and from the port."
In addition to driving businesses to Salem County due to their various modes of transportation that other counties can't offer, the economic development council launched a marketing campaign, L.O.V.E. Salem County, which, according to Mills, "captures the reasons businesses choose Salem County."
"Our location is perfect; we're close to major highways and within a day of 40 percent of the nation's population," she explains.
Those major highways include Route 295, the New Jersey Turnpike and Delaware Memorial Bridge, which are a short drive from Salem County's planned growth areas, and they are also in close proximity to Wilmington, Del., Philadelphia, New York City and Washington, D.C., which "position our community for major business development opportunities," says Jennifer Jones, executive director for the Salem County Chamber of Commerce.
"Salem County currently hosts two business parks with room to expand in Carneys Point and Oldman's Township and several new housing developments under construction in the area," adds Jones. Those developments are popping up all over Salem County in Carneys Point, Woodstown, Pilesgrove, Pittsgrove Township and Oldman's Township. Jones hopes these new developments will help the county's population grow and create more consumers for local businesses.
"Salem County has opportunity for businesses to thrive and grow, offering affordable land, an educated workforce and a strong government support system," Mills says. "You won't beat our agrarian work ethic anywhere. Salem County places value on its great schools, affordable housing and a healthy lifestyle, all in a safe, pastoral setting. Salem County is energized, from our elected government officials to our residents."

Businesses Here to Stay
There are many businesses that have already found success in Salem County, such as PSE&G, which is the largest employer in the county with 1,600 employees—approximately 60 percent are county residents.
"As Salem County's largest employer, we recognize our economic impact and the important role we play in the community," Joseph Delmar, director, power communications, says. "Many of our employees volunteer their time with nonprofit community organizations throughout the county. This isn't just where we do business—it's our home too."
Mannington Mills is another company that has found success in Salem County and has been headquartered in Salem for over 100 years. Founded in 1915, it is one of the world's leading manufacturers of fine flooring and the county's second-largest employer—approximately 72 percent of their associates that work at the Salem site live in Salem County. Keith Campbell, chairman of the board, says they continually hire younger generations of those who have worked there for some time.
"Salem County as compared to the rest of the state is a very small community," he says. "It is a family community where you are hiring aunts and uncles, brothers and sisters and in-laws. Everyone is related in some way, shape or form to each other. As a result, it's been a collegiate and warm and inviting place to work where people are dedicated to the company's success because they want to see the county succeed."
Campbell also knows Mannington is almost a rare breed, since the days of manufacturers taking up the whole town are long gone.
"We are almost the 'Last of the Mohicans,'" he says. "We are one of the few manufacturing companies in the state where many have closed, or closed and left for a number of issues. We know our importance in the local community is being a manufacturer that employs a good number of people and those jobs that are here are premium-paying jobs. As an economic importance in the county, we're extremely important and we want to not only sustain our business here, but potentially find ways to grow it."

Preserved Land
Salem County currently has the most preserved farmland in the state of New Jersey, boasting over 36,000 acres. "[That] makes Salem County the garden of the Garden State," Jones says. "The preserved farmlands are outside of the county's planned growth areas and with the preservation easements, these farms will stay farms."
Recently, Cowtown Rodeo, a beloved staple in Pilesgrove, was able to preserve 374 acres of grasslands thanks to the New Jersey Conversation Foundation.
"What was preserved at Cowtown [Rodeo] was not just the agriculture natural resources, but an important cultural and historical resource, as well as economic and recreational resource," Francis Rapa, Delaware Bay regional manager for the New Jersey Conservation Foundation, says. "The Cowtown preservation project really was important to greater the Salem County community on many, many levels."

Celebrating the Arts
Salem County is known for having a vast arts scene with a number of art and cultural events taking place throughout the year, and they also have unique programs that combine the arts and sciences at Salem Community College, such as scientific glass technology.
"It's the only program of its kind in the nation," Mills explains. "It combines classroom study with hands-on laboratory techniques, technical drawing and advanced fabrication."
One of the biggest events of the year is the Salem County Arts in Bloom Studio Tour May 19 and 20, which is celebrating its 10th anniversary. It is a self-guided tour where artists all over the county open their studios to the public to see the creations they make, such as paintings, sculptures, jewelry and metal. Plenty of activities are on hand for children.
"Because the theme is 10, this allows the artists to take their creativity where they want it to go," says Kimberly English, painter and volunteer for the event. "Some are creating a series of 10 works of art or using 10 within their artwork; it might be hidden or be symbolic."
"We are all very excited the event started 10 years ago and continues to grow, attracting more and more Salem County artists as well as visitors from the region," Mills says. "It is a unique Salem County event which provides economic impact for our thriving artist community and many of our small businesses."
It's not just this festival that is unique—Salem County as a whole is a hidden gem. "Salem County is a beautiful place to live, work and raise a family," Jones says.
Mills agrees: "It provides the best of all worlds—rural lifestyle, affordable properties, great schools, healthy living, a strong sense of history and great arts."
What Businesses Are Saying
DELCO DEVELOPMENT, operators of Super 8 Pennsville Teresa Sydorko, Director of Communications
"Having a business in Salem County is like no other! There is beautiful farmland here, quaint shops and best kept secret attractions. The history that is held within Salem County borders is deep and the people are just as deeply rooted. A hefty hometown spirit permeates throughout the county with pride for family-owned businesses. On that same token, the Super 8 Hotel runs like a family business or an inn and not a typical chain hotel."
BARRETT'S PLANTATION HOUSE
Gaynel Schneeman, Owner
"Salem County is truly beautiful. It still looks much the way it did at the time of the Revolutionary War. We have the history, the lovely old homes and the gorgeous countryside. … Our Chamber of Commerce has been very supportive, and so has our county tourism office. We are always included in local events and always encouraged and given acknowledgement for our contributions. The people who live, work, and visit here have made us a success."
FRANKLIN BANK
Kimberly Cruz, Vice President
"The best part for us about having a business in Salem County is generational banking. We get the opportunity to help our customers through all of their life cycles; for example, helping a young couple with their first mortgage then savings accounts for their children, followed by college tuition and eventually their own retirement needs. We then get to witness it all again for the next generation—it's a great feeling."
FARMERS INSURANCE
Kim Lorenzini, Vice President
Marketing & Business Development
"Several staff members are local—within the county, within a 30-minute drive, and we are thrilled to be involved with many local community charities."
MATTEO KITCHENS
Steven Matteo, Owner
"Having the lower sales tax in Salem County has given us help in bringing in business from other counties where the difference in the tax can be a good savings. Our business is dealing with larger dollars in the home remodeling sector and every dollar we can save our clients is good. We have also heard many times that the ride to our store was beautiful as they drive down some farm roads and get away from the city-type traffic all around us. Beautiful turning leaves, no traffic and good music can change a bad day into a good one! Salem County also has so many quality contractors to do business with and helping our products turn into beautiful rooms; if we were in a different county, we might not have met most of the people we have helping us today."
Published (and copyrighted) in South Jersey Biz, Volume 8, Issue 4 (April 2018).
For more info on South Jersey Biz, click here.
To subscribe to South Jersey Biz, click here.
To advertise in South Jersey Biz, click here.