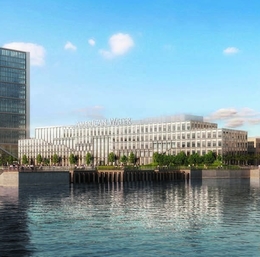 Land of Opportunity
Cumberland County's economy is steadily growing thanks to a plethora of new businesses and expansions
Slow and steady wins the race—just about all of us have heard that saying, and one could say that describes Cumberland County. They have experienced slow and steady growth over the past five years in the business and health care sectors and those businesses are thriving. Some so much, they are expanding and decided to stay in the county instead of moving out of the area. Other businesses are moving to Cumberland County for the first time because of the desirable location and less congestion. And Jerry Velazquez, executive director of the Cumberland County Improvement Authority, is making sure new and old businesses are here to stay.
"We want to make sure we are not an afterthought like we were in the past," he says. "Folks are now coming to Cumberland County as their first option and we want to be recognized as a primary option for businesses that want to locate here."
Health Care Powerhouse
The residents of Cumberland County have access to two prestigious medical facilities— Inspira Medical Center in Vineland and Premier Orthopaedic Associates, also in Vineland, as well as Bridgeton. Both facilities have been serving residents for many years and because of significant increases in emergency room visits and other patient volumes, major expansions were completed at each facility in 2017. Premier Orthopaedic Associates updated office is now 15,000-square-feet and completely state of the art.
"Community response to our new office location has been outstanding," Dr. Thomas A. Dwyer, founder, says. "We have tripled the number of examination rooms available, allowing us to provide faster throughput for patients on a more timely fashion. Onsite Xrays, MRIs and durable medical goods makes Premier a one-stop shop for all orthopedic needs for the members of our community."
Inspira Medical Center opened an 11-bed senior emergency department—the first hospital in the Delaware Valley to provide an emergency room focused on seniors. "This specialized unit provides a more comfortable, senior-friendly environment in which our specially trained staff focuses on the unique needs of seniors. And by increasing our overall emergency room capacity, we can take care of more patients at any given time," John A. DiAngelo, president and CEO of Inspira Health Network says.
Additionally, Inspira Medical Center is in the second phase of another expansion of a $34 million, 56,000-square-foot expansion two-story patient tower above their outpatient wing which is slated to be completed by the end of the year. "The first floor will have 36 private patient rooms; the second floor will be left as a shell to accommodate future growth," DiAngelo explains. "Once opened, this new patient care area will allow us to more quickly move emergency room patients— who require an inpatient admission—into a room on an inpatient nursing unit."
The two medical communities also work together to further their relationship and to meet the needs of all the patients in the community. "Presently, we work collaboratively with Inspira Medical Center to further ortho- pedic care in our communities," Dwyer says. "Recent achievements include the initiation of an Academic Orthopedic Residency Program at Inspira Medical Center and the creation of a Sports Medicine Fellowship solely between Premier Orthopaedic Associates' and Inspira Medical Center.
In addition to keeping up with the patient demand, Inspira, like Premier, is keeping up with the latest technology advancements. "We have introduced robot-assisted surgery, emergency cardiac interventions, the Deborah F. Sager Neonatal Intensive Care Unit and, more recently, an Inspira Health+ technology bar," DiAngelo says. "Health+ technicians teach patients how to use personal technology to help them better manage their health. We also have taken cancer care to a new level, adding oncology specialists and subspecialists on a regular basis."
Cumberland County is taking advantage of the growth of the health care sector in the area and the growing demand for students who want to go into the medical field by adding a School of Health Science and Medicine across from the new Cumberland County Technical Education Center (CCTEC). CCTEC, a four-year vocational high school that already has 600 applications for 200 openings according to Velazquez, the expansion he says will add an additional 50 students per class.
"Inspira's relationship with Rowan University, Cumberland County College, as well as the technical high school; it's certainly going to be big opportunity for us to not only grow the schools, but also grow our economy in Cumberland County," he says.
Growing Economy
Dave Hanrahan, president and CEO of Capital Bank of New Jersey, says the economy is growing for several reasons. "Many are related to agriculture, food processing and manufacturing, and Capital Bank is currently involved in financing several such projects in Cumberland County," he says. "Business owner optimism is strong, and county leadership, including the Cumberland County The Arts and Innovation Center in downtown Millville. Improvement Authority, is doing a very effective job of creating tailwinds for local growth."
Velazquez says the growth is a team effort, especially from the biggest municipalities—Bridgeton, Millville and Vineland. "We have the ability to build more efficiently, we are cost effective and have a big emphasis [on] our approval process and process for making sure businesses know what we have to offer and what opportunities exist in Cumberland County all come from coordinated efforts," he explains.
One major project that was just announced is the rebuilding of the former Wheaton Glass Company in Millville, which will be turned into a plastics manufacturing facility. It is expected to create almost one million square feet of space and more importantly, create about 300 jobs.
"Economically, it's going to be a boost for people getting back to work and overall have a positive impact," Michael Santiago, Millville mayor says. "And it's not just going to be hiring people from the city of Millville—from all over the county. We have great freeholders and mayors in the city of Vineland and Bridgeton and all of us are trying to build what's best for the county."
"It really touches all aspects of development from land use perspective to an environment perspective and economic perspective," Velazquez says. "It's really an opportunity in a building that three, four years ago really had no opportunity."
Expansions
The economy is also going to grow with the expansion of Northeast Precast at Lascarides Industrial Park in Millville, a state-of-the-art precast concrete manufacturer. Staying in Cumberland County was important to owner John Ruga.
"I believe the expansion of Northeast Precast will be very good for Cumberland County," Ruga says. "The CCIA and Vineland have been great to work with [and they] have shown great vision to help attract new business and jobs to this area. I am humbled to have this opportunity and feel it will allow us to provide all our employees the opportunity to have a lifelong career at Northeast Precast."
Vineland Police headquarters is also being expanded into a 53,000-square-foot building, which is expected to be completed by March 2019. Velazquez says the current facility doesn't have the type of technology and facilities the police officers need in order to continue training properly and become better at their job.
"This will be much larger, it will be more technologically appropriate and will give the police officers room to grow, train and a stateof-the-art facility that will take them to the next century," he says.
Rebirth of East and Landis Avenues
East and Landis Avenues in Vineland are going through a rebirth, thanks to the Vineland Department of Economic Development working with businesses, helping them succeed; bringing in new businesses and helping secure the $17.9 million Landis Square East apartments, situated at the southeast corner of the intersection. Seventyfive units and 9,000 square feet of retail take up the space.
"When we started this project, no one wanted to live there, and now we had over 750 applicants for 75 units," says Sandy Forosisky, director of economic development for the city of Vineland. …"we have more companies coming in, but a lot of it is our local businesses expanding. We haven't seen this kind of activity in years." "The big thing we are focusing on is essentially there are three places to spend your time–home, work and other places such as the gym, church, the mall, etc.," Russell Swanson, executive director for the Vineland Downtown Improvement District says. "We want people to think of our downtown district as the place for recreations, activities, shopping and hanging out at places like the Landis Theater. People can go and spend time at the Brinx Jones Brewery—the first microbrewery in Vineland—and then see a show at the theater."
Landis Theater is not just any theater; it was recently selected by USA Today Travel and the American Institute of Architects as one of the "top 25 structures visitors to New Jersey should definitely see." Forosisky is not surprised the landmark theater was one of picks.
"I think that it's great to be recognized for its architecture," she says. "It made its debut as art deco in 1937 and has historical significance."
And while Landis Theater is being recognized for its architecture, Velazquez is happy the rest of the county is being recognized, too. "We have a lot to offer and we're finally getting the notoriety that we should have gotten a long time ago," he says.
Published (and copyrighted) in South Jersey Biz, Volume 8, Issue 3 (March 2018).
For more info on South Jersey Biz, click here.
To subscribe to South Jersey Biz, click here.
To advertise in South Jersey Biz, click here.