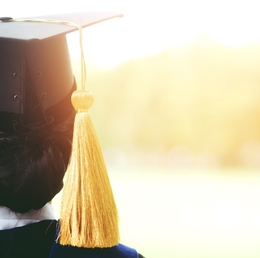 Making the Grade
Local colleges, universities and workforce development programs are helping shape the business leaders of tomorrow.
THE LIST OF EDUCATION OPTIONS in South Jersey is abundant and growing each year with colleges adapting to the changes taking shape both locally and nationally with regard to various business sectors. In keeping up with the changing workforce, area institutions are offering a calculated variety of majors and programs related to what's in demand in the job market today.
Rowan University is a prime example. With STEM jobs on the rise and Rowan being a leading force in the medical field today with two medical schools—Cooper Medical School of Rowan University and Rowan University School of Osteopathic Medicine— they are offering more majors related to science and mathematics for undergraduates.
"Molecular and cellular biology is a new major that will be offered to incoming students in fall 2018," Joe Cardona, vice president for university relations says. "Now with the two medical schools, our seven doctoral programs and our designation as a natural research university, these are the types of majors we'll start introducing."
Cardona adds that more, higher level complex majors are being reviewed and developed as well. This also includes looking at old majors and making necessary tweaks to be more aligned with the industry.
Rutgers University-Camden offers undergraduates "experiential learning," a hands-on experience where students learn beyond the classroom.
"Students can work side-by-side with our research faculty on path-defining discoveries; engage in civic engagement programs that uplift communities while building résumés; travel the world in immersive programs," Michael Sepanic, associate chancellor for external relations says.
Rutgers-Camden also has a premier partnership with Camden County College to help more South Jersey residents earn bachelor's degrees from the university. "[This] serves as a direct line connecting county college graduates with a Rutgers degree in South Jersey," Sepanic says.
New courses are being unveiled at Stockton University for 2018, and not just at their main campus in Galloway. At its new Atlantic City campus, which opens next fall, the following courses will be offered: business studies, hospitality and tourism management, as well as courses focusing on community engagement and service learning.
"The new residential campus will also offer convenient access to internships in the city's hotel, dining, retail and entertainment venues, and includes a 12-month housing option for students who would like to stay for work or academic internships during the summer," Diane D'Amico, di- rector, news and media relations says.
Meanwhile, area community colleges are also working with state universities to help students achieve a bachelor's degree faster and, in turn, get them into the workforce quicker than ever before.
Rowan College at Burlington County (RCBC) partnered with Rowan University to create a 3+1 partnership, where an associate's degree is offered through RCBC and which "seamlessly crosswalks into a bachelor's degree at Rowan University," M ichael Cioce, acting president of RCBC says. "Started in 2016, the 3+1 program allows students to complete three years of the undergraduate experience and the community college at RCBC at RCBC prices. The fourth year is then completed on Mount Laurel's campus, online or on Rowan University's main campus at Rowan University's price.
"Beginning in the fall of 2018, years one, two and three of Rowan [University's] bachelor's degree will be offered on our Mount Laurel campus."
Pending approval, in the fall, Salem Community College will be offering a major in supply chain management that covers logistics and distribution, and warehouse operations. Ron Burkhardt, director of the Center for Business and Industry says New Jersey, especially Salem County's location, is ideal for this major.
"New Jersey is often referred to as the distribution capital of the U.S. due to the turnpike, parkway and bridge access," he says. "The supply chain option in business administration provides students with knowledge and skills essential in today's modern economy. This program curriculum provides students with a general comprehensive understanding of basic business law, management, marketing, economics, accounting, supply chain management and leading-edge technology."
Also pending approval is scientific glass technology, which consists of scientific glassblowers creating glass apparatus to be used in research in laboratories, universities and industry.
"The only program of its kind in the nation, scientific glass technology combines classroom study and hands-on laboratory techniques, technical drawing and advanced fabrication," Burkhardt says. "Students devel- op a solid understanding of scientific glassblowing so that they are able to fabricate apparatus according to technical specifications."
Continuing Education
Rutgers-Camden's Executive Education Programs are for all types of individuals who want to learn top-level business training, from professionals or managers who want to enhance their skills to recent graduates just starting their careers. They offer continuing education online and onsite courses that reflect today's business environment.
"We are focusing on developing the next generation of leaders and companies to thrive amidst the changing business landscape," says Tim Perlick, director of the program. "For example, our MX program focuses on managerial excellence in sales, operations, service and HR. Our LEAD program prepares organizations and individuals to transform their companies and teams to meet the emerging future. Finally, we are leveraging new learning technologies to support millennial leadership through our Rutgers Knowledge Builders platform to deliver device-based micro learning; just in time, and just when ready."
Last spring, the Rowan MBA program changed its format so students can work when it's convenient for them. Daniel McFarland, associate dean of the Rohrer College of Business at Rowan University, says now it takes students less time to complete the program.
"We're now allowing students to complete their course work in any format," he says. "We offer courses online so students can complete whole programs online or they can select whichever courses they want to take online. Students can also complete the program fully face-to-face in class or take a combination of them doing some online completion and some face-to-face. "Students are really appreciating the convenience and I think it's putting them in more control of their education. They have more control over how they want to learn and it's more adaptive to their changing schedules."
Workforce Development Programs
With fields such as health care, welding and other parts of manufacturing in demand again, workforce development programs are on the rise. As a result, community colleges and counties are offering the necessary programs for individuals to start careers in those fields.
According to the Bureau of Labor Statistics, a substantial portion of the 30 fastest growing jobs are related to the health care industry, and Cumberland County College has seen their Allied Health Program which consists of programs such as certified nurse aide, pharmacy and dental assistance program, is currently sitting at capacity.
"We served more individuals this year than we have all last year, with certified clinical medical assistant being the most popular," Michael Goonan, director of busi- ness training and entrepreneurial initiatives says. "[There's] a growing demand for those individuals with urgent care [facilities] popping up all over the counties. Inspira is growing and building a new hospital in Gloucester County off Route 55 which means more employment opportunities for individuals."
Camden County College is also paying attention to the current workforce and providing the necessary tools for individuals in their program.
"The workforce training program at Camden County College is designed to respond to the needs of the labor force, collaborative partners and community members," Margo Venable, executive dean, division of school, community and workforce training programs says. "The Corporate Training Institute at Camden County College serves as a full service business resource center, providing customized training solutions for business, government and nonprofit organizations, which align with the goals and needs of the company. Training is based on employer demand and can be related to their current workforce or to providing training to the unemployed to support employer hiring demands."
"Most people that are starting kindergarten today, the job they are going to be obtaining once they graduate high school or college doesn't even exist yet," Cioce says. "I think it's paramount that institutions of higher education have an eye to the future on what those growth industries are."
Partnerships
Most of the county colleges work with various partners in their specific area, from county workforce development centers to county improvement authorities.
"We work with numerous partners, including the Cumberland County Center for Workforce and Economic Center," Goonan says. "Located right on [Cumberland County College's] main campus, individuals who recently became unemployed or are underemployed come there looking for training. We have a partnership with them where they offer information sessions every Friday based on what's in demand. These are programs and occupations that give people an overview of what they potentially may want to study for.
"We also work with the Cumberland County Improvement Authority to understand what businesses are coming into the area to see what training might be needed to make sure there is a qualified workforce for those companies."
Cioce echoed the importance of every- one working together within the county to be more efficient and being able to use all the resources available.
"It's a lot easier to synergize when you have leadership at the county level that is directing how our resources are optimized," he says. Rowan College at Gloucester County (RCGC) and Rowan University recently announced the Rowan Work & Learn Consortium—New Jersey's first "bundled" consortium. This will create degree programs developed in conjunction with workforce and industry leaders designed to address the seven highest areas of labor demand in New Jersey:
¦ Advanced manufacturing
¦ Financial services
¦ Transportation, logistics and distribution
¦ Health care
¦ Biopharmaceutical life sciences
¦ Hospitality, retail and tourism
¦ Construction management
"This partnering alliance between higher e ducation and business addresses college accessibility and affordability while meeting employment demands within the local job market, a valuable investment for students and businesses," Dr. Fred Keating, president of RCGC says. "We don't want students to get caught in the pipeline and get confused or detoured. Individuals could get to an associate's degree, but we didn't have a guided pathway to get them to a bachelor's degree, and now we do thanks to Rowan [University]."
Additionally, at the start of 2018, the Gloucester County Workforce Development Board created a program called Engage by Cell, which is a mobile text messaging service that sends people information on job postings on events like job fairs or classes at The American Job Center. Heather Simmons, a freeholder and liaison to the board, says 2,000 people have signed up thus far and it's been successful.
"We felt that because the vast majority of people have a phone attached to them most of the time, this is another tool in the arsenal for job seekers to let them be aware of opportunities that are available to them at no cost to help them be successful in their job and career search," she says.
Interested parties should text GLOUCESTER to 56512, after which they will get a confirmation response. Then periodic notifications will be sent on upcoming job fairs or résumé writing workshops.
"Using this tool on your phone is just one way to make the job search more successful and convenient for people," Simmons says.
Published (and copyrighted) in South Jersey Biz, Volume 8, Issue 3 (March 2018).
For more info on South Jersey Biz, click here.
To subscribe to South Jersey Biz, click here.
To advertise in South Jersey Biz, click here.