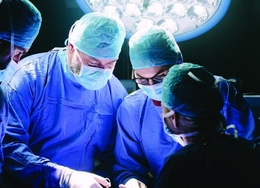 Best of Health Care
Local advocates, caregivers, doctors, hospitals, facilities and programs making a difference in the health care community.
Health care has changed dramatically over the past year. The amount of programs and initiatives offered to improve and maintain a healthy lifestyle has increased; more hospitals and health systems have partnered together to offer the most comprehensive services available; and many more passionate individuals are fulfilling the needs of those who need the most care. These Best of Health Care honorees are making a difference and improving lives—young and old— and changing the scope of health care in South Jersey and beyond.
EMERGING LEADERS
Donna Nickitas
DEAN, RUTGERS SCHOOL OF NURSING-CAMDEN
Effective July 1, Nickitas will lead the growth of the Rutgers School of Nursing-Camden as dean. A noted health policy scholar as well as nursing educator, Nickitas is the author, co-author and coeditor of peer-reviewed books related to the nursing profession. A member of numerous professional and civic organizations, Nickitas has played a critical role in growing enrollment and enhancing the Hunter-Bellevue School of Nursing in her current position as professor and executive officer of the nursing science Ph.D. program.
Reginald Blaber, M.D., FACC, MBA
PRESIDENT, LOURDES HEALTH SYSTEM
Blaber, a practicing cardiologist, became part of a rare but growing trend of physician executives to lead a U.S. health system when he was named president of Lourdes last August. He has been with Lourdes for more than 20 years, most recently as executive director of the Lourdes Cardiovascular Institute, vice president of cardiovascular services and chairman of medicine. A graduate of Bucknell with an MBA from Villanova, he also served in the U.S. Army as an internist for six years.
Dana Redd
CEO, ROWAN/RUTGERS-CAMDEN BOARD OF GOVERNORS
The former Camden mayor is a proven and experienced leader with over 20 years service in the public sector. As CEO, Redd is responsible for overseeing board operations and the construction of a 95,000square-foot Joint Health Sciences Center in Camden. The building will deliver education and training opportunities to a new generation of health care providers while also providing world-class research space for Rutgers, Rowan and Camden County College faculty developing innovations in the biosciences and allied health. Additionally, Redd is charged with developing programmatic and policy initiatives which reflect the board's mission and overarching objectives of education, economic development and civic engagement.
HEALTH CARE ADVOCATES
Stephanie Fendrick
SENIOR VICE PRESIDENT, CHIEF STRATEGY OFFICER, VIRTUA
Fendrick's role includes exploring, developing and managing relationships with other providers and organizations that are aligned with Virtua's imperative to manage the health of the community across the continuum of care. She is described as "an integral part of the Virtua team that represents the future." She is a dynamic leader with strong community ties whose work on strategic partnerships with the Children's Hospital of Philadelphia and Penn Medicine have helped strengthen the programs and services that Virtua offers to the South Jersey community now and into the future.
Susan Love
CEO, LIONS GATE
Love was working as the director of human resources at the Jewish Geriatric Home (JGH) in her hometown of Cherry Hill in the late 1990s when she decided to participate in an administrator training program. She earned her nursing home administrator's license and eventually became the administrator at JGH. She joined Lions Gate—a retirement community rooted in Jewish values—in 2007, working her way up from administrator to CEO. She oversees the organization's three affordable housing buildings and its continuing care retirement community.
UNSUNG HEROES
Nancy Munyon
REGISTERED NURSE, CARDINAL VILLAGE
On a daily basis Munyon displays compassion, kindness and patience to the senior community at Cardinal Village, which is why her coworkers consider her an unsung hero. The married mother of two grew up dreaming of becoming a nurse and graduated from Gloucester County College in 2008 with the Excellence in Nursing Award. She joined Cardinal Village in 2010, and fit in right away thanks to her uncanny ability to empathize with others and her passion for fulfilling the needs of those in her care.
Anne Fannan
OWNER, COMFORT KEEPERS
Earning an MS in nutrition and food management from Oklahoma State University, Fannan became a registered dietitian. Having held many roles in college food s ervice, food service management and clinical dietetics in nursing homes, as well as owning and operating a bistro and even a yarn shop—Fannan and her husband, John, started the home care agency Comfort Keepers of Pitman in 2010. The company's goal is to provide a healthy lifestyle for their clients within the comfort of their own homes.
Give Kids a Smile Program
DR. JAMES J. TENBROOK, OWNER & CEO, TENBROOK ORTHODONTICS
Dr. James J. TenBrook With 11 locations across South Jersey, TenBrook is quickly taking over the orthodontics scene. Always looking to give back to the community—especially since he grew up in Millville—TenBrook takes part in the "Give Kids A Smile!" program every February. While the program offers care such as oral hygiene instruction, fillings, X-rays and more to underprivileged children, TenBrook took his community service a step further and donated free braces to a member in the Adult School Based Program at Big Brothers Big Sisters of Cumberland & Salem Counties.
COMMUNI TY OUTREACH
Inspira Medical Center Vineland
Inspira was one of 36 hospitals in the country recognized by The Leapfrog Group as a Top Teaching Hospital. With seven residency and three fellowship programs, Inspira Medical Center Vineland helps young doctors acquire skill sets to allow them to heal and comfort patients on their own. Inspira Health Network works closely with Rowan University and its medical school to offer new opportunities to its students, and in turn, sees the benefit to the community from some graduates of residency programs choosing to join a local South Jersey practice.
Opioid Overdose Recovery Program (OORP)
OAKS INTEGRATED CARE
In light of the opioid epidemic that has taken hold across the U.S. and affected thousands of families, Oaks was awarded the OORP in Burlington County from the Division of Health and Addiction Services. The program provides outreach to survivors reversed from an opioid overdose at participating emergency departments. Its goal is to offer hope for survivors by linking them to treatment opportunities, peer support and other community resources.
Ornish Lifestyle Medicine
ATLANTICARE'S INTENSIVE CARDIAC REHABILITATION PROGRAM
AtlantiCare Regional Medical Center has the region's only full-service cardiac program, and that includes the nationally recognized Ornish Lifestyle Medicine for patients with heart disease. Ornish focuses on nutrition, stress management, fitness, social support and other factors to prevent, stop and even reverse the progression of heart disease. Participants meet at the AtlantiCare LifeCenter for 18 sessions that include a healthy lunch, group and individual exercise, a support group meeting and education.
Jefferson Health Veterans Initiatives
Jefferson Health is involved in three separate statewide initiatives that not only put retired veterans to work, but help support veterans—and former military personnel—as they navigate through the complexities of today's health care world. The first program focuses on identifying and assisting area veterans in need of mental health services. The second initiative is a community-based pilot project that includes three area retired veterans, who have received training as health coaches, and they assist Jefferson Health in its efforts to reduce patient readmissions. Lastly, the Kennedy-led Veterans Health Provider Coalition has specially trained veteran navigators help identify former military members and their families and assist them in accessing primary care and behavioral health services.
SAFETY
Safe Kids Southern New Jersey
COOPER UNIVERSITY HEALTH CARE
Safe Kids USA is the first and only national nonprofit organization dedicated solely to the prevention of unintentional childhood injury—the No. 1 killer of children ages 14 and under in the United States. Safe Kids Southern New Jersey is one of the local coalitions that are part of Safe Kids Worldwide, a global network of health and safety experts, educators, corporations, foundations, governments and volunteers to educate and protect families, with Cooper University Health Care being the lead agency for the organization. Cooper is home to the Southern New Jersey Regional Trauma Center and The Children's Regional Hospital at Cooper, South Jersey's only state-designated acute care hospital for children.
HEALTH CARE EDUCATION
Rutgers School of Nursing-Camden
The award-winning faculty at the Rutgers School of Nursing-Camden consists of wellknown experts in their fields of study and clinical practice. Making significant contributions to nursing education, practice and study, the faculty members are fellows in the American Academy of Nursing, the National League for Nursing Academy of Nursing Education and the National Academies of Practice. The school inspires their students to explore and disrupt nursing stereotypes while understanding the full scope of nursing practice and pursuing the unlimited opportunities they have to make a difference.
Healthy Schools, Healthy Children Program
ATLANTICARE
Bad habits in diet and exercise tend to start at a young age, making it crucial for children to develop a healthy lifestyle as early as possible. That was the motivation behind the creation of AtlantiCare's Healthy Schools, Healthy Children (HSHC) program. Partnering with 114 schools in Atlantic, Cape May and Ocean counties, HSHC helps provide fitness, nutrition and wellness programming for schools, students and families. It brings local chefs into classrooms for cooking demonstrations, gives garden workshops and presents healthy educator awards, among other initiatives.
HEALTH CARE PARTNERSHIPS
Cardiac Partners
COOPER UNIVERSITY HEALTH CARE AND INSPIRA HEALTH NETWORK
The largest cardiac care program in South Jersey, this affiliation will provide patients in the South Jersey region with access to more coordinated and comprehensive cardiac services across the continuum of care. As the health care landscape continues to change, this innovative business model will allow Cooper and Inspira to serve more cardiac patients, operate more efficiently, increase patient satisfaction; and allow more patients to stay in New Jersey for the most advanced, high-quality cardiac care.
Lourdes Health System and the Global Neurosciences Institute
Global Neurosciences Institute's (GNI) innovative team—led by renowned neurosurgeon Dr. Erol Veznedaroglu—is improving patient care by pioneering new surgical techniques and therapies. Now, thanks to an agreement with GNI, Lourdes Health System patients can benefit from those advancements, as they can be treated by GNI neurosurgeons at Our Lady of Lourdes Medical C enter in Camden and LourdesCare in Cherry Hill. The Lourdes Medical Center also recently added a hybrid lab and operating suite that enhances its neurological and cardiovascular capabilities.
University of Pennsylvania Health System
Princeton HealthCare System (PHCS) and its affiliates, including University Medical Center of Princeton, Princeton House Behavioral Health, Princeton HomeCare and the Princeton Medicine physician network, are now part of the University of Pennsylvania Health System. This will provide high-quality care to patients and many types of community-based health and wellness initiatives. With this merger, patients and doctors will benefit from easier access to the latest medical breakthroughs, clinical trials, cutting-edge technologies and specialized clinical expertise.
HEALTH CARE HEROES
LaNette Keeton
OWNER AND CEO, SERENITY HOME HEALTHCARE & NURSING SOLUTIONS, LLC
Recognizing the hardships of going to outpatient facilities for infusion treatments—as well as the hardships for those who are taking care of family members—Keeton started Serenity Home Healthcare & Nursing Solutions and Serenity Home Infusion Solutions, Inc. Keeton's hard work in overcoming business adversity has led to her agency serving almost every county in New Jersey. When she is not making business partnerships throughout the community, Keeton is giving back by working with youth and elderly organizations in the community.
HeroCare Connect
COOPER UNIVERSITY HEALTH CARE AND DEBORAH HEART AND LUNG HOSPITAL
This innovative program increases access to health care for veterans, active-duty military, retirees, and their families. It is the first collaborative project between two hospitals to provide specialty medical services to the more than 44,000 service members who live and work in South Jersey. The program addresses the acute and chronic care needs of our nation's heroes, through a personalized concierge-style program that connects patients to more than 75 medical specialty services offered by the two hospitals, as well as handling all insurance issues, following up on medical records and forms, and ensuring superior patient experiences at every step.
INNOVATION
Beating Heart Bypass Surgery
DEBORAH HEART AND LUNG HOSPITAL
Beating heart bypass surgery is a major advancement that allows patients to be "off pump" during open-heart surgery, reducing the risk of stroke, as well as shortening the average hospital stay. During this surgery, physicians do not stop the heart and use the bypass heart-lung machine. Instead, the surgeon is able to stabilize portions of the heart during surgery using the latest technological advances, allowing surgery on the blocked artery in a highly controlled operative environment, while the heart continues to keep pumping and circulating blood to the body.
Integration of Rowan University School of Osteopathic Medicine (SOM) into Rowan University
A $3 million grant from the Robert Wood Johnson Foundation at the start of the integration process between the SOM and Rowan University was important to developing a collaborative environment between Rowan's two medical schools and the other colleges within the university. This grant provided funds for two conferences that involved representatives from Rowan's two medical schools and the hospital-based health care systems in South Jersey. The topics of the two conferences revolved around the future of health care and of medical education in the United States and nationally prominent experts presented their views which were incorporated into the strategic planning process that followed the integration of SOM into Rowan.
Published (and copyrighted) in South Jersey Biz, Volume 8, Issue 3 (March 2018).
For more info on South Jersey Biz, click here.
To subscribe to South Jersey Biz, click here.
To advertise in South Jersey Biz, click here.