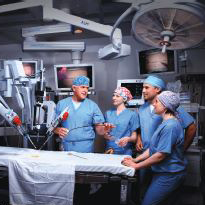 Innovations in Health Care
A look at the latest innovations in the local health care sector
As health care advances, it's imperative that doctors, researchers and scientists stay on the forefront with the latest technology and make the necessary changes to help patients better interact with their health care professionals. This isn't just the newest equipment and treatments being offered, but programs and schools in the South Jersey and Greater Philadelphia area that are improving people's lives.
INSPIRA HEALTH NETWORK
Da Vinci Robotic Surgical System
Faster healing and minimal scarring are two of the benefits to patients who undergo robotic surgery at Inspira Health Network. This year, Inspira Vineland recently added a new da Vinci Xi Robotic Surgical System that has two control consoles, giving Inspira's experienced robotic surgeons the ability to share procedures with 31 general surgical and gynecologic residents. During a robotic surgery, the surgeon is 100 percent in control of the surgical system, which translates his or her hand movements into smaller, more precise movements of tiny instruments inside the patient's body. The Inspira robot also features a magnified 3D high-definition vision system, which allows the surgeon to operate with enhanced vision and precision.
Dr. Eddie Wu
Premier Orthopaedic Associates
As the only fellowship-trained total hip and knee surgeon affiliated with the Inspira Health Network, Wu has led the way with rapid recovery protocols after total hip and knee arthroplasty that results in less pain, a shorter hospital stay and an overall faster recovery at home. Utilizing a multi-modal pain protocol and minimally invasive surgical techniques, Wu has even been able to perform total hip and knee arthroplasty as an outpatient basis. Using these evidence-based and innovative techniques, patients are out of bed and walking just hours after surgery. Given its success, many local surgeons have adopted Wu's rapid recovery protocol.
NEMOURS' PEDIATRIC ALLERGY PROGRAM
The Nemours Allergy/Immunology Clinic at Deptford offers cutting-edge treatment for food allergies, including early peanut introduction, and food challenges, and provides immunotherapy (allergy shots) that include accelerated protocols so that children feel better faster.
Nemours Allergy/Immunology is involved in developing a mobile app through a partnership with ChangePartner that will lead to real-time feedback for Nemours associates to improve communication with patients and families, enhance the care experience and improve outcomes. Also in development is a Nemours digital asthma tool that will help clinicians and families of children with asthma monitor their health remotely, adhere to care plans and communicate more effectively between visits. The practice uses MyNemours, a patient EMR portal, in order to communicate with families via email.
MI-EYE 2, LOURDES MEDICAL CENTER IN BURLINGTON
Dr. Sean McMillian, chief of orthopedics and surgery at Lourdes Medical Center in Burlington, who specializes in orthopedic sports medicine, is the first doctor in the state and is the highest volume user in the tri-state area to use a new device called mi-eye 2. This painless procedure is performed in his office under local anesthesia, and the mi-eye 2 allows him to clearly see into a patient's joint and identify injuries such as meniscus tears, ACL tears, loose bodies, rotator cuff tears and labral tears in place of an MRI.
"My patients love the technology for a number of reasons," says McMillian. "In doing this I'm able to show the patient their pathology right as I'm performing the procedure, and it is cheaper than an MRI and oftentimes saves my patients between two and three weeks of turnaround time. By performing the mi-eye 2 in the office, I can help develop a treatment plan much quicker for the patient."
PROJECT WALK
Project Walk is an internationally recognized leader in activity-based paralysis recovery for people with spinal cord injuries, traumatic brain injuries, MS, ALS, Parkinson's disease and various other disorders affecting mobility, and is only the second facility of this type on the East Coast.
This program focuses on using specific exercises that are related to the same movement patterns that occur during human development. Through these movements, they attempt to reestablish patterned neural activity within the central nervous system. These movement patterns are replicated with the help of highly trained specialists who have been taught to respond to unique cues that each client's nervous system gives them, and by providing the proper stimulus, they help it to reorganize.
DEBORAH HEART AND LUNG CENTER, ECHOPIXEL TRUE 3D
Deborah Heart and Lung Center's new Echo- Pixel True 3D imaging system complements the hospital's current high-tech CT and Echo 3D capabilities. The EchoPixel technology, however, takes this one step further. With the use of a special virtual reality HP display, along with sophisticated True 3D interactive virtual reality software, Deborah's interventional and EPS teams now have the capability of manipulating a 3D image on the patient's heart in virtual space; this allows the physicians to obtain very precise measurements for case planning and device choice prior to the actual procedure. Complex spatial relationships of structures within the heart can also be better understood, which is of great benefit in multifaceted procedural planning. This type of imaging may also be very useful for other procedures and cases such as adult congenital heart disease, mitral valvular disease and endovascular repair of abdominal aortic aneurysms.
PENN MEDICINE
Personalized Cellular Therapy
The U.S. Food and Drug Administration (FDA) recently approved this therapy for the treatment of patients up to 25 years of age with advanced leukemia, which doctors and scientists from the University of Pennsylvania and Children's Hospital of Philadelphia, who developed the therapy, say is a "game-changer" for the treatment of younger patients battling the aggressive blood cancer and a pivotal milestone in this new era of cellular therapies. The firstever cancer cell and gene therapy approval, this treatment uses a patient's own immune system to help treat cancer, producing high remission rates in completely refractory leukemia and can survive in the body for years.
Radicava
There is no cure for amyotrophic lateral sclerosis (ALS), a progressive neurodegenerative disease affecting the nerve cells in the brain and spinal cord. However, scientists have made significant progress in understanding the physiology of this disease. In May 2017, the FDA approved Radicava (Edaravone) as the first new ALS treatment option in more than 20 years. Radicava is an intravenous infusion which has been demonstrated to slow decline of physical function by 33 percent. In November, Penn Medicine Cherry Hill's first two ALS patients were welcomed to the infusion suite for their initial cycle of treatment. The PMCH infusion team is excited to be on the forefront of this new therapy to better the lives of those who suffer with ALS in the South Jersey community.
Deep Inspiration Breath Hold
Penn Medicine Cherry Hill Department of Radiation Oncology now offers Deep Inspiration Breath Hold (DIBH). Breath Hold treatments are used to limit the motion of tumors and internal organs to improve the precision of radiation treatments, and they also expand the lungs and move the heart away from the chest wall. This permits better sparing of the heart when treating the breast and chest wall. By reducing radiation dose to the heart, long-term cardiac side effects, like heart attacks, may be reduced, which is an important benefit to long-term breast cancer survivors.
JEFFERSON HEALTH
The Kennedy Health Alliance
The Kennedy Health Alliance (KHA) is a network of primary and specialty care practices in South Jersey. Together with the Jefferson Family Health Center in Somerdale, KHA has worked to integrate behavioral health services into the primary care setting over the past year. This program has proven not only successful, but also impactful; assisting area residents with getting the care they need in a setting that is supportive and free of stigma. This primary care model for the delivery of behavioral health services has been shown to be more than twice as effective as traditional behavioral health care, and also improves physical and social functioning and patients' quality of life, while reducing overall health care costs. Integrated behavioral health services are effective in treating a wide range of mental health disorders, along with substance use disorders and chronic diseases.
Jefferson's Neuromonics Tinnitus Treatment
There are two revolutionary ways Jefferson is treating the underlying causes of tinnitus. The first is a device called the Neuromonics Oasis, which resembles a small, digital consumer music player programmed by an audiologist with a customized tone that desensitizes patients to the sounds of tinnitus. It helps the brain overcome the initial damage caused to the auditory system and reduces the brain's interpretation of tinnitus sounds as harmful. This treatment is not a tinnitus retraining therapy, but a comprehensive program that can provide long-term relief under the care of a trained audiologist. The second is the Neuromonics Alleviator— an app patients can download to their smartphone to address mildly bothersome tinnitus.
VETERANS ADMINI STRATION AND ATLANTICARE PARTNERSHIP
The Veterans Administration and AtlantiCare have entered into an agreement that both organizations hope will enhance access to quality care for veterans, as those who are members of the VA's Choice Program can get care at AtlantiCare facilities, with approval from the VA. Under the provider agreement, veterans will still clear non-emergency treatment through the VA before getting it, and notify the VA after getting emergency care.
"The VA is committed to enhancing access to health care services in its community-based clinics in Atlantic, Cape May and Cumberland counties," says Vincent Kane, medical director, Wilmington Veterans Administration Hospital. "Through this local provider agreement, the VA can partner with AtlantiCare, which has a long history of caring for the community, to increase veterans' access to high-quality health care when that care is not available through the VA or when the VA is not able to deliver that care timely."
THE CANCER GENETICS PROGRAM AT VIRTUA HEALTH SYSTEM
Virtua's cancer genetics program helps people determine their inherited risk of certain cancers, enabling them to fight cancer before it starts. Services include individualized, comprehensive counseling and assessment by cancer genetics experts; genetic testing when appropriate; recommendations on how to reduce one's cancer risk; and information on clinical trials or studies for those eligible. Testing is available for genes linked to breast, ovarian, prostate, uterine and colorectal cancers, among others. Those already diagnosed with cancer can learn if they are at increased risk for developing a second cancer due to their genes, and this information can also help their relatives define their cancer risk.
CAREKINESIS MEDICATION RISK SCORE
Launched in August, the Medication Risk Score is a quick and easy way for clinicians to assess which patients are at risk and require medication management attention. Weighted values are assigned to the common, serious medication risk factors in adults, and these values are totaled to calculate a score. Different score thresholds help determine which individuals require extra collaboration between pharmacists and other health care providers to reduce medication risk. Medication Risk Scores make it easy for clinicians to prioritize which patients require attention for medication optimization. Allocating scarce time and resources toward patients who are the highest health care utilizers can increase medication safety and reduce total medical costs.
ROWAN UNIVERSITY
Rowan University School of Osteopathic Medicine
As more and more doctors from the baby boom generation near retirement, the state faces a potential shortage of physicians within the next decade, which is why the growth at RowanSOM is crucial.
"Since 2009, our class size has steadily grown, and the next incoming class of 200 will be the largest class to date," says Dr. Thomas A. Cavalieri, dean of Rowan University School of Osteopathic Medicine. "Through our growth in undergraduate and graduate medical education, our expanding research enterprise and transformative clinical services, we are advancing the health of the communities we serve."
More than 80 percent of the medical school's current students are New Jersey residents and more than half of all graduates have continued their careers here. Reflective of New Jersey's diverse population, nearly a quarter of students are from groups underrepresented in medicine.
"With $18 million in extramural grant funding, we also lead the way in discovery in areas such as neuroscience, aging and cancer," Cavalieri adds.
Joint Health Sciences Center
The Rowan University/Rutgers University-Camden Board of Governors held a groundbreaking ceremony in October to celebrate the beginning of construction on the Joint Health Sciences Center, set to open in spring 2019.
"For the first time in New Jersey, one facility will co-locate important functions of two four-year institutions, a medical school and a county college, all with the goal of providing a continuum of research, education and training opportunities in the health space," says Kris Kolluri, chief executive officer of the Joint Board of Governors.
The use of high-fidelity, manikin-based simulation, the most complex form of biomedical simulation, will make the Joint Health Sciences campus a leader for health care training in the region. The high-fidelity simulators in manikins mimic a wide range of human functions, including breath, heart tones and pulse. When tests and procedures are performed on the manikins, trainees are provided with virtual feedback on the impact of their work and students are able to strengthen their skills in a realistic clinical setting.
COOPER UNIVERSITY HEALTH CARE INTEGRATIVE MEDICINE PROGRAM FOR WOMEN
Designed to complement existing treatment plans prescribed by patients' primary care and specialty physicians, care plans focus on natural remedies (that do not interfere with traditional medications) and proven complementary medicine approaches such as acupuncture, therapeutic massage, meditation and yoga. The program does not replace primary care, and the program's doctors will work in conjunction with the patient's other primary care physicians or specialists. A typical integrative medicine new patient consult lasts about one hour and will address diet and nutrition; physical activity; mind-body interaction; stress; supplements and botanical medicines; as well as spiritual, emotional and/or social needs.
Published (and copyrighted) in South Jersey Biz, Volume 7, Issue 12 (December, 2017).

For more info on South Jersey Biz, click here.
To subscribe to South Jersey Biz, click here.
To advertise in South Jersey Biz, click here.