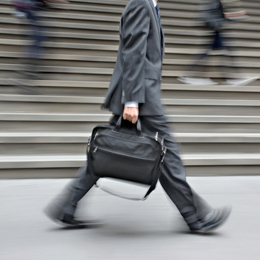 On the Move
October 2017
The New Jersey Hospital Association board of trustees announced Cathleen Bennett as the association's sixth president and CEO. Bennett will seek to improve health care in New Jersey.
Lauletta Birnbaum, LLC announced the addition of three attorneys, William Eisenstadt, Christopher Marrone and Carrie Krantz, to their company. Eisenstadt focuses on general corporate law, Marrone has experience in multiple areas within law and Krantz joined the firm following her clerkship at the Supreme Court of New Jersey.
Joseph Maruca was promoted to managing director at The Mercadien Group and principal in Mercadien, P.C., CPAs. He has experience working with companies in the manufacturing, professional services and nonprofit sectors. Additionally, Joseph Galdo was promoted to manager along with 23 other promotions in the firm.
Chad Bruner was elected chairman by the Rowan University board of trustees after having held multiple leadership positions.
After serving as a deputy attorney general in pensions and financial transactions, William Hanna has joined Hyland Levin, LLP. Hanna will be a company associate within the transactional real estate and finance and multi-family practice groups.
William "Fred" Acevedo was announced operating partner at The Silver Diner in Cherry Hill. His responsibilities will be overseeing the menu, staff, customers and community outreach events.
WithumSmith+Brown, P.C., an accounting and advisory firm, promoted 60 employees in October. Positions included principal, senior manager and supervisor.
Alyssa Bartholomew is a new addition to Adinolfi & Packman, P.A. following her clerkship with Chancery Court in Camden County where she became well-versed in law.
Jocelyn Chisholm Carter is the new CEO for United Healthcare Community Plan of New Jersey. She will be in charge of managing clinical, quality and operational effectiveness.
Duly Noted
Seabrook is the new name of Seabrook House, a nonprofit facility for recovering alcohol and drug addicts and their families. Seabrook House outgrew its name since expanding to five locations in New Jersey.
Coldwell Banker Preferred encouraged the community to donate to hurricane relief campaigns, Realogy Disaster Relief Fund and Realogy Foundation's Florida Hurricane Fund. The company, along with affiliates, agents and employees, funded $340,000 so far for Hurricane Harvey victims. The campaign funds are directed to the American Red Cross.
The Centers for Disease Control and Prevention granted up to $1 million over a span of five years to New Jersey Perinatal Quality Collaborative. New Jersey is one of 13 states that received the award in September. The funding will improve quality and care for mothers and babies throughout the state.
Paulus, Sokolowski and Sartor, LLC (PS&S), an architecture company that designed the Steel Pier Observation Wheel in Atlantic City, was nominated for the Distinguished Engineering Award in September. The precisely placed attraction was built to increase tourism and economic growth for the Boardwalk.
NJM Insurance Company, an automobile insurer, attained one of the highest customer satisfaction scores in the J.D. Power U.S. Auto Insurance Study for 2017.
Inspira Health Network was accredited the CEO Gold Standard. Inspira attempted to lower cancer risks for employees and families to help improve the workplace.
Glassboro announced its new smartphone app, Borough App, for residents, students and businesses that want to know the latest news, events, business discounts and offers in town.
LAMATEK Inc. celebrated its fifth straight Manufacturing Day by honoring the company's recent expansion. LAMATEK manufactures flexible foam tapes, gaskets and adhesive products. The open house on Manufacturing Day was intended for a younger audience interested in the manufacturing field.
Real estate firm NAI Mertz was named NAI Global Office of the Year and Scott Mertz, Society of Industrial and Office Realtors, was acknowledged as NAI Global Top Producer of the Year. The award is given to the best company to drive the business forward while displaying leadership.
Capital Bank of New Jersey offered a program in which it will buy $100,000 of its stock at $20 per share totaling $2 million. The offer, expiring at the end of February 2018, is meant to boost the future of the company just as two previous programs have done before.
Demountable Concepts Inc. is a finalist in the Manufacturer of the Year medium category for New Jersey Manufacturing Awards 2017.
The American College of Surgeons' National Accreditation Program for Breast Centers recognized the Kennedy Health Comprehensive Breast Center in Washington Township as a high-quality breast care facility when reviewed for their performance.
Kennedy Home Health Care received a Patient Satisfaction Award of Distinction by Fazzi Associates. The department was in the top 25 percent of home health care facilities on Fazzi's National Patient Satisfaction Database.
South Jersey Federal Credit Union has donation boxes at each of their locations to collect cash or check donations for hurricane relief in Puerto Rico.
NAI Mertz announced that Two Six Labs, a company dedicated to groundbreaking technologies for the government and other industries, has signed a lease for its first New Jersey location in Mount Laurel.
New Jersey Department of Environmental Protection granted $450,000 to South Jersey watershed protection. The grant will help municipalities, nonprofit organizations and academic institutions make developments in protecting the waterways.
Rowan College at Burlington County student enrollment increased 5 percent this fall due to their "3+1" program. The program allows a student to stay at the community college an extra year before transferring to Rowan University.
David Gelman opened his own law firm, Gelman Law, LLC, in Cherry Hill. His firm will focus on DWIs, expungements, business transactions and litigation.
Legislators of South Jersey granted the Food Bank of South Jersey $30,000 from the Community Services Block Grant-Special Initiatives program.
The Environmental Protection Agency announced the maintenance of lead-infested soil on Tempo Development Group's property. Soil that is a potential risk to human health will be disposed of accordingly at a licensed facility.
John J. Heldrich Center for Workforce Development at Rutgers University hosted The New Jersey Departments of Labor and Workforce Development and Human Services to find ways to improve employment and explore the best strategies of training for the WorkFirst New Jersey Program.
DCO Energy, LLC extended their business by acquiring three combined heat and power (CHP) plants that give electricity and process steam.
The American Heart Association acknowledged 18 companies for practicing a health-conscious culture in their facility. The Workplace Health Achievement Index is measured by the overall quality and comprehensiveness of the workplace.
Published (and copyrighted) in South Jersey Biz, Volume 7, Issue 10 (October, 2017).

For more info on South Jersey Biz, click here.
To subscribe to South Jersey Biz, click here.
To advertise in South Jersey Biz, click here.