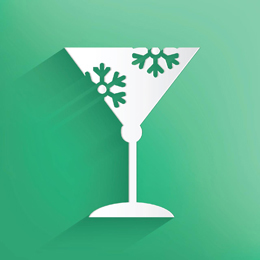 Are Holiday Parties Back in Favor?
Culture
The holiday season is fast approaching, and with it comes the typical social obligations: family celebrations, time-honored traditions like cutting down your own Christmas tree, perhaps even a company holiday party.
We've all heard the stories of infamous holiday parties of generations past: formal attire, catered meals, perhaps even champagne toasts. It seems this old school tradition is back in style. In fact, 80 percent of companies polled last year by outplacement and career transitioning firm Challenger Gray & Christmas said they planned to host a holiday party.
And South Jersey companies are not to be left out of the trend.
Many are getting in on the festivities and hosting their own holiday celebrations for employees as a thank you for a job well done.
"We absolutely are planning a holiday party," says Alyssa Raymond, assistant to the owner at foodwerx featuring Nicholas Caterers in Cherry Hill. "It's the one time of the year where our employees do not have to worry about catering a flawless event for another company or individual. They are able to sit back and enjoy the moment."
Raymond points out that, given the demanding schedules of the event planning and catering industry, allowing employees to take the time to relax and enjoy themselves is paramount to their success.
"Foodwerx is a full-scale event planning and catering company, [so] for months leading up to the holidays we are running on full steam to produce event after event for everyone in the tri-state area," she explains. "We focus on every little detail, which means we push ourselves off to the side for a somewhat long period of time. After the holidays conclude, the company as a whole can take a minute to breathe and enjoy ourselves a bit.
Kristen Cass, director of Cooper River Operations at the Camden County Boathouse in Pennsauken, echoes those sentiments.
"It's a nice way to show your appreciation for all of your employees' hard work throughout the year," she says of her company's impending holiday party. "Going to dinner and just enjoying everyone's personalities outside of the typical work environment, to me this builds stronger bonds which carry over to the workplace."
But not all companies opt for a traditional gathering.
Teresa Sydorko, director of communications and social media at Delco Development in Willingboro, says her company treats the team to a more "interactive holiday party." Think: a game night at Dave & Busters, go-carting or laser tag.
"This gives everyone a chance to unwind in a casual atmosphere while team building," she says. "At the same time, we are celebrating and enjoying each other's company."
Building camaraderie within the team is another big factor in companies' decisions to host a worksanctioned holiday celebration.
"Days go by where we may be in the same building, working on the same details, but not have time to even acknowledge the fact that we're a team," Raymond says. "This event is a way to bring that team feeling back."
Sydorko agrees, "It's important to like the people you work with," she says. "Small celebrations are a way to break down walls and create relationships among your coworkers. The team that laughs together stays together."
And while overindulging could be a concern at a work-sponsored event where alcohol is served, these South Jersey companies trust their employees to make the right call.
"There is always a liability concern, but we trust our team to enjoy themselves without overindulging," Sydorko notes. "It is important, however, to think about safety, so always provide safe transportation."
With the influx of local companies throwing holiday parties this year, this begs the question: Are holiday parties on the upswing? Many experts say the economic crash of 2008 is the point when holiday parties fell out of favor. But according to the Challenger Gray & Christmas study, 21 percent of companies polled planned to spend more on their next holiday parties, and more than 42 percent will extend invitations to spouses or other family members, up from 31 percent the year before.
Yet holiday parties are not a given for all South Jersey companies.
Jaime Auletto, office manager at Auletto Caterers says that her company, a familyowned business based in Almonesson, forgoes the traditional holiday party—with good reason.
"We do not host a holiday party for our employees as they work so many hours during the holidays hosting other people's parties that we want them to be able to spend time with their family and friends when they are not working," she says, noting that December is one of the company's busiest times.
"That being said, I think holiday parties offer companies a unique opportunity to build camaraderie among employees," she notes. "It is also nice to reward employees for all the hard work during the year."
But, Auletto Caterers celebrates their employees in other ways.
"For Easter, Thanksgiving and Christmas we give our employees food, such as a ham for Easter, a turkey for Thanksgiving and then the Christmas meal varies," she says. "Fulltime employees also get a bonus at the end of the year."
This is simply an industry-based decision, she says, underscoring the demanding schedule her employees have during that time of year.
"I think in this industry having the opportunity to spend time with loved ones is appreciated," Auletto says.
One thing remains clear. South Jersey companies are using the holiday season to extend their appreciation to employees —whether that means throwing a festive holiday gathering or simply giving them the day off.
Some even use it as a time to play a goodhumored prank on the boss.
"We had a sit-down dinner at a restaurant and we had the company replace the owner's filet dinner with a cheeseburger, french fries and apple pie from McDonald's," Raymond recalls of one such holiday party prank. "The look on his face when the plate cover was removed was priceless and can certainly never be forgotten."
Published (and copyrighted) in South Jersey Biz, Volume 7, Issue 9 (September, 2017).
For more info on South Jersey Biz, click here.
To subscribe to South Jersey Biz, click here.
To advertise in South Jersey Biz, click here.