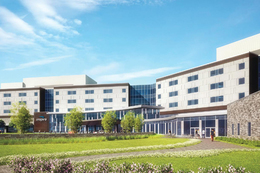 Breaking New Ground
Commercial Real Estate Overview
Drive just a few miles anywhere in South Jersey and you're sure to see clear signs of construction in the works. Thanks in part to tax incentives from the EDA, new companies are bringing fresh projects to the area and existing businesses are finding it more feasible to expand.
We scoured the area to identify 15 commercial real estate projects poised to make a big impact on the local economic landscape. Whether it's rehabbing an old facility or raising a tower that reaches the sky, these developments offer modern amenities for today's workforce and create a plethora of jobs that represent long-term gains for the Garden State.
AMERICAN WATER CORPORATION HEADQUARTERS
Location:

Along the Delaware River on the Camden Waterfront
Scope/size:

Five-story, 220,000-square-foot corporate headquarters
Architects:

Robert A.M. Stern Architects (building), Gensler (interior design)
Engineers:

Buro Happold Engineering (core and shell), The Rock Brook (interior design)
Leasing agent:

CBRE (broker)
Impact:

American Water is excited about the opportunity to build its new headquarters on the Camden Waterfront and to become a significant part of a community where it provides water and wastewater services. Once the project is completed in late 2018, American Water will bring more than 600 employees on a daily basis to the city and to a new office building that will provide the technology and tools to better serve its customers.
ARBOR TERRACE MOUNT LAUREL
Location:

785 Centerton Road, Mount Laurel
Scope/size:

75,262 square feet
Cost:

$18 million (construction)
Architect:

Meyer Design, Inc.
Engineers:

Taylor Wiseman and Taylor (civil), Bala Consulting Engineers (structural), Enerdyne Consulting Services, LLC (mechanical, electrical and plumbing)
Developer:

Wohlsen Construction
Impact:

This three-story assisted living and memory care community will bring additional economic development to the region. It will feature 88 residential units, a technology lounge, bistro, sports theater, fitness/rehab centers, a two-story water feature, courtyard, patio and an art studio. The building is constructed with both metal stud bearing frame and structural steel frame supporting an Ecospan composite deck and joist flooring system. The exterior façade includes stone veneer and fiber cement siding.
CAMDEN WATERFRONT
Location:

Camden Waterfront (south of the Ben Franklin Bridge and north of the Camden Aquarium)
Scope/size:

Mixed use project encompassing 1-1.5 million square feet of office space, 180 hotel units, 188 residential units, ground floor retail, structured parking and an expanded public park
Architects:

Robert A.M. Stern Architects (master), Michael Van Valkenburgh Associates (waterfront park)
Engineer:

Pennoni Engineering (civil)
Leasing agents:

Anne Cummins, Janice Wong
Impact:

The project is the biggest private sector investment in the city's history. The Camden Waterfront is a new, mixed use neighborhood that will attract corporations, employment and significant inward investment. Liberty Property Trust anticipates the office component of the development will consist of build-to-suit projects for corporations seeking to grow their businesses in this environment and attract their future workforce while taking advantage of the economic benefits offered through the Grow New Jersey program.
THE FOOD COMMERCIALIZATION CENTER
Location:

E. Broad St., Bridgeton, adjacent to the Rutgers Food Innovation Center
Scope/size:

31,280 square feet
Cost:

Approximately $9 million
Engineer:

Fralinger Engineering (civil)
Impact:

The Cumberland County Improvement Authority (CCIA) is partnering with the Cumberland Empowerment Zone Corporation and the city of Bridgeton to develop, own and manage the Food Commercialization Center. The CCIA will work closely with Rutgers Food Innovation Center, which runs the only Soft Landings Program for food processing in the world, also located in Bridgeton and immediately adjacent to the new center's location. The building is expected to be completed in the fourth quarter of 2017.
HADDON POINT APARTMENTS
Location:

2100 Haddonfield Road, Pennsauken
Scope/size:

Approximately 36 acres
Developer:

Delco Development
Engineer:

Speitel and Speitel, Inc.
Impact:

Phase one of Haddon Point will create 240 one-and two-bedroom rental units on half the site, formerly the Pennsauken Mart, which was purchased from the Camden County Improvement Authority after having been shuttered in 2006. The highway-adjacent property also contains a bus stop. The county government has promised to repave Old Haddonfield Road to make access easier.
THE HARD ROCK HOTEL & CASINO ATLANTIC CITY
Location:

1000 Boardwalk, Atlantic City
Scope/size:

4.2 million square feet
Main design groups:

Jeffrey Beers International, Wimberly Interiors
Contractors:

JINGOLI (exterior), JD Ward (interior)
Leasing agent:

HRI and partners (owners)
Impact:

Hard Rock Hotel & Casino Atlantic City will have a significant, beneficial impact on Atlantic City and regional economies, as well as play a major role in the revitalization of the area. The partnership between Hard Rock International and the Morris and Jingoli families will create more than 1,000 jobs during construction and 3,000 permanent jobs. Once open, the new hotel and casino will help boost tourism in the area by providing another entertainment option.
INSPIRA MEDICAL CENTER MULLICA HILL
Location:

Route 322 in Mullica Hill
Scope/size:

467,000 square feet
Architect:

Array Architects
Engineer:

Leach Wallace Associates, Inc.
Impact:

The addition of a new medical center conveniently located in Gloucester County will be an asset to the entire region. The new facility will feature many modern technological upgrades and will allow Inspira physicians, nurses and staff to offer higher quality, efficient care to go with easy access to its neighbors. The 204-bed facility, which will replace Inspira's Woodbury hospital, is expected to open in September 2019 and will employ 1,400 residents.
KNIGHTS CROSSING
Location:

Admiral Wilson Blvd., Camden, adjacent to I-676 and Route 30
Scope/size:

1.5 million square feet, approximately 5 acres of public parks and recreational paths providing access to Cooper River Park
Architect:

Build to suit, based on per project
Engineer:

Build to suit, based on per project
Leasing agent:

Brian Berson
Impact:

South Jersey's first transit-oriented office community, Knights Crossing, is designed as a dense, integrated environment. With sites uniquely positioned and adjacent to highly traveled roadways and convenient to transit centers, users who are looking to make their presence known will have a prime opportunity at Knights Crossing. The location provides its users with exceptional transportation options—rail, bus, bike or car—and ease of access, to and from Philadelphia and other metropolitan areas in New Jersey.
MILLVILLE AIRPORT
INDUSTRIAL PARK
Location:

1400 Dividing Creek Road, Millville, adjacent to Millville Airport and NJ Motorsports Park
Architect:

City of Millville
Engineer:

City of Millville
Leasing agent:

NAI Mertz Corp.'s Roy Kardon and John Brown
Impact:

In an era of rising land prices along with scarcity, this project offers developers and users the unique chance for low-cost construction along with the opportunity to create their own park and/or business environment. Conveniently located within one of the nation's largest population centers, the Millville Airport Industrial Park (MAIP) offers companies over 300 acres of prime commercial property, geographically situated between Washington, D.C. and New York City.
THE PIERRE BUILDING
Location:

306 Cooper St., Camden
Scope/size:

11,000 square feet
Architect/Engineer:

DCM Architecture and Engineering
Developer:

M+M Development, LLC
Leasing agent:

Hesta Management
Impact:

The Pierre Building is a historic, art deco building originally built in 1932 as a hotel. After many years of abandonment it was significantly compromised and a blemish on a thriving downtown community. Upon completion of the historic restoration, the Pierre Building will contain an art gallery in the lobby open to the public, 32 luxury apartments, the top floors of which will have spectacular views of the Camden Waterfront, Ben Franklin Bridge and the Philadelphia skyline. The Pierre Building will have an immediate impact on the community by providing beautiful safe homes in a once blighted building.
ROWAN BOULEVARD (PHASE A3)
Location:

Rowan University, Glassboro
Scope/size:

336,000 square feet
Architect:

Blackney Hayes
Developer:

Nexus Properties
Engineers:

Land Dimensions (civil), O'Donnell & Naccarato (structural)
Leasing agent:

Ronda Abbruzzese, vice president of leasing/marketing for Nexus Properties
Impact:

The A3 Phase of this project includes four mixed-use elements: 230 Victoria, 223 West High Street, Park Place South and Mick Drive parking garage. Once all four phases are complete, Rowan Boulevard will offer 2,771 student beds, 82,000 square feet of classroom space, 114 market-rate apartments, a 129-room hotel, 28,000 square feet of medical space, a 17,700-square-foot fitness center, a 1.75- acre town square and two parking garages totaling over 2,300 parking spaces. The opening of Phase A3 represents perhaps the most significant milestone to date in this public-private development initiative.
ROWAN COLLEGE AT BURLINGTON COUNTY
Scope/size:

79,495 square feet (Student Success Center), 41,000 square feet (Health Sciences Center), 4.4 acres (quad)
Architects:

USA Architects with Moody Nolan (Student Success Center), L.R. Kimball (Health Sciences Center), USA Architects with Sikora WellAppel (quad)
Impact:

Rowan College at Burlington County has transformed its main campus to provide a college experience that rivals any university in the country. The new Student Success Center is a stunning addition to the Route 38 landscape that has quickly become the focal point and gathering hub of the college. The state-of-the-art Health Sciences Center represents the future of health care education, providing students the opportunity to learn in clinical settings. The campus is tied together by a beautiful quad that truly creates a university feel in Burlington County.
THE SHOPPES AND RESIDENCES AT RENAISSANCE SQUARE IN MARLTON
Location:

Route 70 E., at the intersection of N. Locust Avenue, Evesham
Scope/size:

583,858 square feet
Architects:

SBLM Architects (retail), Minno & Wasko Architects and Planners (residential)
Engineer:

Arna Engineering, Inc.
Leasing agent:

Darren Sasso
Impact:

Located at the old Tri-Town Plaza site, the Shoppes and Residences at Renaissance Square will be a truly mixed-use destination that gives locals a new place to live, work and play. It will include 338 luxury apartments across five buildings projected to open in 2018. Adding salon and health services and offering diverse food concepts will give guests and residents quality options for pampering, personal care and dining out with friends and family. Virtua Medical Group occupies 32,568 square feet of the center.
SOUTH JERSEY VIRTUAL OFFICE
Cost:

$250,000-$1,000,000, depending on property needs
Architect/Engineer/Leasing agent:

Strategic Funding Alternatives, LLC (SFA)
Impact:

The evolving mobile business landscape is changing the way people work, and the need for traditional office space as we know it. South Jersey Virtual Office provides a platform for professionals to combine new age mobile business capabilities with traditional, professional office presence. The mission of these virtual offices is to provide an affordable, local co-working space, allowing entrepreneurs and small business owners to minimize startup costs on office space, technology and additional overhead, creating a lean working environment while minimizing expenses.
STOCKTON UNIVERSITY ATLANTIC CITY
Location:

Historic Chelsea section of Atlantic City, at the intersection of Atlantic, Albany and Pacific Avenues
Size/scope:

56,000 square feet (academic building), 216,000 square feet (residential building), 20,000-plus square feet (retail)
Architects:

SOSH of Atlantic City (academic building and parking garage), Elkus Manfredi Architects of Boston (residential building)
Engineer:

Engaged by each firm based on project needs
Leasing agent:

Stockton University
Impact:

Opening in fall 2018, the new Stockton University campus in Atlantic City is a public-private partnership with Atlantic City Development Corp. (AC Devco) and is designated as an anchor institution by the state of New Jersey. The initial enrollment is expected to be approximately 1,000 students. From shopping and restaurants, the arts district, local attractions, entertainment and the famous Atlantic City Boardwalk, students will immerse themselves in the local scene, participate in service-learning and community engagement projects.