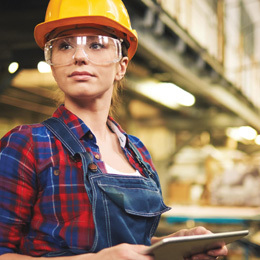 Family Matters
August 2017
Thanks to a bill approved this summer, South Jersey employers know that changes to their family leave policies for employees may be on the horizon. While experts say the changes would likely be positive for employee productivity upon their return, there are concerns with how any changes to the state's family leave law could negatively impact both small and large South Jersey businesses.
Among the proposed changes is an increase in the number of weeks an employee is eligible to receive benefits, from six to 12 weeks, to care for a newborn, newly-adopted child or a sick family member, along with increasing the employee worker's average weekly wage benefit. Currently, the law defines caregivers as adult children, parents, spouses and domestic partners, but the bill is newly defined to also include siblings, grandparents, grandchildren and parents-in-law. Another major change is that the new law could apply to employers with 20 or more employees, as opposed to businesses with more than 50 employees.
Last month, Governor Chris Christie offered amendments to the bill while vetoing the proposed changes, citing that they would cause an increase in taxes to be paid by the working citizens of New Jersey. He also expressed concern about how the new law would negatively impact the region's small businesses. However, according to Elizabeth M. Garcia, Esq., chair of the employment and labor department for Parker McCay in Mount Laurel, Hamilton and Atlantic City, changes to the family leave law seem imminent.
"The future of the legislation is unknown at this time, but it's unlikely to go away as there are several states throughout the country considering—and in some instances passing—paid leave laws," she explains. "This conversation is far from over as it is a hot topic throughout the country, not just in New Jersey. If there is a change in the political party at the governor level, the proposed law—or a modified version thereof—is imminent."
While a change in the law could be a major plus for employees, Garcia notes that there could be negative impacts on South Jersey employers and businesses. For example, allowing employees to take a leave up to 12 weeks would render an already small staff even smaller. "The issue of an increase in payroll taxes was also at the forefront of some small employers if the program was expanded, as there were concerns over the program running out of money," she explains. Jennifer Sweeney-Klaiss, director of client experience for NEMR Total HR in Marlton, agrees that while employers should note this is a benefit funded by the employee through a mandatory payroll deduction, there are concerns as to how quickly the expanded plan will be financially depleted—which could require the legislature to increase employee payroll taxes to fund the new parameters.
"The proposed amendment and expansion of the family temporary disability law, Family Leave Act and NJ Safe Act is evolving, as many low- to middle-income families are unable to afford access to the plan. Many workers are also unaware of the current beneficial employee-related laws, or how to sign up for the benefits," she explains. "The changes are promoting progressive values and provide job protection, as new parents and caretakers request leave with increased benefits."
According to Bryan Hum, lawyer and public policy associate for retirement and compensation policy of the ERISA Industry Committee, larger employers may also struggle with losing flexibility to design their own paid leave policy. "In speaking with our members, one concern is that if the law changes, it may be hard for employers to create a policy that makes sense for their business and for their employees," he explains. "The big topic is consistency—many states now want more generous paid leave laws, but for a lot of businesses, it will affect their ability to tailor their own packages for their employees. … And we would hope that there will be some room for flexibility for employers who are already offering generous leave."
On the other hand, any changes that allow employees more time off with a new baby or ill family member could positively impact their performance or productivity upon their return, as well as their overall disposition and job satisfaction. "The expansion may assist some employees with not having to decide between caring for a family member or putting food on the table," Garcia adds.
Sweeney-Klaiss agrees that these amendments could see businesses with staff returning from leave feeling more settled and better adjusted due to the increased time off and funds needed to take care of matters at home. "But for the business owner, there may be some minor negative impact due to vital workers having an extended absence from the workplace. Profit margins could potentially be affected with decreased production and increased overtime," she notes.
It seems that small employers might bare the brunt of the struggles that could result from a change in the law—such as if a small business owner ends up with an employee that's abusing the paid time off. "While there's not much an employer can do once an employee files for the paid leave through the state, employers can put some policies in place to assist them in curbing abuse," Garcia notes. She recommends hiring an attorney to draft an employee handbook and new policies, as they are the first line of defense not only in dealing with time off, but other possible legal issues.
"For any business, big or small, the onus will be on the human resource department to have to build the new laws into their company and create new protocols for their employees. … Sometimes legislators have to keep in mind that there are people who will now have to make all of these changes, and it can be burdensome," Hum asserts.
Additionally, employers should start assessing their staffing levels and determine how they will handle an employee who takes a leave of absence. Sweeney-Klaiss recommends that business owners and HR personnel also prepare by ensuring that current workers are cross-trained and standard operating procedures are well documented, as temporary workers may be required to fill the gaps.
"Planning is everything," Garcia concludes. "While it is a concern that employers need to think about and plan for, only a few employees may be affected. … And there's always a chance that you could be the employer who never has to deal with this issue."
Published (and copyrighted) in South Jersey Biz, Volume 7, Issue 8 (August, 2017).
For more info on South Jersey Biz, click here.
To subscribe to South Jersey Biz, click here.
To advertise in South Jersey Biz, click here.