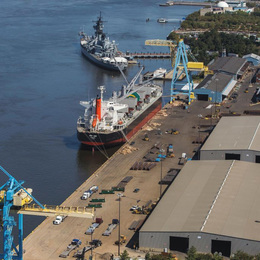 River Revitalization
August 2017
The Delaware River port complex stretches from Wilmington, Del., to Trenton. According to the University of Delaware's Sea Grant Program, it's the fifth largest port complex in the United States in terms of total waterborne commerce. Over 70 million tons of cargo— such as steel, rolling stock and containers —pass through it each year, making the tristate complex a critical component of the region's economic vitality. On March 2, the Paulsboro Marine Terminal (PMT) became the first new general cargo marine terminal constructed along the complex in more than 50 years. Kevin Castagnola, executive director of South Jersey Port Corporation, says seaports like this mean success. "This development provides the necessary transportation infrastructure to significantly expand economic impacts to the region including job creation," shares Castagnola. With an increasing demand for additional shipping berths and cargo terminals, the new port is poised to attract more business.
The idea for PMT, however, began long before the recent rebound in waterborne commerce. More than a decade ago, Senator Steve Sweeney and Assemblyman John Burzichelli saw an opportunity that would eventually become the intricate publicprivate collaboration between South Jersey Port Corporation (SJPC), British Petroleum (BP), Holt Logistics Corporation, Gloucester County and the borough of Paulsboro.
Dredging Up Ideas
In 2002, due to environmental and market conditions, BP announced they were going to retire a nearby oil tank farm. Sweeney and Burzichelli began to strategize: If it's not going to be a tank farm anymore, what can it be next? It had been more than 20 years since the former fuel terminal closed; the possible exchange of ownership was appealing to the two legislators, who were seeking new ways to improve their communities in South Jersey.
"Everything old can become new again and Paulsboro has a rich history as an industrial location," says Burzichelli. "Clearly, some sort of industrial use was the best chance for revitalization." The pair proposed the site be transformed into a heart of bustling economic activity through the creation of a port. Two years later, in 2004, SJPC and Gloucester County formally agreed on the vision with a Memorandum of Understanding. By 2007, BP agreed to lease the 190- acre property to the borough of Paulsboro for 90 years for $90, giving control of the property to the community.
Anytime a facility like this closes, companies are required to conduct a comprehensive environmental assessment followed by remediation (if necessary). Patricia Gallery, BP portfolio manager, says in this case clean-up work was needed, so they prepared a dedicated team of project managers, scientists and consultants to perform environmental work in compliance with state regulatory requirements. Simultaneously, BP worked to support the vision for PMT by providing early funding for feasibility studies.
Ground broke in 2009 with an anticipated completion date in 2012. Unfortunately, the project stalled for the next few years due to several challenges— largely because the effects of the Great Recession set in. Navigating the complexities of such a large-scale construction project, including major new infrastructure, can be time-consuming, in general. Add a massive recession to the already turbulent waters and delays become almost unavoidable.
"There were many challenges we had to overcome to build the Paulsboro Marine Terminal, which comes as no surprise given the size and scope of the project," says Freeholder Director Robert Damminger. "But, in government we are used to finding solutions to problems and moving ahead to get things done. That is what we did with the port—just kept moving ahead, until the first ship arrived."
All Hands on Deck
In 2014, SJPC, Holtec International and Holt Logistics Corporation agreed to an exchange of property that led to the latter gaining rights to operate PMT. On July 14, 2014, the long-awaited construction began and the partnership between SJPC and Holt proved critical. "The value of the partnership between SJPC and Holt Logistics is the summation of years of terminal operation and marketing experience," says Castagnola. "Combined, it will maximize the full potential of the new marine terminal's infrastructure to generate sustainable employment, business revenue and taxes for many years to come." Holt Logistics agreed. "The Delaware River really has become a rising tide that can create abundant opportunities for new cargo and business growth for the entire region," Leo Holt, president of Holt Logistics, told Produce News in 2014.
Early on in the project, SJPC also formed a partnership with the Gloucester County Improvement Authority which served as an agent for the design and construction of the terminal. The two organizations worked together in collaboration with two world-class engineering firms: CHM2Hill and AECOM.
The effort was primarily funded through $175 million of South Jersey Port Corporation (SJPC) bonds issued in 2009. In addition, Sweeney, Burzichelli and Damminger played critical roles in securing funding from the New Jersey Department of Transportation to create a $23 million access road. The road connects the terminal to I-295 above Mantua Creek, allowing trucks faster access to the major interstate without increasing traffic in local neighborhoods.
At last, the relevant partnerships and necessary funding were in place and construction was underway.
A Rising Tide
When the M/V Doric Warrior docked for the first time at the new Paulsboro Marine Terminal on March 2, the international vessel carried 55,000 tons of steel slabs. Later, those slabs would be unloaded and driven to mills in Western Pennsylvania and Indiana.
More than 300 guests—including New Jersey officials and representatives from the port community as well as local businesses—gathered to celebrate the completion of PMT's "Phase One," including the 850-foot wharf and 21,000 feet of new rail track, in addition to the bridge.
They were also celebrating the reinvigoration of a community.
Damminger says the project is important to him because of his Paulsboro roots —a sentiment echoed by many of the other key players involved. "I have been an advocate for the Paulsboro Marine Terminal since day one," says Damminger. "I grew up in Paulsboro, graduated from Paulsboro High School and served on Borough Council. This town and its people hold a special place in my heart."
As a result of the completed first phase, approximately 200 jobs—such as equipment operators, longshoremen, line tenders, checkers and clerks and security guards—have been created to date. Castagnola says PMT is providing more than just employment, though. It's also creating "waves of additional business and revenue for river and docking pilots, freight forward and brokers, shipping agents, railroad personnel, equipment maintenance and repair ... and a whole host of other direct, indirect and ancillary businesses."
Gary Stevenson, mayor of Paulsboro, agrees the new terminal will boost other opportunities. "My housing initiative is tied to the port," says Stevenson. "I want to rehabilitate many of the abandoned homes in our town and have them ready for homeownership for some of those working at the port. There is nothing better than only having to drive onequarter mile to work."
Phase Two, which does not have a timeline for completion yet, is expected to add 2,000 more jobs. New construction will also extend the wharf to 2,200 feet (to accommodate up to four ships), add a 500-foot barge berth and make upland improvements to accommodate future cargo customer needs. Ultimately, these continued efforts along the Delaware River port complex are bringing hope back to the community.
"[PMT] brought hope to our borough," says Stevenson. "Hope that economic recovery is just around the corner. Hope that jobs will go to local residents. … The port is the key component to the revitalization of Paulsboro. All the other projects will be spurred on by its success."
Published (and copyrighted) in South Jersey Biz, Volume 7, Issue 8 (August, 2017).
For more info on South Jersey Biz, click here.
To subscribe to South Jersey Biz, click here.
To advertise in South Jersey Biz, click here.