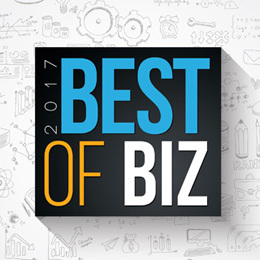 Best of Biz
August 2017
In today's tumultuous economic environment, it's increasingly important that your company has trustworthy partners, whether it be in the form of conference space, education, employee benefits, health care, finance, office equipment, technology, transportation or a host of other services. Our annual Best of Biz winners have proven themselves to be not only reliable, but resilient in their ability to get the job done. Comprised of editorial selections and readers' picks, this year's winners are sure to make your job just a little bit easier.
Accounting
Friedman LLP
Marlton
(856) 830-1600
FriedmanLLP.com
Architecture/Design
Ignarri Lummis Architects
Cherry Hill
(856) 428-8877
IgnarriLummis.com
Bank: Business
OceanFirst Bank
Multiple Locations
(888) 623-2633
OceanFirst.com
Bank: Community
Beneficial Bank
Multiple Locations
(888) 742-5272
TheBeneficial.com
Bank: Customer Service
Republic Bank
Multiple Locations
(888) 875-2265
MyRepublicBank.com
Bank: Online Banking
Liberty Bell Bank
Multiple Locations
(856) 830-1130
LibertyBellBank.com
Collections
Quality Asset
Recovery, LLC
Gibbsboro
(856) 925-1010
QarCollect.com
Commercial Landscaping
SLS Landscaping
Lumberton
(609) 518-5263
SLSLandscape.com
Commercial Lending
Wells Fargo
Multiple Locations
(800) 869-3557
WellsFargo.com
Construction
Company
DeSimone Construction
Woodbury
(856) 848-2897
DeSimoneConst.com
Construction Management
New Road Construction Mgmt.
Cherry Hill
(856) 424-8888
NewRoadConstruction.com
Employment Agency
Emerson Group
Moorestown | (856) 667-9180
EmersonGroupInc.com
Engineering Firm
Jefferis Engineering
Associates, LLC
Runnemede
(856) 933-2005
JefferisEngineering.com
Financial Planning
SHM Financial
Voorhees | (866) 665-6875
Collingswood
(800) 666-3974
SHMFinancial.com
Hotel
The Hotel ML
Mount Laurel
(856) 234-7300
TheHotelML.com
COMPUTER SERVICES/
DATA SECURITY CONSULTANT
PCH Technologies
Sewell | (856) 754-7500
PCHTechnologies.com
PCH Technologies is celebrating 20 years of providing world-class IT and cyber security services to businesses in the South Jersey and Philadelphia region with a dedicated team that stays on top of the latest advancements in the IT and cyber security fields. Locally, PCH was recognized as Best of Gloucester County IT Company in 2016. Nationally, the company was recognized as one of the five fastest growing partners in the country by Datto, a backup/disaster recovery/business continuity company at the 2017 DattoCon convention in Denver.
CREDIT UNION
South Jersey Federal Credit Union
Deptford | (800) 582-7640
SouthJerseyFCU.com
Founded on June 20, 1940, South Jersey Federal Credit Union (SJFCU) is a diverse, fullservice financial institution serving more than 48,000 members and over 600 select employee groups throughout New Jersey and Pennsylvania. In the past year, SJFCU contributed a $25,000 endowment to Rowan College at Gloucester County to fund two scholarships annually over the next 10 years. In April 2017, the credit union received the Outstanding Service Award from The Free and Accepted Masons of New Jersey and was honored by the New Jersey Joint Assembly and Senate for its service to the community.
EMPLOYEE BENEFITS
Labor First LLC
Mount Laurel | (856) 716-0774
LaborFirst.com
With membership spanning across all 50 states, Labor First is the only retiree benefitmanager that solely services the union retireehealth care marketplace, handling retireehealth benefit and insurance needs of bothmulti-employer and public sector plan sponsorsand their retired participants. The companygives back to the community, partneringwith nonprofits like Toys for Tots and theAlzheimer's Association. Their work hasearned the 2016 CRM Service Elite award presentedby CRM Magazine and a rank of 28 ofthe 2016 Philadelphia 100 list.
LAW FIRM: LABOR & EMPLOYMENT
Archer
Haddonfield | (856) 795-2121 | ArcherLaw.com
Archer is a full-service regional law firm with more than 175 lawyers and eight offices in Haddonfield, Hackensack, Princeton, Flemington and Red Bank, along with Philadelphia, New York and Wilmington, Del. The firm has been serving Fortune 100 clients, small to medium-sized businesses and individuals for over 85 years. Each office provides full-service litigation and transactional capabilities in nearly every area of law, including corporate, estate and trust, family and matrimonial, labor and employment, litigation, medical and personal injury and real estate services.
Insurance: Firm/Broker
AJM Insurance
Mount Laurel
(856) 795-4020
AJMInsurance.com
Insurance: Health
AmeriHealth
New Jersey
Cranbury | (609) 662-2400
AmeriHealthNJ.com
IT Support
radius180
Cherry Hill
(856) 282-1131
Radius180.com
Law Firm: Real Estate
Lauletta Birnbaum
Sewell
(856) 232-1600
Lauletta.com
Law Firm: Risk Management
Flaster Greenberg PC
Cherry Hill
(856) 661-1900
FlasterGreenberg.com
Office Furniture
Bellia Work + Space
Professionals
Woodbury
(856) 845-2234
Bellia.net
PropertyManagement:
Commercial
The Bloom Organization
Mount Laurel
(856) 778-0300
BloomOrganization.com
Real Estate Broker
Wolf Commercial
Real Estate (WCRE)
Marlton
(856) 857-6300
WolfCRE.com
Title Company
Surety Title
Marlton
(856) 988-8900
MySurety.com
Transportation
NFI
Cherry Hill
(877) 634-3777
NFIIndustries.com
REAL ESTATE: DEVELOPER
Nexus Properties
Lawrenceville | (609) 396-6800 | NexusProperties.com
Through various partnerships and S-corporations, Nexus Properties owns and manages over 2 million square feet of commercial, office and warehouse space in Central and South Jersey. In addition, the company has developed five residential subdivisions totaling 296 single and multifamily homes and is currently developing 530 apartment units and 119 student apartments in South Jersey. Just this year, Nexus was named the best developer in Gloucester County by the Board of Chosen Freeholders and the Gloucester County Chamber of Commerce. The group also received the New Jersey Future 2017 Smart Growth Award presented by New Jersey Future and New Jersey's Leading Infrastructure Projects award by The New Jersey Alliance for Action.
ACCOUNTING
Alloy Silverstein
Cherry Hill
(856) 667-4100
Hammonton
(609) 561-1555
AlloySilverstein.com
ACCOUNTING: FORENSIC
Baratz & Associates, P.A.
Marlton | (856) 985-5688
BaratzCPA.com
ADVERTISING
Commexis
Haddonfield
(856) 520-8218
Commexis.com
ARCHITECTURE
RYEBREAD
Mount Holly
(609) 265-2652
Ryebread.com
AUDITING
Gold Gerstein
Group LLC
Voorhees | (856) 770-1400
Moorestown
(856) 727-0100
G3CPA.com
BOOKKEEPING
blackbook LLC
Swedesboro
(856) 430-6470
BlackbookLLC.com
BANK: BUSINESS
Investors Bank
Multiple Locations
(855) 422-6548
MyInvestorsBank.com
BANK: COMMUNITY
Franklin Bank
Multiple Locations
(856) 769-4400
FranklinBnk.com
Franklin Bank's slogan—"Experience CommunityBanking at its Best!"—shows how committedthis homegrown institutionis to being a financialcornerstone for South Jersey.Drawing from its 156years of experience,Franklin has witnessedour area's transformationover time and has establisheditself by catering tobusinesses and customerswho value the attention todetail that only a localbank can provide.
BANK: CUSTOMER
SERVICE
Parke Bank
Multiple Locations
(866) 727-5325
ParkeBank.com
BANK: Online
TD Bank
Multiple Locations
(888) 751-9000
TDBank.com
CATERER
Foodwerx featuring
Nicholas Caterers
Cherry Hill | (856) 231-8886
Foodwerx.com
CLOUD COMPUTING FIRM
Telecorp Inc.
Woodbury
(856) 384-6000
TeleCorpInc.com
COLLECTIONS
Grimley Financial Corp.
Haddonfield
(800) 673-1414
GrimleyFC.com
COMMERCIAL LANDSCAPING
Elite Landscaping
Berlin | (856) 753-1944
EliteLandscaping.com
From carefully sculpted lawns, shrubs and trees toother areas of propertymaintenance, Elite hasmade sure clients likeKennedy Health Systemand Adventure Aquariumlook their best by blendinga detailed knowledge oflandscape design with akeen sense of architectureto create aestheticallypleasing grounds.
COMMERCIAL LENDER
M&T Bank
Cherry Hill
(856) 330-8031
MTB.com
COMPUTER SERVICES/
DATA SECURITY
PICS ITech
Mount Holly
(609) 614-3088
Pics-ITech.com
CONFERENCE CENTER
Luciano Conference
Center at Cumberland
County College
Vineland
(856) 691-9196
CCCNJ.edu/cec
CONSTRUCTION
Whitesell
Delran
(856) 764-2600
WhitesellCo.com
CONSTRUCTION MANAGEMENT
Greyhawk
Mount Laurel
(856) 722-1800
Greyhawk.com
COMMERCIAL MOVING
Anchor Moving &Storage
Moorestown
(800) 292-0026
MoveWithAnchor.com
COURIER SERVICE
A-1 Courier
Cherry Hill
(856) 424-8393
A1SJ.com
CREDIT UNION
Andrews Federal
Credit Union
Burlington,
Mount Laurel
(800) 487-5500
AndrewsFCU.org
DOCUMENT
DESTRUCTION/
SECURITY
PROSHRED Southern
New Jersey
West Berlin
(856) 336-2820
ProShred.com/Southern-New-Jersey
Its local presence and high priority on security aside, offerings like flatfee pricing and no extrahidden service chargeshelp make PROSHRED attractive to nearby customers in need of a personalized yet professionaltouch when it comesto disposing of sensitivedocuments.
EDUCATION: CORPORATE
TRAINING
Camden County College
Blackwood
(856) 227-7200
CamdenCC.edu
EDUCATION: COMMUNITY COLLEGE
Rowan College at Burlington County
Mount Laurel
(856) 222-9311
RCBC.edu
EDUCATION:
COOPERATIVE
Rowan College at
Gloucester County
Sewell
(856) 468-5000
RCGC.edu
EDUCATION: HIGHER EDUCATION
Rowan University
Glassboro
(856) 256-4000
Rowan.edu
EDUCATION: ONLINE
Thomas Edison State University
Trenton
(888) 442-8372
TESU.edu
With 44 associate's and bachelor's degree programs to choose from—not to mention morethan a dozen master'sofferings and a slew ofcertification programs—Thomas Edison's onlinecourses allow professionalsto work at their own pace as they look to boost their educational credentials. And because online discussions are a mandatory part of the grade, many find that they extend beyond the curriculum and into helpful dialogue surrounding their specific industries.
EDUCATION: MBAPROGRAM
Rutgers University-Camden
Camden | (856) 225-1766
Camden.Rutgers.edu
ENERGYCONSULTANTS
Laury Heating
Cooling &
Plumbing
Vineland
(856) 692-3861
LauryHeating.com
ENGINEERING FIRM
Tri-State Engineering
& Surveying, P.C.
Blackwood
(856) 677-8742
TriStateCivil.com
This civil engineer firm doesn't work for their clients, they work withthem, creating a collaborativeenvironment whereexecuting a shared visionis the main goal. Whetherthey are surveying land,conducting environmentaltesting or providing sitedesign expertise, TSE hasthe ability to seamlesslytake a project from inceptionto completion.
ENVIRONMENTAL SERVICES/
MANAGEMENT
TTI Environmental
Moorestown
(856) 840-8800
TTIEnvInc.com
EVENT PLANNING
Sensational Host
Maple Shade
(856) 667-5005
SensationalHostCaterers.com
FINANCIAL ADVISOR
M Financial Planning
Services, Inc.
Marlton | (856) 810-7701
MFinancialPlanningServices.com
Matters of personal finance can be complicated to navigate and fewunderstand this as well asM Financial owner TedMassaro. Thanks to hismore than four decades ofexperience, he is able toprovide a comprehensiveplan that is specific to theindividual and oftentimesthis includes preparing forthings before they happen.And his guidance hasbeen well received as evidencedby the fact thatthe average tenure of hisclients is more than25 years.
FINANCIAL SERVICES
Masso Torrence
Marlton
(856) 988-6664
MassoTorrence.com
FULL-SERVICE
MARKETING AGENCY
Stokes Creative
Group, Inc.
Vincentown
(609) 859-8400
StokesCG.com
GENERAL CONTRACTOR
Kavi Construction
Berlin | (856) 767-2491
KaviConstruction.com
Launched in 2006, Kavi got its start in the industryduring one of the country'smost difficult economictimes. Despite that hurdle,Kavi has steadily growninto one of our area's mosttrusted construction managementfirms. And theversatilityextends to everythingfrom medical and industrialprojects to retail, office,food service and more.
GOLF COURSE FOR BUSINESS
Town & Country Golf Links
Woodstown
(856) 769-8333
TCGolfLinks.com
GRAPHIC DESIGN
Graphic Solutions
Sewell
(856) 716-6936
Graphics-Solution.com
HUMAN RESOURCES
CONSULTANT
HRComputes
Moorestown
(856) 982-7162
HRComputes.com
INSURANCE: FIRM/BROKER
The Barclay Group
Riverton
(856) 829-1594
BarclayInsurance.com
INSURANCE: HEALTH
Aetna
Mount Laurel
(856) 727-0549
Aetna.com
IT SUPPORT
TechStarters
Cherry Hill
(877) 932-0040
TechStarters.com
LAW FIRM: BANKING/FINANCE
Capehart Scatchard
Mount Laurel
(856) 234-6800
Capehart.com
As the banking and continues to evolve, so does Capehart'sapproach to workingwith a range of clientsfrom community, regionaland commercial banks.Whether preparing loandocumentation for realestate financing or handlingbankruptcy litigation,the firm has built asolid reputation based onan intense understandingof the industry andmethods that producefavorable outcomes.
LAW FIRM: CORPORATE
Parker McCay
Mount Laurel
(856) 596-8900
Atlantic City
(609) 347-8000
Hamilton
(609) 896-4222
ParkerMcCay.com
LAW FIRM: EMPLOYMENT/LABOR
LaVan Law
Moorestown
(856) 235-4079
JLavanLaw.com
LAW FIRM: LITIGATION
Kaplin Stewart
Cherry Hill
(856) 675-1550
KapLaw.com
LAW FIRM: TRANSPORTATION
Mattioni
Swedesboro
(856) 241-9779
Mattioni.com
MECHANICAL SERVICES: HVAC
HutchinsonMechanical
Cherry Hill
(888) 777-4501
HutchBiz.com
MEETINGS: HOTEL
Aloft Mount Laurel
Mount Laurel
(856) 273-1880
AloftMountLaurel.com
MERCHANTSERVICES
Envoy Business Advocate
Cherry Hill
(856) 577-3360
EnvoyBusinessAdvocate.com
MULTIMEDIA PRODUCTION
Graham Communications
Woodbury
(856) 430-8082
Graham.Marketing
OFFICE EQUIPMENT
Shades of Paper
Mount Laurel
(856) 787-9200
ShadesOfPaper.com
OFFICE SUPPLIES
Allied Document Solutions & Services
Swedesboro
(856) 241-2000
Ads-S.com
PAYROLL PROVIDER
Primepoint
Mount Holly
(800) 600-5257
Primepoint.com
PHOTOGRAPHER: COMMERCIAL
Paul Loftland Photography
Cherry Hill
(856) 229-5380
PaulLoftland.com
PRINTER
SpeedPro Imaging
Blackwood
(856) 481-0412
SouthJerseySpeedPro.com
PROPERTY MANAGEMENT:
COMMERCIAL
Delco Development, LLC
Willingboro
(856) 234-5151
DelcoDevelopment.com
This real estate development and management company gives deference to theirclients when it comes totheir desires so theycan avoid simplyduplicating what's beenseen and done andinstead provide a customizedexperiencethat is successful onmany levels. It's nowonder they've beenrecognized countlesstimes for outstandingachievement ineconomicdevelopment.
PUBLIC RELATIONS
Thomas/Boyd Communications
Moorestown
(856) 642-6226
ThomasBoyd.com
REAL ESTATE:
COMMERCIAL/RETAIL
Markeim Chalmers, Inc.
Cherry Hill
(856) 354-9700
Markeim-Chalmers.com
REAL ESTATE:
COMMERCIAL BROKER
NAI Mertz
Mount Laurel
(856) 234-9600
NAIMertz.com
REAL ESTATE
DEVELOPER: COMMERCIAL
Conifer Realty, LLC
Mount Laurel
(856) 354-9700
ConiferLLC.com
RESTAURANT FOR MEETINGS
Filomena's Lakeview in Deptford
Deptford
(856) 228-4235
FilomenaLakeview.com
SIGNAGE
Deptford Signarama
Deptford
(856) 853-8099
Signarama-Deptford.com
STAFFING FIRM
The Protocall Group
Cherry Hill
(856) 667-7500
ProtocallGroup.com
TELECOMMUNICATIONS
USAPhone
Cherry Hill
(856) 761-1000
USAPhone.com
TRAINING PROVIDER
Take Flight Learning
Marlton
(856) 807-0200
TakeFlightLearning.com
TRAVEL AGENCY
First Class Travel
Deptford
(856) 256-9431
TravelClubFC.com
TRANSPORT: FREIGHT
Transense
Turnersville
(856) 217-9776
TransenseLLC.com
WAREHOUSING
RLS Logistics
Newfield
(856) 694-2500
RLSLogistics.com
WEB DESIGN/SEO
Creative Web Group
Pennsauken
(856) 486-1700
CreativeWebGroup.net
This leading website design and marketing company has been helpingclients find an onlinepresence by outliningdigital strategies fornearly two decades. This includes everything frombuilding a webpagefrom scratch to improvingupon your existingsite. They'll also outlineways to expand yoursearch engine optimizationand give you thetools to elevate yourbusiness by showcasingvarious marketing techniquesthat drive provenresults.
WealthManagement
Wilmington Trust
Cherry Hill
(856) 642-4058
WilmingtonTrust.com