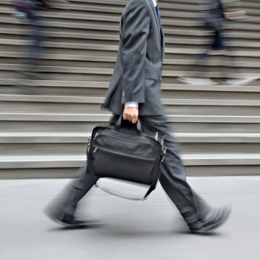 Alloy Silverstein announced Reynold Cicalese and Julie Strothlein as associate partners in the firm and Christopher Cicalese as manager. Reynold Cicalese specializes in manufacturers and title insurance, Strothlein specializes in medical, legal and real estate trusts and Christopher Cicalese specializes in professional athletes and PGA tour professionals.

Bowman and Company, LLC promoted John R. Culbertson to partner. He will be responsible for clients including small businesses, estates, trusts and nonprofit organizations.

Kennedy Health named Amanda Kimmel the new assistant vice president for population health. Her responsibilities will include the overview of operations for Kennedy Health Alliance and oversight of several health initiatives.

South Jersey Federal Credit Union (SJFCU) announced the promotion of Camille Gadsden to assistant vice president of finance and Joccola Thomas to vice president of business development. Gadsden has worked at SJFCU for 11 years while Thomas also serves on the board of directors for the American Cancer Society and the Camden County Chamber of Commerce.

Susan G. Komen Central and South Jersey announced the appointment of Jason T. Haugh to their board of directors. His responsibilities include managing consumer lending and government relations.

Wolf Commercial Real Estates (WCRE) announced Tom Bove will serve as new business development officer. Bove has experience in sales, a background in tech and IT and is expected to create new relationships with businesses in the region.

Nicole Donoian-Pody, a partner at Charny, Karpousis, Altieri & Donoian, P.A., was a guest speaker for the Gloucester County Legal Education Association for a lecture called, "Nuts and Bolts of Lawyer Client Fee Arbitration." She spoke about ethical billings and retainer agreements. The association provides continuing education for attorneys to help serve the public.

Virtua named Dennis W. Pullin president and CEO of the company. He will assume the role in fall 2017 and will replace Richard P. Miller, who has been the president and CEO of Virtua since its formation 22 years ago.
Samaritan Healthcare and Hospice hired Robin S. Plumer as a hospice and palliative physician. She will oversee the care for patients near the end of their life and provide various support.

McDowell, Posternock, Apell and Detrick announced Rachael Brekke joined the law firm as their newest lawyer. She currently serves on the board of trustees for the Camden County Bar Association, the board of directors for the Cathedral Kitchen and the board for Jewish Senior Housing and Health Services.

The law firm, Parker McCay, announced the move of Alexis Batten, John Ridgen and Kiera McFadden-Roan to counsel. Batten was a public finance associate, McFadden-Roan specializes in the creditor's rights area and Ridgen focuses on the defense of New Jersey hospitals.
The Inspira Health Network Foundation received a $1 million donation from retired physician Frank DeMaio. The money, which is the largest donation that the network has ever received, will be used to create a program to help new physicians pay off their student debt.

Our Lady of Lourdes Medical Center opened a new Post Anesthetic Care Unit at their Camden location. The operating room will focus on neurosurgery and cardiovascular surgery and will create a more efficient procedural method.

J. Mark Baiada, president and founder of BAYADA Home Health Care, won a Glassdoor Employee's Choice Award for highest rated CEOs with a rating of 92 percent.

The New Jersey Department of Environmental Protections Green Acres Program awarded the City of Woodbury $665,390. The money will be used for Stewart Lake Park.

Vitals, a website that is dedicated to the ratings and reviews of physicians across the country, celebrated 10 years in business and is the first website to receive 9 million reviews.
Published (and copyrighted) in South Jersey Biz, Volume 7, Issue 7 (July, 2017).
For more info on South Jersey Biz, click here.
To subscribe to South Jersey Biz, click here.
To advertise in South Jersey Biz, click here.