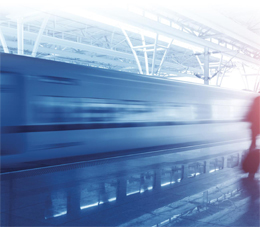 The Promise of Public Transportation
Businesses and residents of Gloucester and Camden counties might see a major new transportation option coming to their community within the next few years. The Glassboro- Camden Line (GCL) is a proposed 18-mile passenger rail line that will run between Glassboro and Camden, and the economic impacts for the South Jersey region are expected to be significant, from education to housing to tourism.

According to Michael P. Venuto, chief engineer for the Delaware River Port Authority (DRPA), the GCL will, first and foremost, better connect the residents of Gloucester County with the cultural, recreational, educational, economic and medical resources in the Philadelphia-Camden metropolitan area. "South Jersey is significantly underserved by fixed rail transit network relative to Southeastern Pennsylvania and Northern New Jersey, and the GCL is a key opportunity to address this and benefit the rapidly growing communities [here]," he asserts.

The project has been a long time in the making, but according to State Senate President Steve Sweeney, the passage of the Transportation Trust Fund in October will help to finally make the GCL a reality. "The [GCL] has been a priority of mine for years, but it wasn't until passage of the Transportation Trust Fund (TTF) that we were able to guarantee the long-term funding needed to make the project a reality," he explains. "We provided a $5 million grant this spring to complete the Environmental Impact Statement (EIS), and we will be providing funding for the engineering work during this year's TTF capital budget."

Venuto notes that the initial proposal for the GCL spurred from the rapid growth that Gloucester County has been experiencing over the last decade. In fact, the Delaware Valley Regional Planning Commission (DVRPC) estimates that Gloucester County will continue to grow in population and employment by 29 percent over the next two decades. "This line would create a great economic impact on our entire region, opening up opportunities to many residents. Virtually every study conducted about rail shows that businesses experience stability and expansion when public transportation is available," explains Gloucester County Freeholder Heather Simmons.

The proposed line plans to restore and add passenger rail services along the existing rail right-of-way using light rail vehicles, similar to the New Jersey Transit River LINE. "Transportation in our state is challenging— and owning a vehicle is expensive—so a direct line from the heart of Gloucester County, Glassboro, through several of our municipalities to the Walter Rand Transportation Center in Camden where you can connect to PATCO would be a huge asset to our region," Simmons adds.

"From an economic standpoint, any time a region improves their transportation options, it's an opportunity for local communities to flourish," agrees Les Vail, president and CEO of the Gloucester County Chamber of Commerce.

Along with providing enhanced commuter options for local residents, the installation of the GCL may also have a positive impact on other sectors of South Jersey's economy, including housing. According to Vail, the new line would not only provide significant benefits to employees and students in terms of commuting times to work and school—or for additional shopping and dining options—but could also ultimately have a positive impact on the local housing market. "Many people work in the city but are looking for a great place to live, so this new light rail option could bring more people into Glassboro, Woodbury or anywhere in Gloucester County that has a stop," he says. "We have the infrastructure and the land here. … People know that they can get more bang for their buck with a big, beautiful house and a lot of land while still being able to easily commute to work."

The National Home Builders Association and the Board of Realtors show nationally that housing values within a quarter mile of a new station increased by 20 percent. Here in New Jersey, NJ Transit's River LINE and Hudson- Bergen Line communities experienced increased land values and economic redevelopment along these corridors, Venuto notes. The GCL was planned to link employment centers at Glassboro and Camden—and major metropolitan areas—while providing a stronger connection between residents and major cultural and entertainment venues. "From an employee and resident perspective, the GCL will provide improved choice, transportation options, increased mobility and improve quality of life and lead to other environmental benefits," he adds.

South Jersey's educational institutions will also experience direct economic benefits from the GCL, as it will help connect the key institutions of Rowan University, Rutgers University— Camden, Camden County College and Cooper Hospital, among others. Venuto notes that Glassboro and Rowan University have experienced significant growth and expansion, with student enrollment increasing by 50 percent since the GCL study began— and it's projected to more than double by the time the rail line would be in service. Meanwhile, the Rowan University/Rutgers—Camden Board of Governors Eds and Meds program has grown both Glassboro and Camden since 2000, creating a stronger demand for connections between the two campuses.

"This 18-mile light rail line will bring the same transit-oriented development that we've been seeing near NJ Transit commuter rail stations, near the Hudson-Bergen Light Rail and along the River Line that runs from Trenton to Camden," Sweeney agrees. "One of the most important features is that it will link fast-growing Rowan University with Rutgers University—Camden and Camden's medical schools, fostering cooperation in the growth of university-based R&D in the South Jersey region."

Currently, the GCL project team is working to complete the Environmental Impact Statement effort; a draft EIS is expected to be available for public review in the spring of 2018, with final approvals anticipated in early 2019. "We anticipate a successful outcome of the EIS process, which can enable the project to qualify for multiple funding sources. The project is currently scheduled to be complete in 2025," Venuto says.

The EIS is considering the Locally Preferred Alternative (LPA), which identifies potential positive and negative impacts to both the natural and built environments, environmental justice, impact of construction on the community and any additional effects to the area over time that would be created by the construction and operation of the light rail system. There will be several opportunities for public involvement, with meetings to be scheduled starting this fall.

"[The GCL] is a critical project for South Jersey. This will provide the first passenger rail service south of Camden since trains stopped running in 1971, right after the Penn Central Railroad went bankrupt, and it will provide a tremendous boost to economic development and housing values in Gloucester County … which has been one of the fastestgrowing counties in the state," Sweeney concludes.
Published (and copyrighted) in South Jersey Biz, Volume 7, Issue 7 (July, 2017).
For more info on South Jersey Biz, click here.
To subscribe to South Jersey Biz, click here.
To advertise in South Jersey Biz, click here.