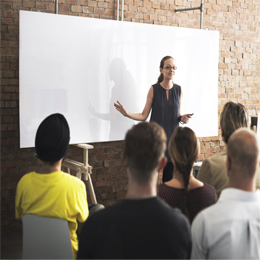 Workforce Development
According to Freeholder Heather Simmons, liaison to the Gloucester County Department of Economic Development (GCDED), this is the first question businesses ask when they are looking to relocate to Gloucester County.

In order to provide the most attractive answer, she says, workforce development is critical for South Jersey. "The success of a company is dependent on the talent of their workforce," says Simmons. "Thus, workforce development is the foundation for any business or economic development project to prosper."

Building a Better Workforce
In today's economic landscape, businesses are looking for educated employees who possess both technical and soft skills. The latter are abilities not traditionally taught in learning environments, but developed over time after extended professional experience. "It sounds like common sense," says Simmons, "but soft skills such as time management, customer service, the ability to work in a group and proper dress attire, are just as important."

What does that mean for recent graduates who haven't had time to acquire those skills yet or for individuals who've been recently laid off after working the same job at the same organization for many years? It could spell trouble, but several area organizations are offering innovative programming to prepare those populations for success.

In particular, the GCDED Workforce Development Board is designed to create a workforce tailored to meet the needs of the community and, in turn, attract and empower new and existing businesses. A partnership between top executives from Gloucester County and state government agencies, their mission is threefold: to provide educational and technical training to those in need; to help businesses train their employees to become more productive; and to implement programs that make their services accessible to county residents.

Their biggest asset is the American Job Center of Gloucester County, where a professional employment specialist assists residents with résumé writing, online job applications, job matching and grant opportunities for in-demand occupational training and personalized career advice.
These services ultimately empower local job seekers of all ages with the confidence they need to find and start new career paths. "We want to help people find careers, not just a job," says Simmons.

It Takes a Village
As key industries in Gloucester County (such as retail, manufacturing, warehousing, health care, transportation, logistics) continue to grow, the more necessary it is for the workforce development ecosystem to evolve. Organizations within education, business, government and commerce must innovate together to ensure positive economic growth.

"Workforce development is a dynamic mechanism; it changes constantly," adds Simmons. "The jobs of the future, 20 years ago, are no longer the jobs in demand today. The obstacle is keeping up with the trends in the business climate and projecting what skill sets and what types of jobs will be in demand for our future workforce."

At Rowan College at Gloucester County, the Workforce and Professional Development Institute (WPDI) works closely with business and industry leaders to make sure their degree and non-degree curriculum properly educates and trains students, giving them the skills to better meet the needs of area employers. They also offer cooperative education, internships and externship opportunities for students so they have opportunities to gain experience and develop soft skills before they enter the workforce full time.

"We pride ourselves on creating educational programs and opportunities that directly link education, work experience opportunities and employment with local businesses, chambers of commerce and county agencies for our students," says Brigette D. Satchell, dean of WPDI. "Workforce development is directly linked to the future of businesses. County businesses and industries need people who are properly educated for the workforce needs of today and tomorrow."

Signs of Success
To measure success, many of these organizations look at similar variables such as the number of established and maintained partnerships as well as the number of individuals whose training results in industry- recognized credentials and employment.

Through collaboration with Holtec International, Camden County College (CCC) designed and implemented special training to provide participants with the welding skills Holtec needed to staff its new factory in Camden. For Mark Nichols, a student in the welding program's first graduating class, this was an opportunity to grow. Previously employed at McDonald's, Nichols had little idea what welding entailed. However, upon completion of his training at CCC he was immediately hired by Holtec. "[Nichols] has proven to be a wonderful, productive worker and has gone on to pass several different welding test skills," say CCC Senior Account Executive Carol McCormick and Project Coordinator Kaina Hanna. He also now takes personal time out of his lunch break to mentor Holtec new hires, including his cousin who is now a laborer at the business and working with CCC to become a welder as well.

At the Workforce Development Institute (WDI) at Rowan College at Burlington County, similar partnerships between education and industry are also leading to success. WDI combines county and college resources, offering professional development programs in collaboration with more than 75 companies.

After working in supply chain management for 15 years, 49-year-old Maria Davis found herself struggling to find work when her company downsized. She enrolled in Transportation, Logistics and Distribution, one of seven new WDI education programs developed directly in response to employer needs and designed to place individuals with those employers following completion of the program.

"Supply chain management involves keeping goods moving from start to finish, so there are a lot of different facets and levels," explains Davis. "There was a lot of really good information in the [WDI] program; it added to what I already knew." The program also offers a nationally recognized certification by the Council of Supply Chain Management Professionals. "Usually only top-level managers have those types of certifications," says Davis. "So having it is really a positive." Upon completion of the program, Davis was hired by the nearby H&M Distribution Center that supports approximately 500 H&M stores.

Opportunities to develop soft skills will continue to be key in gaining a competitive edge, though. After being laid off despite years of prior experience in the industry, Tiffany Wilcox, 43, enrolled in the same program as Davis in an effort to hone her craft. She says the course modules about customer service proved priceless because they are universal.

"The Customer Service module really stood out to me," says Wilcox. "It went over skills like résumé writing, identifying communication styles and how to connect with others who communicate differently. You can take those skills with you anywhere, regardless of the industry."
Published (and copyrighted) in South Jersey Biz, Volume 7, Issue 5 (May, 2017).
For more info on South Jersey Biz, click here.
To subscribe to South Jersey Biz, click here.
To advertise in South Jersey Biz, click here.