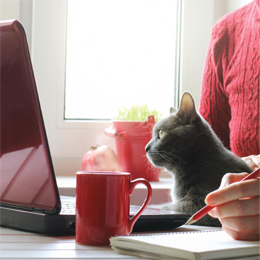 Is the Tide Turning Against Remote Work?
Think working remotely is the future? Think again. With major companies such as IBM, Aetna and Yahoo! pulling back on remote options from workers and executives expressing frustration with a lack of communication, productivity and insight into how things get done, working remotely may just be on the decline. And while, according to a Gallup poll, about 43 percent of Americans said they worked remotely at least part of the time and about 25 percent of the U.S. workforce works remotely all or most of the time, not all companies are getting on board.

In fact, 77 percent of organizations polled by the Society of Human Resource Management said they don't allow workers to telecommute on a full-time basis. So is working remotely on its way out? We spoke with several experts to find out.

Hitting a Plateau
"I don't think the tide is turning as much as it is hitting its plateau," explains Laura Gomez, marketing manager at The Protocall Group in Cherry Hill. "The millennial workforce and upcoming Generation Z workforce are more connected than ever and their job satisfaction directly correlates with a healthy work/life balance."
But it isn't only millennials who are concerned with working remotely and work/life balance. According to a study from PwC, while 64 percent of millennials polled said they would like to occasionally work from home, that number jumped to 66 percent when members of Generation X and baby boomers were asked the same thing.

While Gomez says she doesn't see working remotely falling off the map, she suggests a balanced approach is best. "I don't foresee the trend of remote work reversing. However, I believe that in order to maintain profitability and company advancement, a certain amount of work is best handled in the office," she says. "Companies seem to be trying to find the happy medium between workplace satisfaction and profitability."

Shades of Gray
And for bosses, it's not a black-and-white solution. But Gomez notes that many things are better whilst conducted in-office.

"Put simply, there are some things that are better handled and managed within an office setting," she explains. "Personally, I find I get more out of project collaboration and brainstorming sessions when they are conducted in-person. There is something about feeding off other people's energy in a room that you can't seem to replicate over the phone or through a screen."

The inability to measure employee productivity could be another drawback for employers. "I think companies struggle to measure the productivity of their employees in office versus remotely, so they don't quite understand how it may be affecting their bottom line," Gomez says. "Big companies may have more resources to evaluate remote workers and have seen reduced productivity out of the office."

Lloyd C. Birnbaum, co-managing member of Lauletta Birnbaum, LLC, which has offices in Sewell and Philadelphia, points out several potential issues with a remote workforce.

"[It's about] the ability to turn things around quickly, [with] speed and efficiency," he says. "If I need support and need to speak with someone and I send them an email, who knows when I'll hear back from them? If I send a text, who knows when I'll hear back from them? If they are in the office and I can walk into their office and have a conversation [it creates that] speed and efficiency."

Concurrently, employers with a remote workforce could be left asking questions when trying to assess performance, according to Gomez. "How do you ensure your staff is maintaining productivity while working out of the office? How do you objectively measure productivity? Are you losing personability with customers because your workforce is out of office? Does the remote workforce choose to work during out-of-office times, and is that affecting the ability to accomplish goals? Where is the line drawn between employee satisfaction and productivity?"

Plus, whether working remotely works at all depends on the industry, data shows. Those in the transportation, computer and information systems, and creative fields (think media, art, design and entertainment), are more likely to work remotely, at least some of the time.
Birnbaum echoes that sentiment, noting that law isn't the most conducive field for a remote workforce. "[Here] everyone works in the office. Occasionally, people work from home for whatever reason, if it's quiet, they have an appointment," he says. "We are professionals so we have that flexibility. But I prefer everyone to be in the office."
A Flexible Future
Others see the issue differently. "We are looking at a paradigm shift in the way that companies look at office space," says Dave McLaughlin, general manager of WeWork East, a popular collaborative co-working space.

"Instead of having to take a lease with no flexibility, WeWork allows companies to plug into a premium platform that allows members to work from practically anywhere. Whether their teams grow, or their geographic needs change, we can work with members to give them exactly what they need."

McLaughlin notes how this setup has worked for some companies. "For instance, Microsoft has a membership that allows its salespeople to operate seamlessly from different buildings all over Manhattan and gives them the flexibility to work on the go," he explains. "That adds huge value to their business."

There's also the question as to whether employees miss out if they work remotely fulltime, a point Birnbaum readily agrees with. "[Employees] have to show up to be a part of the culture," he notes.

So, is working remotely the future of the workforce? Only time can tell, but McLaughlin puts it simply, "I think flexibly is the future."

Gomez takes a more measured approach. "If the remote work program is handled correctly, I think having a remote work option for employees has more benefits than drawbacks," she says. "Companies need to find middle ground between making employees happy while still maintaining a certain level of productivity."
Published (and copyrighted) in South Jersey Biz, Volume 7, Issue 7 (July, 2017).
For more info on South Jersey Biz, click here.
To subscribe to South Jersey Biz, click here.
To advertise in South Jersey Biz, click here.