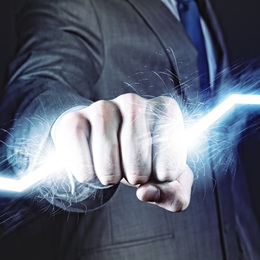 Power 50
Power comes in many forms, but perhaps none so significant as that of the human spirit. The professionals on this year's Power 50 list represent success stories across a range of industries from health care, education, government, nonprofit, real estate, finance and more. They have worked hard to get to the top of their fields and their efforts have impact that reaches far and wide, but especially, right here in South Jersey. On the pages that follow, you'll find a snapshot of their experience along with some words of wisdom they've gleaned along the way. We hope their stories inspire you to harness your own brand of personal power.
Jim Cawley
President and CEO,
United Way of Greater Philadelphia and Southern New Jersey
"Building success starts with equipping your team to achieve results. Hire the right people, with the right talent, and then get out of the way and let them do their work. As CEO, success for me is fostering an environment that allows for creativity and entrepreneurialism and lets the talent we hired use the skills we recruited in the first place."
Chris Christie
Governor of the State of New Jersey
Despite his record low approval rating, the outgoing governor's influence hasn't completely waned.
Michael Christman, Ph.D.
President and CEO,
Coriell Institute for Medical Research
"I strongly encourage all managers to be enterprising agents for change, to not just get things done but to think about how we might take a better approach. I tell new hires not to assume their department is doing things the right way. I give them great latitude but they know to consult before major decisions."
Joseph Coradino
Chairman and CEO,
PREIT
Since 2012, Coradino has been the man behind PREIT's rise as one of the leading commercial real estate companies and watched as its portfolio has only strengthened with highend shopping districts across several states.
Gerard Cuddy
CEO,
Beneficial Bank
Cuddy is president and CEO of Beneficial Bank where he directs Beneficial's efforts in providing customers with the education and resources necessary to make better financial decisions. A 30- year veteran of the banking industry, Cuddy has moved Beneficial forward by taking the bank fully public and leading several acquisitions.

Marlene Asselta
President,
Southern New Jersey Development Council
"[What keeps me up at night?] I don't sleep well to begin with and do love to read so if I can't sleep, there are usually two or three books by long ago deceased female authors, at the ready [that help me unwind]."
Cathleen D. Bennett
New Jersey Health Commissioner
"Success, for me, will always be about making a difference in other people's lives. If I know at the end of the day that my work has helped create an environment where New Jerseyans can live healthier lives, then I sleep well at night and wake up eager to start work all over again the next day."
Mary Ann Boccolini
President and CEO,
Samaritan Healthcare & Hospice
Joining Samaritan in 1997 as the director of clinical operations, Boccolini helped create The Center for Grief and Loss, now the Samaritan Center for Grief Support. Having been in her current position for the past 16 years, Boccolini has established Samaritan as the most experienced end-of-life care provider in the region.
Thomas Bracken
President and CEO,
New Jersey Chamber of Commerce
Since taking the reins of the NJ Chamber in 2011, Bracken has pushed for reductions in the state's tax burden, cuts in government red tape and investments in infrastructure. Among recent accomplishments: the state's phase-out of the estate tax; a long-sought investment in the Transportation Trust Fund to pay for road and mass transit upgrades; and tax incentives for companies that create jobs through the Economic Opportunity Act. Bracken sticks to a straightforward mission: Make New Jersey a great place to live, work and do business.
Kevin Cummings
President and CEO,
Investors Bank
"A good business leader sets an example and holds himself and his team accountable. He or she understands that people do what they see and not what they hear. A good leader has a picture/ vision of the future and sets the foundation for the team to execute on its strategic plan. He or she trusts his or her team and allows them to grow and, sometimes, fail. A good leader is competent—it is a given—but he or she is a continuous learner and listener, and understands that you need to listen to learn."
Robert Curley
Market President,
TD Bank
"A good business leader leads by example and supports their team in good times and bad. It's important to know what you don't know, hire smart people with can-do attitudes, listen to all points of view, make decisions, and then hold people accountable to execute."
Vincent D'Alessandro
President,
OceanFirst Bank Southern Region
Overseeing branches and offices throughout Atlantic, Cape May, Cumberland and Gloucester counties, D'Alessandro has been with OceanFirst Bank since 2008. He has over 28 years of experience in the banking industry.
Joseph W. Devine
President and CEO,
Kennedy Health
"[What keeps me up at night] is that we are remaining constantly focused on our No. 1 priority—patient safety—and that the decisions we make provide our associates with a sense of security for themselves and their families."
John DiAngelo
President,
Inspira Health Network
"Inspira Health Network is well positioned to continue its strategic expansion of services. With that said, the volatility of the reimbursement system, nationally, and at the state level, concerns me. If Congress repeals Obamacare, the new plan must maintain New Jersey's expansion of Medicaid, which has helped thousands of residents in our region. At the state level, we are watching the proposed legislation for out-of-network patient disclosures, transparency and billing practices. We are committed to protecting patients from being surprised by medical bills they didn't expect, but medical providers need to be reimbursed fairly for the quality care they deliver in appropriate settings."
Dr. Anthony DiFabio
President and CEO,
Robins' Nest Inc.;
President,
New Jersey Association of Mental Health and Addiction Agencies
Under his tenure, DiFabio has grown Robins' Nest into a powerhouse human services agency offering 70 programs across 10 counties. A tireless and passionate advocate for South Jersey, he sits on seven trade, business and community boards and is currently board chair of the South Jersey Federal Credit Union.
Brenda Ross-Dulan
Regional President,
Wells Fargo, Southern New Jersey
"Great leaders believe that everyone matters. They build an inclusive culture where team members feel empowered to ask questions and share ideas. There needs to be this critical back-and-forth dialogue between leaders and their teams if an organization is to be successful in the long run. If that does not happen, potential problems are not brought to the surface—and transformative strategies to enhance and grow the business are lost. No one wants to work in such an environment. Talented people will move to where they feel valued and their voices are heard."
Aaron R. Fichtner, Ph.D.
Commissioner of the NJ Department of Labor and Workforce Development
Fichtner was sworn in as Commissioner of the NJ Department of Labor and Workforce Development in June 2017. Before joining the department in 2010, Fichtner was the Director of Research and Evaluation at the Heldrich Center for Workforce Development at Rutgers. Fichtner earned a Ph.D. in planning and public policy from Rutgers University, a master's degree from the Georgia Institute of Technology, and a B.A. from Vassar College.
Bernie Flynn
President and CEO,
NJM Insurance Group
"A good leader is naturally curious; and one who can build a strong team by facilitating healthy debate and discussion in search of the right answers. The best leaders combine those traits with an ambition to serve the company's best interests far ahead of their own."
Dante Germano
COO and CFO,
Nexus Properties
"I try not to let the stress of the job keep me up at night. I learned a long time ago that worrying about things doesn't accomplish much."
Phoebe Haddon
Chancellor,
Rutgers University-Camden
"A good leader can be defined by how effectively she is able to bring together a sense of collective purpose as she works with her team. Hiring and keeping colleagues who are willing to be creative, encouraging them to challenge you, empowering them to make decisions, advocating for them and supporting them when things don't go as planned are some of the ways that a collective purpose evolves."
Alexander Hatala
President and CEO,
Lourdes Health System
"Success comes from surrounding yourself with people who are better and smarter than you. Success is derived from a team effort where the contributions of the team far outweigh the accomplishment of any individual."
William P. Hankowsky
Chairman, President and CEO,
Liberty Property Trust
Hankowsky joined Liberty in January of 2001 as chief investment officer, responsible for refining the company's corporate strategy and investment process. In 2002 he was named president and in 2003 he was appointed chief executive officer and elected chairman of the board of trustees. Under his leadership, Liberty has become the nation's leading commercial developer of high performance green buildings, earning an unparalleled series of national awards including the 2006 United States Green Building Council's Leadership in LEED award, among others.
David Hanrahan
Founding President and CEO,
Capital Bank of NJ
"A good business leader thinks like an owner."
John T. Hanson
CEO,
Delaware River Port Authority;
President,
PATCO;
Chair,
Camden County College Board of Trustees
"Success is a byproduct of service to others and to your community; the more you serve and contribute, the more you are able to achieve."
Vernon W. Hill II
Chairman,
Republic First Bancorp;
Chairman/Founder,
Metro Bank UK
"An individual with vision, persistence and ambition, combined with informed instinct [makes a successful entrepreneur]."
Dr. Ali Houshmand
President,
Rowan University
"Success is when—ideally— members of an organization or community work toward a common vision, take ownership in their individual roles and continuously enjoy the fruit of their collective efforts."
Ralph Izzo
President and CEO,
PSEG
"A good leader is able to listen to others, synthesize information, make decisions and inspire action."
Rahul Kachru
President and CEO,
South Jersey Federal Credit Union
Starting his career in HSBC for 12 years in senior-level positions, Kachru was responsible for merger and acquisition teams in Far East Asia. He joined the credit union industry in 2004 and has been in the C-level suites in California and Nevada before coming to New Jersey.
Frederick Keating, Ed.D.
President,
Rowan College at Gloucester County
Keating has compiled a distinguished career in higher education for more than 30 years, and was named Rowan College at Gloucester County's seventh president in 2012. Under his leadership, the college established a forward-thinking partnership with Rowan University and continues to evolve in exciting ways.
Thomas J. Kemly
President and CEO,
Columbia Bank
"A good business leader is certainly someone who consistently inspires and influences others to excel and do what is right in their everyday dealings. But to me, a good business leader is much more than that. He or she also needs to be a visionary with a specific dream, a teacher who sets the proverbial 'success bar' to strive for and someone dedicated toward making a difference in people's lives committed to the communities they serve, giving something back whenever possible."
Harvey Kesselman, Ed.D.
President,
Stockton University
"Success is a Stockton degree that is more valuable each and every day for all of our alumni."
Adrienne Kirby
President and CEO,
Cooper Health
"At Cooper, we have a major responsibility to serve the South Jersey region. As the leader of the organization, I am constantly thinking about how to make Cooper better and better, and to assure a successful future. That can occupy a lot of time when I should be sleeping."
Vincent Maione
Region President,
Atlantic City Electric, an Exelon Company
"A good business leader is responsive, compassionate and engaged with their employees, customers and the communities in which he or she serves."
Robert Marino
Chairman and CEO,
Horizon Blue Cross Blue Shield of NJ
Marino has served as president and CEO of Horizon BCBSNJ since 2011, and was appointed chairman and CEO in 2012. He is leading Horizon's efforts to transform the way health care is delivered and financed in New Jersey to lower costs, improve care quality and enhance the patient experience.
Barry Mertz
CEO,
NAI Mertz
"For me, success is found in knowing and playing by the rules—not to bend them—and to always do what is right for the client without hesitation. I'd much rather rest my head on my pillow at night knowing my client appreciates my ethics, rather than have a few extra dollars in the bank. At NAI Mertz, this commitment to our clients is unwavering, and it is a measure of success we committed to as a family and as a company."
Richard Miller
President and CEO,
Virtua
"Will there be enough health care dollars in the future to provide safe and high quality health care in our community? Continued cuts in Medicare and Medicaid and commercial carriers, combined with sicker patients requiring health care services, give me major cause for concern."
Denise Morrison
President and CEO,
Campbell Soup
"Success is a multi-dimensional outcome guided by my personal mission, 'To serve as a leader, live a balanced life and apply ethical principles to make a significant difference.' For me, leadership is service and there is power in giving. I realize my best performance if my spiritual, academic and physical circles are in balance. I believe integrity is critical to success, followed closely by a willingness to be transparent with people."
Michael Munoz
Market President,
AmeriHealth New Jersey
Munoz's career in health care spans more than a quarter-century, including a stint as the vice president of sales and marketing at AmeriHealth New Jersey. In his current role, he assumes a wide range of responsibilities, including oversight of all business operations such as provider networking, clinical services and finance.
George E. Norcross III
Executive Chairman,
Conner Strong & Buckelew
Between his work in business, with Cooper Health System and his influence in statewide politics, fewer names are as synonymous with South Jersey as Norcross'.
Thomas O'Brien
President and CEO,
Sun National Bank
"In my mind, success is defined by the career and skills growth in the people who surround me. I want people in management who can take an assignment and run with it, who aren't afraid to make a mistake and learn from it. People who ooze integrity and can mentor others and look at the bigger picture are most valuable. Success comes when you help those people grow into leaders in their own right."
John O'Connor
Market President,
BB&T
"A good business leader creates an environment where employees are motivated to pursue a common mission. There should be uniform beliefs and behaviors. Specific goals and objectives should be defined so that staffs are fully aware of expectations. Accountability is also an important attribute for a good leader, both for themselves as well as the employees who are managed."
Melissa Orsen
CEO,
New Jersey Economic Development Authority
"The business leaders I have found most inspiring during my career have been those who, in addition to their considerable knowledge and experience, possessed the humility to be open to the insights and ideas of others. Sometimes a fresh perspective from someone who has followed a different path can help when facing particularly tough challenges, and may even create exciting new opportunities."
Anthony Perno
President and CEO,
Cooper's Ferry Partnership
"Making sure my wife and I instill in my sons the importance of family, courage, respect and a willingness to be challenged in whatever they choose to do [is what keeps me up at night]."
Michael J. Renna
President and CEO,
South Jersey Industries
Renna serves on the board of directors of the New Jersey Chamber of Commerce and the CEO Council for Growth's Greater Philadelphia Energy Action Team.
Linda Rohrer
President,
Rohrer and Sayers Real Estate;
Chairman of the Board,
1st Colonial Community Bank;
Board of Trustees,
Rowan University
"Listening to others—their advice, their challenges, their questions—has served me well [as a business leader]. … You can consider yourself successful when you have gained the respect and confidence of others."
Dr. Kris Singh
Founder, President and CEO,
Holtec International
Singh was elected to the National Academy of Engineering in 2013 for his seminal impact in the energy sector of mechanical engineering and a Fellow of the American Society of Mechanical Engineers in 1987 for his numerous contributions to heat exchange technologies.
Angela Snyder
CEO and Chairman,
Fulton Bank
"Innovation thrives in an environment where we support continuous learning, adopt a growth mindset that views mistakes as opportunities for improvement and consider curiosity as a strength. Helping other people to achieve drives me to give my best each day. I believe a great leader sees potential in others that they may not recognize in themselves and supports others so they can realize their full potential."
Jerry Sweeney
CEO,
Brandywine Realty Trust
Sweeney has served as president, CEO and trustee of Brandywine since the company's founding in 1994. He has overseen the growth of Brandywine from four properties and a total market capitalization of less than $5 million to over 28 million square feet and a total market capitalization of approximately $5 billion.
Steve Sweeney
President,
New Jersey Senate
"From the time I was first motivated to get engaged in public service by standing up for the rights and the respectful treatment of my daughter Lauren and other children with developmental disabilities, I have measured success by the willingness to fight for what I believe in and the ability to improve the lives of others."
Les Vail
President and CEO,
Gloucester County Chamber of Commerce
In 2010, Vail stepped out of his corporate shoes and into the position of president and CEO of the Gloucester County Chamber of Commerce, which he continues to serve today. Under his leadership, the GCCC has grown to be one of the largest chambers in New Jersey with close to 1,000 members.
Published (and copyrighted) in South Jersey Biz, Volume 7, Issue 7 (July, 2017).
For more info on South Jersey Biz, click here.
To subscribe to South Jersey Biz, click here.
To advertise in South Jersey Biz, click here.