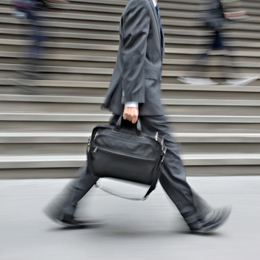 On the Move
James (Jim) Nesci has been appointed senior vice president, head of national sales for TD Wealth Private Client Group. Nesci will be based in New York and Cherry Hill for the new position. His responsibilities include growth of the wealth business through customer relations and overseeing development of the advisor program.

Debra A. Arthur was elected the new president and CEO of Camden County Regional Chamber of Commerce. After working for the Chamber for over four years, the board of directors appointed her to the new position in February.

Archer & Greiner welcomes John Giordano as a new partner at their Philadelphia offices. After serving in government positions throughout Washington, D.C., Pennsylvania and New Jersey, Giordano's new position will focus on government and regulatory affairs.

After working as president and CEO of Robins' Nest Inc., Dr. Anthony DiFabio has been elected president for the New Jersey Association of Mental Health and Addiction Agencies, Inc. DiFabio officially assumes the new position July 1.

Attorney Roxanne Zhilo has joined the team at Greenblatt, Pierce, Funt & Flores as an associate in their civil litigation department. Zhilo's position concentrates on civil litigation including consumer fraud, personal injury, employment, civil rights and small contracts.

Rebecca A. Berger has been chosen as a board of trustees member for the Center For Family Services. Berger works as an associate attorney for Charmy Karpousis Altieri & Donoian, P.A., and is a member of the Burlington County, Camden County and New Jersey Bar Associations.

Mark F. Mazzella has been hired as the new chief financial officer for Basking Ridge's Fellowship Senior Living. Mazzella previously worked in a CFO/COO position at Highbridge Community Development Corporation in Bronx, N.Y.

Janice L Heinold has been chosen as the new chancellor for the Rutgers Law School-Camden Alumni Association. Heinold graduated from Rutgers Law School in 1997, and is a partner at Raymond Coleman Heinold, LLP.

Keller Engineers, Inc. has appointed Samir (Sam) Mody, P.E. president of its subsidiary Keller Engineers of New Jersey, LLC. The engineering firm recently expanded their business to the South Jersey area.

Rob Richardson, president and founder of Allied Document Solutions and Services, has been named an industry "Difference Maker" by ENX Magazine. Richardson was featured as a part of the magazine's list of "Leaders, Innovators, and Builders: The Difference Makers of the Document Imaging Industry."

Dr. Alfred Sacchetti, chief of emergency medicine at Our Lady of Lourdes Medical Center in Camden, received the ACEP and DynaMed Plus/PEMSoft-EBSCO Health Achievement Award. Sacchetti was awarded at the Advanced Pediatric Assembly meeting in Las Vegas for his work in pediatric emergency evidence-based medicine.

Nicole Donoian-Pody, a partner at Charny, Karpousis, Altieri & Donoian, spoke at the Gloucester County Legal Education Association on May 11 at the Gloucester County Fire Academy. Donoian-Pody spoke on billing practices, retainer agreements and how to present cases to the Free Arbitration Panel.

Kathy Hiltner has been promoted to senior vice president of Liberty Bell Bank. Hiltner previously worked with Commerce Bank until she joined Liberty Bell in 2010.
Investors Bank announced that Michael Smith has been selected as the new senior retail market manager for their Burlington market. Smith will be located in the Mount Laurel office, but will be responsible for leading the bank's branches in Vincentown, Mount Laurel, Cherry Hill, Maple Shade, Delran and Marlton.

Duly Noted

Markeim Chalmers, Inc. recently negotiated a development deal for the new SF Senior Living Facility to be part of Washington Township's Washington Square Town Center. The deal was finalized in April.

Technology Concepts Group International is one of the top 50 fastest growing female-led businesses. The Somerset company owned by Avis Yates Rivers ranked third on a global list of growing businesses that have women at the helm.

Campbell Soup Company, in partnership with BNB Renewable Energy Holdings, SunPower Corp., and ORIX USA Corp. recently had a breakthrough at the Campbell Soup World Headquarters in Camden on their 4.4-megawatt solar power project. Once completed, the project will be the largest solar array in Camden.

Kennedy University Hospital was recognized with the American Heart Association/American Stroke Association Get With The Guidelines- Stroke Gold Plus Quality Achievement Award for their locations in Cherry Hill, Stratford and Washington Township. The hospital's Cherry Hill and Washington Township locations also received the Target: Stroke Honor Roll Elite Plus Award, and the Stratford location received the Target: Stroke Honor Roll Award.

Inspira Health Network made progress on plans for a new state-of-the-art medical center in Mullica Hill. Construction is set to begin in June and last about 24 months with the medical center set to open in late 2019.
Published (and copyrighted) in South Jersey Biz, Volume 7, Issue 6 (June, 2017).
For more info on South Jersey Biz, click here.
To subscribe to South Jersey Biz, click here.
To advertise in South Jersey Biz, click here.