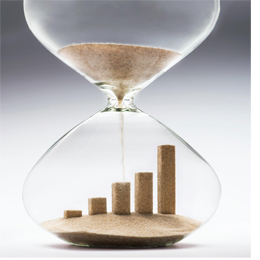 On the Rebound
There are always economic changes to be expected after a presidential election, and in South Jersey, the first half of 2017 has seen many changes—both positive and negative. Across the nation and in our region, economic growth seems to be best described as "slow but steady," regardless of everything that has been going on in Washington, D.C.
"The global economy has been rebounding slowly, while our nation seems to be struggling with its new leadership," asserts Daniel Sulpizio, senior vice president and director of retail banking for ParkeBank. "I believe many small business owners were cautiously optimistic, and have now become conservative by managing inventory more closely and looking for ways to cut costs."
However, despite what's happening on the political front, ac- cording to James E. Igo, president and CEO of Delanco Savings Bank, the economy has shown continued growth—just at a slower pace than local businesses might prefer. "There was a post-election euphoria that was unrealistic," he says. "Overall, I don't think there has been a dramatic improvement, just a steady improvement."
At TD Bank, South Jersey Market President Robert Curley says he has been working with customers who are exhibiting the highest sense of confidence and optimism he's seen since the recession. "We've been seeing slow and steady improvement over the past few years, but with the election came the expectation of some regulatory relief and other positive changes for business owners. ... So our customers have been in- vesting in new equipment, taking on new projects and focusing on growing their business," he says.
Part of the local growth this year can also be attributed to programs such as Grow NJ, a job creation and retention incentive program. "The state of New Jersey isn't exactly known for being the friendliest when it comes to doing business, between our income taxes, health care costs and real estate taxes to an array of regulatory challenges," Curley notes. "That's why we're all feeling the push to continue to support initiatives like Grow NJ, so businesses in South Jersey can take advantage of the added incentives to create jobs right here."
However, even with the improvements, there have still been some exceptions to the region's continued recovery this year. Igo points to the real estate market as an example, as it's still absorbing a large rate of foreclosures throughout South Jersey. "The real estate market has improved in the sense that there is limited inventory that has moved quickly ... but with little appreciation in value yet," he explains.
Retail is another industry that isn't necessarily experiencing a growth trend. Though it's consistent with what's going on across the country, South Jersey's retail industry has continued to see a dramatic uptick in the number of store closings of national retail chains. "One area of concern remains the retail industry ... because if stores continue to close, it could lead to an increase in unemployment rates," notes George Robostello, regional president for New Jersey at Fulton Bank of New Jersey.
Gary Farnesi, senior vice president and director of commercial lending for Beneficial Bank, notes that the recent and continuing trend of bank consolidation and regulation has also had a detrimental impact on South Jersey businesses. "The lack of local financial decision-making and the decline in presence of regional banks have hurt small-to medium-sized business owners across the country—including in South Jersey," he explains.
That ultimately means that local business owners could find them- selves working with a commercial loan officer based in a city like Chicago, who may be unfamiliar with the business climate in South Jersey. "As a result, South Jersey business owners may not receive the financial counsel they need from local bankers who know and understand the regional economic landscape, and who maintain relationships with decision-makers in the same markets where they reside," Farnesi adds.
Though the region has continued to see a dramatic increase in the number of bank store closings—one in 10 locations have been shuttered over the last eight years in New Jersey alone— banks are focusing on lending to drive revenue growth. "That means rates continue to be very competitive, which is naturally leading to more consumers and business owners reaching out to discuss financing advice," says Robert Worley, senior vice president and New Jersey market manager for Republic Bank.
Additionally, mortgage lenders in South Jersey are beginning to extend commercial mortgages to 25 and even 30 years. "Our lenders are also seeing a sizeable increase in construction borrowing, specifically in South Jersey, where building is on the rise. This type of positive industry growth trickles down and benefits the entire local economy by creating jobs and stimulating local businesses and suppliers," Worley says.
The other good news is that banks are going above and beyond to remain connected to their customers through technology and are teaming up with innovative firms that can help satisfy their technological needs. "Business owners are busy, and they are looking for the fastest and most efficient way to their banking. Technology in the industry has evolved so much, and many banks have kept up with the ever-changing ways to have business owners do their banking," Sulpizio says. "Still, nothing beats meeting clients in person—especially for more complex transactions."
Despite the challenges currently facing the national and local market, there's hope that the economy will continue to show steady growth through the rest of 2017 and beyond. Currently, New Jersey is home to nearly 3.5 million private sector jobs—a record total that has surpassed the highpoint reached before the recession. "While certain industries may be experiencing growth at a more rapid pace than others, the overall trends—across the board—are positive," Worley adds.
In 2017, one major source of new job creation and other positive impacts on the regional economy have been the Eds and Meds. "If we think about both the colleges and hospitals in the southern part of the state and the expansions they're undergoing, ancillary businesses they're launching, and partnerships they're creating, they've been in a very good position to promote significant economic growth throughout their communities," Robostello says.
Of course, experts are hopeful that one of South Jersey's most important economic engines— tourism—will also continue to boost the local economy in 2017, particularly throughout the next few months. "The one area of optimism that we can always count on—assuming Mother Nature co- operates—is the summer tourism along the Shore," Robostello concludes. "It's a major player in the South Jersey economic engine, and we're hoping for a good season that will help continue this trend of growth for our region."
Published (and copyrighted) in South Jersey Biz, Volume 7, Issue 6 (June, 2017).
For more info on South Jersey Biz, click here.
To subscribe to South Jersey Biz, click here.
To advertise in South Jersey Biz, click here.