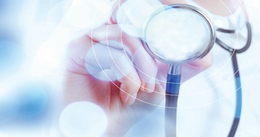 Who's Who in Health Care
To say the U.S. health care system is a challenging field today would be an understatement. Changing governmental regulations, emerging treatments, the advent of telemedicine and many other fluctuating factors create a complex environment. But none of that dissuades the doctors, researchers, educators and executives in our 2017 Who's Who in Health Care list. Every day, they are working from within the system to ensure our local care providers are poised to make the most impact for residents and push South Jersey toward the highest standards of care. Here, we present a snapshot of their experience and some insight into what makes them tick.
Jim Baird, D.O.
Assistant Medical Director, Kennedy University Hospital
As the emergency medicine physician champion for Kennedy Health's Super Utilizer and Opioid Crisis Committee, Baird became interested in the opioid crisis after noticing an escalating problem with the number of overdoses coming in to the hospital emergency room. He has dedicated his early career in fighting the epidemic by using hospital and health system resources to educate physicians on proper prescribing of opiates, working with community advocates to tackle issues facing those suffering from addiction, discussing the topic with local and federal legislators, collaborating with and teaching law enforcement personnel and working to change the stigma of addiction in our society.
"I get excited about caring for a variety of serious medical problems and diseases, and I en- joy the challenge of trying to figure out the cause of someone's symptoms. I will enjoy a lifetime of dedication to this field, including making our American health care a better and safer place for all the people in our communities, locally and beyond."


John Catalano, M.D., F.A.A.O.S.
Orthopaedic Reconstruction Specialist, Premier Orthopaedic Associates
Although Catalano's practice covers the full scope of orthopaedic care, he is a specialist in orthopaedic trauma and reconstructive surgery. When patients suffer from a traumatic injury, when complex fractures do not heal properly or when joints become so de- generated that injections and physical therapy are no longer effective in reducing pain, he can offer relief with surgical procedures to reduce the pain, restore function and increase mobility. Knowledgeable and experienced surgeons like Catalano are able to make the difference in patients' long-term success, mobility and comfort after recovering from an injury.
"One of the most recent and exciting advances is the advancement of minimally invasive surgical techniques. These innovations have allowed us, by minimizing soft tissue damage, to decrease post-operative pain, therefore starting therapy earlier and returning patients to function sooner. A combination of advances in pain management techniques, including multi-modal pain control regimens, has significantly reduced the need for narcotic pain medication."


Kathryn H. Driesbaugh, PH.D.
Program Manager, Coriell Institute for Medical Research
Driesbaugh serves as the program manager for the Hunting- ton's Disease Com- munity Repository and the National Eye Institute (NEI) Age- Related Eye Disease Study (AREDS). She also serves as the vice chair of Coriell's Institutional Review Board. Prior to Coriell, she completed a joint post- doctoral fellowship at the University of Pennsylvania in the Department of Surgery and the Children's Hospital of Philadelphia in the department of pediatric cardiology.
"The unpredictability of funding streams for biomedical research, particularly for the NIH, is the most pressing issue for the health care industry today. This funding supports everything from basic science to clinical research and is imperative for improving health care and discovering new treatments and cures for patients. This unpredictability creates uncertainty not only for young scientists entering the field but most importantly the patients who are waiting on cures."


Hisham El Genaidi, M.D.
Associate Director of Transplant Hepatology, Our Lady of Lourdes Medical Center
In addition to his work at Lourdes, El Genaidi also serves as medical director of hepatology at Southern NJ Center for Liver Disease. He is a member of the American Association for the Study of Liver Diseases and the American College of Physicians and has coauthored several presentations and peer-reviewed publications on liver transplantation, and is a principal investigator of funded research studies concerning new drug protocols.
"The biggest advancement in health care for hepatology is the development of direct acting antivirals for hepatitis C therapy. The new therapies are very well tolerated, the out- comes are above 90 percent cure rate with short duration (12 weeks). This has been a huge game changer. ... This will reduce the need for liver transplant and eventually reduce health care dollars spent. No one loses work time, so personal economics for the patient are also better."


H. Warren Goldman, M.D., PH.D.
Director, Cooper Neurological Institute Director, Cooper Gamma Knife Center
Under Goldman's leadership, Cooper University Health Care achieved The Joint Commission's Gold Seal of Approval and the American Heart Association/American Stroke Association's Heart-Check Mark for Advanced Certification for Comprehensive Stroke Centers. The Gold Seal of Approval and the Heart-Check Mark represent hospitals with the highest level of stroke care and are symbols of quality from their respective organizations. Cooper is one of seven hospitals in New Jersey, and the first in South Jersey, to achieve this significant certification.
"The application of technology to provide quality care to remote locations through telemedicine [has been the biggest advancement in health care during my tenure]."


Marjorie Ivins, R.N., B.S.N., M.S.
COO, Samaritan Healthcare & Hospice
Ivins made organizational history in 2012 as the first COO in Samaritan's 37 years of service. In this role, she oversees the not- for-profit's clinical operations, information technology, quality and compliance. She began her Samaritan career in 1998 as a hospice nurse and then clinical manager—hands-on preparation for her current C-Suite role. As the former vice president of clinical services, she oversaw initiatives benefiting patients and families coping with issues of aging, serious illness or grief. Her accomplishments are all the more noteworthy considering she first set foot in a community college classroom at age 30 to pursue her nursing dream while raising three children and holding a full-time job.
"The advancement I've most personally been involved with is the development of the relatively new medical specialty of palliative (or comfort) care. Medical research and technology have definitely made it possible for people to live longer lives. But not until palliative and hospice care have we been able to offer people coping with serious illness the opportunity and means to focus on what's most important to them."


Steven Kaufman, M.D.
Associate Professor of Medicine, Cooper Medical School at Rowan University in Camden
Kaufman is a board certified endocrinologist who has focused on decreasing disparities in medically and socially complex individuals from the resource-poor community of Camden. In the recently appointed role of medical director of Cooper University Hospital's Urban Health Institute, he leads an interdisciplinary team implementing innovative health care delivery to improve patient outcomes across 26 medical and surgical specialties utilizing shared medical appointments, LPN-led protocols, addiction medicine, transitional care, patient navigation and data-driven health care decisions.
"[The biggest advancement in health care is] the expanding role of the interdisciplinary team in outpatient medicine. Improving chronic conditions requires empathic and caring office staff, nurses, medical assistants, educators, health coaches and others working as part of a prepared, activated health care team. Health care is composed of two words; we need both of them."


Bill Kupchunas
Chief Quality Officer, Acuity Specialty Hospital of Southern New Jersey
Kupchunas has more than 23 years of health care experience with the past nine years in leadership roles. He has served as chief nursing officer at Health- South Rehabilitation Hospital in Tinton Falls and prior to that held leadership roles at Penn Medicine including chief nurse and director of quality and risk at Good Shepherd Penn Partners, which includes an inpatient rehabilitation hospital and a long-term acute care hospital. He holds master's degrees in nursing and business administration from the University of Phoenix.
"The most important issue facing the health care industry today is two-fold; continually improving care while making it even more accessible and affordable. Consumers want and deserve access to affordable care with good out- comes. Increasing access, maintaining afford- ability and at the same time providing reliable care and exceptional experiences can be a challenge for all health care providers."


Richard Larison
Chief Market Development Officer, Continuum Health
Larison is responsible for the management and growth of the New Jersey and Federally Qualified Health Centers (FQHC) markets. He also serves as the CEO of Partners Health Alliance, a physician clinically integrated network, and is working to establish a medical service organization for FQHCs on a national basis.
Before joining Continuum, Larison served as the CEO of Chase Brexton Health Care, where he increased revenues by 40 per- cent and increased the number of patients served from 20,000 to 35,000 over the course of four years.
"The biggest advancement in health care has been the general acceptance that everything wasn't working as well as it should within our health care system in the U.S. and the mobilization of the entire system to address the issue. This gives me real hope that we all will have a better system that will help each person rise to their highest level of 'wellness.'"


John Matsinger, D.O., M.B.A.
Executive Vice President, System Chief Clinical Officer, Virtua Health, Inc.
Matsinger is responsible for providing strategic direction, leadership and accountability for maintaining the highest level of quality and safety throughout Virtua. He serves as a liaison between the medical staff, administration and board of trustees. Under his leadership, Virtua is recognized as a national leader in quality and safety. The Leapfrog Group has awarded Virtua hospitals straight As since 2014 and US News & World Report recognized Virtua as a best regional hospital in five specialty areas.
"The most important issue facing health care today is rising cost. Every year health care consumers are facing higher insurance premiums, increased copayments and higher deductibles. Health care providers offer services that are becoming more efficient and technologically advanced, but consumers still cannot afford them. It is a no-win situation when a patient has to choose between buying groceries and buying medications."


Mike Munoz
Senior Vice President of Sales and Marketing, AmeriHealth New Jersey
In his role, Munoz oversees new business and retention for the entire sales organization across all market segments including individual, small and large business, public sector, municipalities and self- funded. He is also responsible for the development and execution of AmeriHealth New Jersey's entire suite of products and oversees operational readiness across the organization. Munoz spear- heads AmeriHealth New Jersey's consumer engagement strategy and ensures the company is compliant with health care reform per the Affordable Care Act.
"The uncertainty surrounding the future of the Affordable Care Act presents challenges, especially as it relates to cost-sharing reductions. To avoid disruption in the market and to en- sure those with low and moderate incomes get the care they need, it's critical that the federal government continue to fund cost-sharing reductions in 2018. We support solutions that make health care more accessible for consumers and measures that provide stability and security in the marketplace."


Kimberly J. Parkinson, M.S.N., R.N.
Site Operations Director, Nemours duPont Pediatrics, Deptford and Voorhees
Parkinson joined Nemours/ Alfred I. duPont Hospital for Children in December 2014 to assist with the development and construction of the Deptford location. Prior to joining Nemours, she was the director of clinical services at Maxim Healthcare. A graduate of The University of Pennsylvania's School of nursing with a master's degree in nursing and business minor from the Wharton School, she has also worked in the private business sector as COO for Vascular Access Centers and director of nursing for American Access Care. She is a member of the American Nursing Association, Sigma Theta Tau and is an active volunteer for the March of Dimes New Jersey Chapter.
"I became a nurse because I have a passion and a drive to be a part of the healing process. I believe that nursing is simply to give compassionate, family-centered care while applying it to the everyday concept of medical care."


Toni Pergolin
President and CEO, Bancroft
Pergolin joined the organization in 2004 as CFO and became CEO in 2006. She has worked tirelessly advancing Bancroft's mission, expanding services and growing the organization to meet an increasing demand for special needs services in our region. Bancroft now serves over 2,000 individuals and employs 2,500 dedicated employees. Her wholehearted dedication and keen vision has prepared Bancroft for the largest and most significant expansion in its 134-year history, The Bancroft Raymond & Joanne Welsh Campus in Mount Laurel. The brand-new, 80-acre campus will open in January 2018.
"The greatest challenge for health care providers to- day is delivering care and essential services for those in need with such limited funding. Children and adults with autism, intellectual and developmental disabilities often have dual diagnoses with complicated health care needs and services required can be a lifelong endeavor and very costly. ... In a fractured underfunded system, needs are not al- ways met and families struggle to provide a quality of life their loved one and their family deserves."


Joseph N. Ranieri, D.O., F.A.A.F.P., F.A.S.A.M., A.B.A.M.
Medical Director, Seabrook House, Inc.
Ranieri oversees all aspects of the medical treatment of patients for detoxification and residential treatment. He graduated from the Philadelphia College of Osteopathic Medicine in 1991. He is board-certified in family medicine and has practiced in South Jersey for 19 years. He is a Diplomat of the American Board of Addiction Medicine. In 2007, he started to assist and educate his primary care patients in addiction treatment options. He has continued to volunteer for a drug and alcohol christian discipleship recovery house since 2003 and as a drug and alcohol monitor for the Professional Assistance Program (formerly PHP) since 1998.
"Since 1999, the number of overdose deaths involving opiates, including prescription opioids and heroin, has quadrupled. From 2000 to 2015 more than half a million people died from drug overdoses. We are in the midst of the third drug epidemic in the last 50 years, and the second one involving opioids. Today's cri- sis is being treated as a public health issue, and rightfully so, but not at the pace that I feel it should be. Looking at America's history of dealing with drug epidemics, this kind of reaction is unprecedented."


Joanne P. Robinson, PH.D, R.N., F.A.A.N.
Founding Dean and Professor, Rutgers School of Nursing–Camden
Robinson has overseen immense growth in the SNC's enrollment, programs, faculty and revenue over the past five years. Her main accomplishments include: two successful site visits to secure national accreditation of the SNC's programs with "no compliance concerns or recommendations;" steady recruitment of award- winning faculty in the midst of a national shortage of nursing faculty; innovative curricula; a state-of the-art clinical simulation lab and a simulated clinical teaching/learning exercise in every nursing course; interprofessional teaching/learning opportunities; and a transformative learning abroad program, featuring affordable and feasible courses on health and healing in selected developing countries with short-term immersion for health-related service learning experiences.
"I was always fascinated with the life sciences and wanted to be able to help people. My aunt was a nurse and stories about how she helped people made me want to have the same career. She was an army nurse during World War II, a beloved nursing supervisor and nursing instructor at St. Joseph's Hospital in Paterson and the go-to person in our family for all matters related to health and illness. It seemed like she could handle anything and that's what I wanted to do."


Monica J. Scott, P.T., D.P.T., CLT-LANA
CEO, Doctor Physical Therapy
Scott began her career in 1992 after graduating from The University of Pittsburgh and went on to obtain her advanced doctorate degree from Chatham University in 2005. It was during her time as the director of rehabilitation for Magee Women's Hospital (UPMC) in Pittsburgh that her passion for treating oncology and specialty physical therapy cases grew and her dedication to the care of lymphedema clients was cultivated. In 2013, Doctor Physical Therapy was founded in South Jersey and began rapidly being recognized with clinical expertise in this field. She is one of only 896 individuals in the country who have obtained the gold-standard certification from LANA (Lymphology Association of North America) making her a subject matter expert on various types of edema.
"My mother was a nurse and I volunteered at the hospital in the summers. So, at an early age, I quickly developed a passion for people and the desire to help them get better. Physical therapy became the perfect career path, al- lowing me to utilize my gifts and knowledge to find the source of someone's pain and develop a pathway to their recovery."


Todd Thiede, CPA
CFO, Preferred Home Health Care & Nursing Services (PHHC), Eatontown
Preferred Home Health Care & Nursing Services, Eatontown, is a company that provides a wide range of medical and non- medical home health care services from pediatric to geriatric care throughout New Jersey and Pennsylvania. As CFO, Thiede is responsible for the entirety of corporate finance. He oversees the management of more than 150 corporate employees and more than 1,500 external nurses, among other duties. His long- term vision is to help transform Preferred from a regional provider to a national home health care powerhouse. He has been instrumental in helping steer Preferred's growth into new markets that have di- versified its revenue stream.
"The Greek adage that 'change is the lone constant' appropriately describes today's health care environment. Given the standard internal clinical challenges, the current external volatility has made the future of health care more challenging and uncertain than ever before. These seismic changes have forced the industry to embrace new conversations and reassess the access and delivery of care. As such, navigating, planning and adapting to these changes will be integral to survival and success in this new setting."


Marilouise Venditti, M.D.
Vice President and CMO, AtlantiCare
In this role Venditti leads more than 900 physicians and providers. She collaborates with the ARMC medical staff executive team and physician staff on quality of care; physician education and enrichment; new health care delivery models; customer service and other initiatives. She leads development and implementation of medical staff business strategies that align with AtlantiCare's goals of increasing access to quality care and enhancing the health and well- being of the community.
"One of the most important issues facing health care today is equitable access to care. We are working to make sure that all members of our community are able to get the health care that they need by providing free and dis- counted services to community members who would not otherwise be able to afford care. We aim to reach underserved populations and help patients to navigate the health care system and to get care – whether that's preventative medicine or ongoing treatment for a chronic disease or condition."


Barry D. Waterhouse, PH.D.
Chair of the Department of Cell Biology and Neuroscience, Rowan University Graduate
School of Biomedical Sciences
Before joining Rowan University, Waterhouse was a faculty member and administrator at Drexel University College of Medicine for 30 years, most recently as vice dean of the Graduate School of Biomedical Sciences and Professional Studies, where he developed a nationally-acclaimed neuroscience research program. Throughout his career, he has maintained a vigorous research program in the area of behavioral neurobiology and he has brought that expertise to Rowan along with a vision to expand neuroscience research and research training to the Stratford campus and throughout the South Jersey region. Under his guidance, Rowan University is fast becoming a regional leader in neuroscience research, education and clinical care.
"The major challenges for medical researchers today are continuity of funding and retention of a highly specialized workforce, two factors that go hand in hand. Ultimately a laboratory's success is defined by sustained production from highly talented people over a prolonged period. Fundamental to this outcome is the ability of the laboratory director to maintain funding for his/her group and, at the same time, ensure that critical technical expertise is preserved within the group and key personnel are retained and rewarded."


Todd Way
Executive Vice President for Operations, Inspira Health Network
Way is responsible for hospital operations, ambulatory services, business development and facilities and construction. Prior to joining Inspira, he served as senior vice president of regional operations for Valley Health in Winchester, Va. where he oversaw operations for the system's hospitals, ambulatory operations, marketing and business development. During his tenure, Valley Health grew from a two-hospital system to what it is today with six hospitals. He also held positions over corporate and ancillary services.
"As a large, and growing, network, it is challenging to provide a consistent patient experience at our 125-plus access points. To reach our full potential, our commitment to patient safety, clinical excellence and creating a wow experience must shine through at every location, every day, for every patient. Through training, technology and process improvement, we are making excellent progress in our efforts to consistently provide a great experience for our patients and their families."
Published (and copyrighted) in South Jersey Biz, Volume 7, Issue 6 (June, 2017).
For more info on South Jersey Biz, click here.
To subscribe to South Jersey Biz, click here.
To advertise in South Jersey Biz, click here.