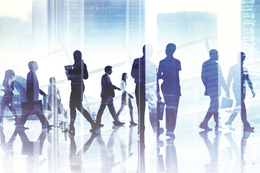 The Road to Success
We see a lot of stories these days focused on how to cope with baby boomers ultimately leaving the workplace. On the flip side, there's also a great deal of interest in ushering in the millennial population. This month, however, we're shining a spotlight on the generation in between. The professionals on this year's 20 Under 40 list started their careers off on the right foot early. They are no strangers to hard work and understand success does not come easy or all at once. Their stories are as varied as the industries in which they work, but they are all linked by their ambition, dedication and desire to move their organizations forward, taking the South Jersey area right along with them.
Brian Atchison
Age: 37
Chief Revenue Officer, PICS, PICS ITech, DocLIB
Years in the industry: 14
Atchison is a native of Westampton with a great passion for working with small, medium and enterprise clients, in a wide range of industries, throughout the tri- state area to navigate through today's technology landscape in order to improve their business. A key member of the IT leadership team, he combines his experiences in CRM consulting with today's technology advancements to improve his clients' businesses.
10-year goal: "To have a healthy family and be the best dad to my children, Emily and Jacob."
What advice would you give to other young professionals?
"I have a saying, 'Have belief, follow process and be passionate in what you go every day. It's contagious. 'There will be highs and lows but if you always remember to smile, believe in your company and the leadership within the organization, stay on track and true to the mission and processes, you will indeed develop a passion that will be transparent to everyone you come across."
Matthew Bagell
Age: 35
Financial Planner/CPA, BJIL Wealth Management, LLC
Years in the industry: 10
Bagell began in the accounting field where he worked as an accountant for five years and earned his CPA license. However, he found his real passion was for financial planning, where he is able to focus on building clients' wealth. He is currently a partner in two companies focused on providing comprehensive financial services.
10-year goal: "To continue to grow our doctor niche and expand the team of advisors."
What's the most rewarding part of your work?
"My line of work revolves around numbers but the most important aspect is actually building the relationship. Knowing that my clients can fully trust me with their full financial situation mean everything to me. There is nothing more rewarding that a client thanking you for providing them that peace of mind."
Hilary Beckett
Age: 26
Chief of Staff, Assemblyman Troy Singleton
Years in the industry: 4
Beckett graduated from Rowan University in 2013. While in college, she landed an internship in a legislative office, which began her career in government. She is a member of South Jersey Young Democrats and is passionate about preventing domestic violence and animal cruelty. She is currently a resident of Bordentown City.
10-year goal: "It is my hope to continue to work to better the state of New Jersey, hopefully expanding my role in government."
What's the most rewarding part of your work?
"I am truly fortunate to have a job that allows me to help others. I find it most rewarding when I can solve an issue that constituent comes to our office with.
Marisa A. Betancourt
Age: 37
Executive Director/ Co-Owner, Care Right There Home Health, LLC
Years in the industry: 15
Having lost her mom suddenly to a surprise diagnosis of acute promyelocytic leukemia, Betancourt decided to use it to find purpose; she and her husband Jamie started a home in 2015. They use their background in business operations, nursing and technology to assist seniors and disabled adults to remain independent where they want to live.
10-year goal: "To become more involved in my local community to explore more affordable housing options and better infrastructures for the disadvantaged utilizing our telehealth, loT and real estate backgrounds. There is so much work to do."
What's the most rewarding part of your work?
"I would say it's twofold: being able to be there for my clients when they are in their most desperate hours and helping to make life transitions for them and their loved ones a bit easier. The other would be the ability to create pathways to real careers for my employees. I get a piece of my mother back every day I do this work; that gratification is immeasurable."
Timothy R. Bieg
Age: 38
Attorney/Partner, Madden & Madden
Years in the industry: 11
Born and raised in South Jersey, Bieg is a proud alumnus of Camden Catholic High School and Lafayette College. Bieg has concentrated his practice in civil litigation involving commercial, construction, civil rights and employment claims. He has extensive experience in defended public entities against various types if claims. Prior to joining the firm, Bieg served as the judicial law clerk to the Honorable Marc M. Baldwin of the Superior Court of New Jersey in Burlington County.
10-year goal: "Be happy."
What advice would you give to other young professionals?
"Put your phones down."
Joseph Canataro
Age: 38
CPA, Partner, BDO USA
Years in the industry: 16
Canataro is an assurance partner who performs financial statement audits and provides consulting services to middle market privately held and public companies both domestically and abroad. His primary areas of focus are in the real estate and manufacturing industries. He is an active member of the South Jersey community and its on the board of trustees of The Legacy Foundation. He lives in Mount Laurel with his wife, Jamie and daughter, Lela.
10-year goal: "My ten-year career goal is to expand our business and enhance our brand both locally and throughout the Greater Philadelphia area, while continuing to grow both personally and professionally."
What's the most rewarding part of your work?
"The most rewarding part of my work is helping clients and colleagues achieve their goals. At BDO our core purpose is to 'help people thrive every day,' and there is nothing more rewarding than seeing a client succeed or a colleague get promoted and knowing that you helped contribute to their achievements."
Justin A. Cunnane
Age: 36
Commercial Relationship Manager, PNC Bank
Years in the industry: 16
Cunnane has been in banking since 2000, when he started his banking career as a teller. He joined PNC in 2014 as a senior business banker before being promoted to the commercial and industrial banking group in 2016. He currently lives in Burlington with his wife, Bridget, and his two sons, William and Jonathan.
10-year goal: "To continue helping PNC customers achieve their financial dreams by providing stellar customer service and becoming a trusted advisor to my clients."
How do you unwind?
"I like to play video games with my boys and watch Premier League soccer on the weekends."
Anthony A. DeSimone
Age: 33
Principal-Project Management, DeSimone Construction Company
Years in the industry: 16
DeSimone's passion for the construction industry along with his technologically advanced knowledge and experience, is instrumental in the company's continued growth as a full-service construction management company. The family-owned and operated business, built through committed client relationships since 1974, is well positioned in the industry.
10-year goal: "Through our dedicated staff and expert craftsmen, and with a management team that leads by example, DeSimone Construction Company seeks to grow our client base in the commercial and residential sector."
What's the most rewarding part of your work?
"What I find most rewarding is delivering a finished product to our client that exceeds their expectations and, often, what they may have dreamed impossible.
Hannah Elmalek
Age: 23
Marketing Administrator, Delaware Valley Safety Council
Years in the industry: 2
Elmalek began her career with the Delaware Valley Safety Council as a marketing coordinator in the fall of 2015 while completing her undergraduate studies at Rowan University. She was offered a full-time position as a marketing and administrator upon graduation in May 2016, where she oversees the day-to-day marketing activities for the company. One of her many goals is to increase awareness about safety and the benefits it has on companies and their employees.
10-year goal: "To obtain an MBA, to grow and succeed in the marketing industry."
How do you unwind?
"I like to catch up on some classics and recent movies, shop and relax with friends and family.
Lloyd Freeman
Age: 34
Partner, Archer
Years in the industry: 10
Freeman practices in the area of commercial and complex civil litigation in state and federal courts in both New Jersey and Pennsylvania. Outside of work, he is an executive board member of Big Brothers Big Sisters Independence Regional and the incoming president of the Garden State Bar Association. He lives in Sicklerville with his wife, Ebony, and daughter, Ailey.
10-year goal: "I have a scholarship foundation, the Burlington Camden Achievement Foundation. In 10 years, I want the foundation to have awarded over $500,000 in aid to deserving students seeking a college education."
? What drew you to your field?
"I realized I wanted?to become a lawyer toward the end of college while taking a class in business law. I have always enjoyed examining, debating and solving complicated issues. As a lawyer, I get?to do that every day. I honestly could not see myself doing anything else."
Hristos Chris Kolovos
Age: 40
Partner, Lucien's Manor
Years in the industry: 20
Lucien's?Manor is?a family?business and?Kolovos started?there while still?in high school?as a busboy?and worked his?way through the?ranks. Since be-?coming a part-?ner, he has headed all facets of the business associated with the operations and also construction management due to the constant renovations of the facility.?
10-year goal: "To continue operating the top catering facility in South Jersey providing guests with unparalleled service and cuisine."?
What's the most rewarding part of your work?
"Constantly hearing back from past clients and guests that the event experience they had here at Lucien's is still the best that they have ever experienced."
Niurca Vernis Louis
Age: 39
MTS, Director of Community Engagement, Robins' Nest
Years in the industry: 17
Louis is an expert in the?area of strengthening?families and communities. She has participated in several conferences?and developed technical?assistance covering the?topic of primary prevention methodologies to enhance community development, hosting delegations from New York City,?Washington, D.C., and?South Korea. She serves?as co-chair of the New?Jersey Task Force on Child?Abuse and Neglect's Prevention Committee, co-chair of the implementation team responsible for developing the Family Success Center Practice Profile and serves on the board of trustees for A Future with Hope.
10-year goal: "To bring together researchers, thought leaders and expert practitioners, of various sectors, to innovate increasingly more effective approaches in creating communities that allow our families to thrive and enjoy a fulfilling quality of life."
What drew you to your field?
"An unyielding belief in human potential. Our communities and the connectedness of our lives is a direct result of our collective impact. It takes all of us to do this work. In the words of Alexander den Heijer, 'When a flower doesn't bloom, you fix the environment in which it grows, not the flower.'"
Michael James Pasquarello
Age: 38
Degreed Landscape Architect, Elite Landscaping
Years in the industry: 16
Upon graduation from Cook College at Rutgers University, Pasquarello took a full time role at Elite Landscaping in developing residential/commercial landscape designs, which quickly led to creating complete outdoor entertainment spaces. He is currently on the board of directors for the New Jersey Nursery and Land- scape Association, of which he was named 2011 Young Professional of the Year, as well as a member of the Builders League of South Jersey, of which he was named 2017 Associate of the first quarter, and Kiwanis Club of Hammonton.?
10-year goal: "To bring Elite Landscaping to a level of national recognition with the continued involvement in an HGTV program." What advice would you give to other young professionals?
"Get involved. Professional associations and com- munity service groups will allow many connections to be made and open the doors to possible career advancements."
Victoria Napolitano
Age: 28
Councilwoman, Moorestown Township
Years in the industry: 5
Napolitano was first elected to Moorestown's Town Council in 2012, winning a second term in 2016. In 2015, she was elected by her council colleagues to serve as mayor, making her the youngest mayor in township history and the youngest woman to serve as a mayor in New Jersey state history. She is married to her high school sweetheart, Vinny, and the couple recently welcomed their first child, a daughter, Elliot.
10-year goal: "I want to make sure Moorestown is even better than when I took office, that our taxes remain as low as possible, that our open spaces are protected, that individuals with special needs are always welcomed here and that our residents can afford to live and work in Moorestown for years to come."?
What drew you to your field?
"I was drawn to serving on town council because I wanted to ensure a bright future in Moorestown for families like mine. I decided to seek elected office to make a difference in preserving the special quality of life our town enjoys, and plan to keep fighting as a voice for those who entrusted me to be a leader for our community."
Jared Rodgers
Age: 39
Executive Director, Life Force Senior Care Corporation
Years in the industry: 6
Rodgers established the New Jersey division of Life Force Senior Care in 2012. With a background in the armed forces, finance and marketing, he has built the company into one of the most reliable live-in personal care services in the state of New Jersey. As an individual, he believes in the importance of contributing to society through support of organizations that further the well-being of all.
10- year goal: "To expand Life Force into other states with the same mission: providing for the emotional, physical and spiritual well-being of seniors and, by extension, their families."
What advice would you give to other young professionals?
"Realize that you will experience challenges in life and, at times, you will have to go through it alone; but take joy because these experiences will lead to some of your greatest lessons in life."
Stephen A. Shultz
Age: 38
Chief of Staff, Volunteers of America Delaware Valley
Years in the industry: 10
A South Jersey native, Shultz was the first and only member of his family to graduate college, receiving both a BA and MPA from Rutgers. In the first 10 years of his career, he worked in county government, the New Jersey Legislature, the United States Senate and served a term on his local borough council. He currently works for one of the largest social service agencies in the region while continuing to serve on several nonprofit boards and remaining active locally serving on the Borough Economic Development Committee and the Municipal Utilities Authority, among many other positions.
10-year goal: "To maintain a trend of upward career growth and to keep doing work that positively impacts people's lives while making sure the organization I work for has the greatest impact among its competitors."
What's the most rewarding part of your work?
"My work affords me the flexibility to be creative, to challenge social norms and to find ways to create positive change one local community at a time. The lack of down time in my work is exciting as it challenges complacency and consistently leads to positive outcomes."
David Suleski
Age: 36
President, TechStarters
Years in the industry: 15
Having learned to code at a young age, Suleski is the founder and president of Tech- Starters, a single-source provider of technology services and support for local businesses. He is well-known as an industry leader for his technical expertise on business technologies. Holding an MBA from Stockton University, he is excellent at communicating valuable technology insights to businesses in a non-technical manner.
10-year goal: "For our process to evolve and our business to be well-expanded. But, the great character of our people I hope never changes."
What advice would you give to other young professionals?
"You can never build a great business by yourself. Hundreds of people have helped me, whether with the smallest gestures or many larger opportunities. Accept help and remember who helped you. Remove yourself away from negativity and never dwell. Surround yourself with family, friends and a team that believe in you. Appreciate every- thing you have."
Stephen D. Sweeney
Age: 36
President, National Employee Management Resources (NEMR) Total HR
Years in the industry: 16
Sweeney is a focused executive with an entrepreneurial vision. As president of NEMR Total HR, his main objective is building a team that continually creates value for their client partners. As an active member of BCA, The Union League of Philadelphia and Bancroft's Family Executive Council, he maintains the philosophy that relation- ships are the most important part of life—both business and personal. He is a new resident of Del- ran with his wife Melanie and their 5-year-old son.
10-year goal: "For NEMR Total HR to continue to grow and be recognized as a valuable HR re- source in the region for business owners and their employees; maintain a healthy balance in?all things that I do and begin to usher in the?third generation of family into our business."? What drew you to your field?
"We are a family business founded by my mother, Janis Sweeney, so we always say it was 'entry by osmosis'... but the people are what drew me in and what continue to drive me."
Jessica Tracy
Age: 32
Vice President, Business Development, Conner, Strong, Buckelew
Years in the industry: 10
Tracy is responsible for business development and relationship management for a large privately held commercial insurance brokerage and consulting firm. Her focus is on both employee benefits and commercial lines insurance and she focuses on working with organizations in the middle to large market spanning across the country. She specializes in risk management and analyzing health and welfare programs through detailed gap analyses to identify cost containment solutions, plan design strategies, efficiencies in administration, PPACA compliance, wellness strategies, alternative funding arrangements and improving the level of service and resources for new client relationships.
10-year goal: "I have four key professional objectives: master my profession and further expand on my role as a trusted advisor to employers, be viewed as a leader in the insurance industry, continue to make a positive impact from a philanthropic perspective and be a true connector in the business community to positively influence others."
How do you unwind?
"Exercise."
Gary A. Wnek
Age: 35
Vice President, Industrial Brokerage Colliers Internationl
Years in the industry: 11
Wnek grew up in Moorestown and is a graduate of Saint Joseph's University. His real estate career began in 2006. He has since been recognized with many awards as a top producing real estate agent. Having made his move to Colliers International in 2016, he specializes in the sale and leasing of industrial properties.
10-year goal: "These include personal, business and financial goals. Personally, I see myself as a good role model for my family. In business, I see myself as the market expert and always building on knowledge. Financially, I see myself owning several income-producing proper- ties. In real estate, you are always looking for opportunities. Setting more realistic one- to two-year goals helps make this more achievable."
What drew you to your field?
"Being able to work with people and companies and help them solve problems is very rewarding to me. Real estate also allows me to build long-standing relation- ships."
Published (and copyrighted) in South Jersey Biz, Volume 7, Issue 5 (May, 2017).
For more info on South Jersey Biz, click here.
To subscribe to South Jersey Biz, click here.
To advertise in South Jersey Biz, click here.