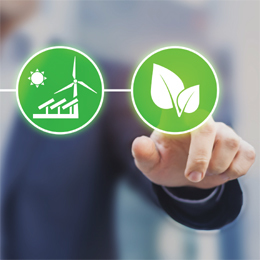 A Sustainable South Jersey
T he Earth is round but a triangle plays a big role in its continued sustainability.
The triad of "Reduce, Reuse, Recycle" is a reminder not only for people in their homes, but businesses too.
There are many ways for companies to reduce their environmental footprint, from installing energy-efficient lighting to covering a roof with solar panels. It creates another triangle of "People, Planet and Profit," that employees, consumers and stakeholders can identify.
South Jersey Industries, an energy services holding company based in Folsom, promotes energy efficiency to approximately 377,000 customers in our area. They encourage consumers to change their mindsets around energy usage along with providing training to students for skilled jobs in the energy industry.
"Sustainability is understanding how everything comes together. For us, it's our operations, community, the environment, the business, creating a good balance and having an awareness of the effects of one thing on another," says Barbara Del Duke, SBI general manager of stakeholder relations.
When it comes to sustainability, New Jersey Small Business Development Centers have specialized consultants to help start or expand sustainability practices. They believe sustainable businesses are not only more efficient and competitive, but they build market share because consumers reward companies that are sustainable.
"Sustainability isn't as complicated as you may think but does require a new way of thinking. You may need to come up with some new approaches and you may need to abandon some old ways of doing things and that might be the tough part," explains Ed Kurocka, NJSBDC project leader. "But you see the payoff happening in society, in the economy and especially in the environment."
Kurocka points to the NJ Sustainable Business Registry as an excellent reference. It was created in 2014 to im plement and support the SBI goals (the SBI is an initiative of the NJ Department of Environmental Protection's Bureau of Energy and Sustainability). The registry provides resources to small and mid-sized businesses interested in becoming sustainable. According to NJ.gov, small businesses make up 90 percent of all businesses in New Jersey.
"Businesses are interested but change is slow," says Kurocka. "Business owners wear many hats and need help when it comes to sustainability. It is still new to them. This is why we created the registry."
Maybe, when it comes to being ecofriendly, small businesses should follow the example of certain global companies.
IKEA and Apple top a list of big-name companies that power their stores with solar. It obviously isn't a fad, and with the sharp decline in the cost of solar, more businesses than ever are making the switch. According to the Solar Energy Industries Association, the top 25 corporate solar users in America have installed nearly 1,100 MW of capacity at 2,000 different facilities across the country as of October 2016 and the amount of solar installed at U.S. corporations and businesses is enough to offset 1.1 million metric tons of carbon dioxide emissions each year.
But there are still doubters.
Don Powell, owner of Moorestown-based Powell Energy and Solar, which focuses on sales, design, installation and maintenance of solar electric systems for homes and businesses, is making believers out of his clients. He says businesses were fairly skeptical of solar and it was more of a choice among residential consumers at first. Now businesses see the financial benefits and Powell Energy and Solar has seen an increase in the amount of commercial work with jobs ranging in size from doctor's offices to larger commercial buildings.
"Probably the biggest obstacle we have is there is an impression, particularly amongst business people, that solar is snake oil. When you finally make a believer out of somebody their impression is, 'I can't believe I waited so long to do this.' There are a lot of naysayers and then there are a lot of people who tend to be apathetic about their utility bills," Powell says. "While they might be aggressive about cutting costs in other areas, they are laissez-faire about their utility cost. When they see the increase to their bottom line, they are always thrilled about what's been done."
Powell recommends starting with an energy audit, which checks home performance, safety and examines opportunities to improve energy efficiency. In many cases, when solar panels are installed, they can offset a portion of the business' entire electricity bill. In addition, the federal government provides solar tax credits that allow homeowners and businesses to deduct a portion of their solar costs from their taxes. Both homeowners and businesses qualify for a federal tax credit equal to 30 percent of the cost of their solar panel system less any cash rebates. Powell notes that owners of solar systems enjoy a five-year accelerated depreciation on their system for tax purposes.
"I'm not sure why you are wasting money when you could be saving it," Powell says to those still on the fence.
What do a street fair and a train derailment have in common?
Both rely on the Gridless CORE, a1000 wH LiFePO4 battery that charges off a solar panel and can replace generators for clean, renewable, reliable power. An alternative to generators, the Gridless CORE does not use gasoline or emit fumes and is whisper quiet.
Patrick Murphy, president and co-founder of Collingswood-based Gridless Power and his partner Jason Halpern come from a background in emergency response. In life-saving situations, an insistence on eco-friendly and green products is obviously not of the most importance.
"For an emergency responder when you can generate power in the field via solar panels and when you can shut the generator down and don't need to pull the full power off of it, it helps with your ability to do your job," explains Murphy. "We try to find ways that there are other values and there are good business reasons to make the change."
Murphy recognizes that generators will always have their place, especially when it comes to delivering a lot of power. The new frontier for Gridless Power is powering small businesses, events, street fairs, construction sites and street signs. Seventy-five percent of their business comes from government agencies along with Amtrak (the Gridless CORE was used during the 2015 Port Richmond derailment), the cities of New York and Philadelphia and the Department of Homeland Security.
"It's nice to be in a business where we can sell a product that makes good business sense and also helps people by powering life-saving medical equipment," says Murphy.
For Gridless Power and many others, doing good for the environment means good business.
Published (and copyrighted) in South Jersey Biz, Volume 7, Issue 4 (April, 2017).
For more info on South Jersey Biz, click here.
To subscribe to South Jersey Biz, click here.
To advertise in South Jersey Biz, click here.