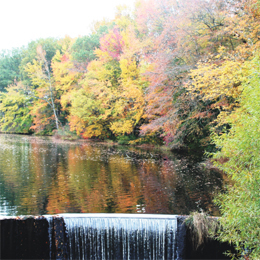 A Hidden Gem
In addition to breathtaking scenery, plenty of open spaces, affordable housing and some of the lowest crime rates around, there is another "secret weapon" to the appeal of Salem County and its little pocket of South Jersey. "We are the friendliest county in New Jersey," says Kathy Mills, director of economic development, cultural affairs and tourism information services for Salem County and a longtime Woodstown resident.
"There are a lot of nice people here," agrees Dr. Michael Gorman, who is the president of Salem Community College and has lived in Pennsville for more than 30 years. "We joke that you know who the locals are when you go to the Wawa and see who holds the door open, says 'Good morning' and waits for an answer. There's just a friendliness that comes with the county."
That vibe carries over to the county's promising business scene, which contains many different types of industry and has seen some exciting new developments in recent years.
A spark to the economy
In addition to the tight-knit nature of the communities in Salem County and the quality of life for its residents, there are other obvious benefits for a company to call the county home. "Our location is prime," Mills says. "We're very close to several major cities; I think it's 45 million consumers who are within a day's drive of where we're at in Salem County. We also have a lot of opportunities. We still have land, we have facilities available and we're priced right. So you can grow a great business and your employees can grow great families, which is a rare combination."
Several companies have recently set up shop in the county to seize on those opportunities. One is Fertl Soil, a manufacturer of topdressings and soil blends for the golf industry, which moved from Chadds Ford, Pa., to the city of Salem.
"We offered the building that they needed and the size they needed at the best price," says Jennifer Jones, executive director of the Salem County Chamber of Commerce. "Plus, they're located right next to the port of Salem, so they can bring things in by ship, by rail line or tractor trailer." The Gateway Business Park has also helped the economy recover from the recession, as several companies have relocated to the complex in Oldmans Township. Those include Five Below, JE Berkowitz and most recently, Jet.com.
"We've had a number of businesses relocate that are doing very well and have dramatically impacted our economy here in the county, because they provide good jobs with great pay," Jones says. "We're also seeing the trickle-down from those businesses opening at our smaller businesses and retail stores.
"[Jet.com] recently hired 1,300 people, most of them from our area and a lot of them who had been laid off by the Anchor Glass closing two years ago. So it's been great seeing those folks go back to work, and seeing a company come in with a need to hire people right away."
The chamber, which consists of more than 400 members ranging from large corporations to small mom-and-pop shops, supports the businesses in the county and continues to help attract more to the area. Its services include a weekly electronic newsletter in which any member can advertise for free; regular networking events and educational workshops; and aid in establishing relationships with local, state and national political leaders.
County stalwarts
While Jet.com and Fertl Soil are the new kids on the block, companies that have been in Salem County for many years continue to have a profound impact on the economy.
That includes Mannington Mills, a leader in the flooring industry that recently celebrated 100 years of business in Salem. Even as its imprint has expanded across the globe, Mannington has remained true to its roots.
"My great-grandfather came to Salem right after the turn of the century in 1900," says Keith Campbell, chairman of the board at Mannington. "He ended up buying a company here and that's where we've remained. Salem is home."
As a lifelong resident of the county, Campbell takes pride in his company being one of the biggest employers in the area.
"As time has gone on and our company has grown, our [stature] here in South Jersey and Salem County has grown," he says. "People have always known that we're here, but we've grown into one of the major industries— at least in the top three depending on how you look at it—here in the county.
"The aspect of manufacturing has changed. When we're looking for people, it's a different caliber of job than it was years ago. It's more of a skilled labor position that people are filling in. We're able to be in an area where we can attract good talent to come in and work for us."
PSEG, which operates the Salem and Hope Creek Nuclear Generating Stations, is another large employer in the county. According to Jones, PSEG also holds an outage twice a year to clean and make repairs, bringing in thousands of workers from around the country who impact the company by using hotels, restaurants and retail shops.
The Memorial Hospital of Salem County will also continue to employ many county residents, even as its sale from Community Health Systems to Prime Healthcare Foundation awaits final approval.
"I think the staff and management at the hospital—many of whom are staying in the same positions once the sale happens—all do a great job," Jones says. "Salem Hospital offers great services and I've used them for my own family. I don't think we're going to see any changes that drastically impact us."
Education's role
In two years since taking over as Salem Community College's president, Gorman has dealt with the enrollment issues that plague most county colleges. But he's also been part of some interesting developments, including an online program coming this September and an expansion of the college's nationally renowned glass program.
The exorbitant price of a college education— discussed often during election season—has made county colleges even more important. SCC is an affordable way for students to start their college experience before transferring to Rowan or Wilmington.
"The debt factor has become a major issue, both politically and socially," Gorman says. "Graduating with crushing debt—that's a term a number of politicians have used but I don't think it's inaccurate—changes what you can do in life. … Part of our purpose is doing something to offset that.
"I think you're going to see more programs that don't require students to take additional courses when they transfer. A student can go from here to Rowan to pursue an English degree, for example. They can still do that in four semesters because their coursework all transfers. As long as you line up your coursework appropriately, it works, and we have advisers to help students do that."
SCC is also focused on business outreach through its Center for Business & Industry. The college is working with existing companies in the county and those contemplating a move to provide the services they need.
"We have some businesses that have moved into the area—and I can't give specific names because we haven't signed the contracts—but two in particular want some extended training for their employees," Gorman says. "One of them wants us to help develop their leadership team, which includes about 25 people. The other wants something a little more broadbased in terms of technical skills associated with their business.
"There's a third one in the works that needs assistance with English as a second language. So we're in the stage of exploring what we can do to help out. Those are needs the county has from a business perspective that we're looking to address."
Moving forward
Like any area, Salem County will continue to face challenges as its economy evolves. But even as exciting new changes come to the business scene, residents can hang on to the natural beauty of the county and the values of the people who live there.
"[It's] a rural community with access to modern life," Campbell says. "We raised three kids here who went to local schools and have lifelong friends. We continue to go to church here, and the folks we interact with are not only neighbors, but they're part of our family. That is a fairly consistent thing here. … I love the county and I love the fact that Salem is so uniquely different than the rest of the state."
"WHAT BUSINESSES ARE SAYING"
Local companies and officials tell us what they like about doing business in Salem County:
MANNINGTON MILLS
Keith Campbell, Chairman of the Board
"One of the things [about doing business] in a smaller community is that you know everybody. You know the freeholders, you know your legislators well who represent you in Trenton, you know the local township council [members], and even the chamber of commerce people are people I grew up with here in Salem. I would say it's more of a collegial relationship in running our business and interacting with government than it would be in an area that's much bigger."
FRANKLIN BANK
Richard W. Dapp, Senior Vice President and Chief Commercial Lending Officer
"I value the community banking aspect of working within a great, community-oriented business environment. We are seeing an increase in residential and commercial construction lending in Salem County and all over Southern New Jersey. Since construction tends to be a leading economic indicator, I believe we are experiencing a gradual upward trend in economic growth and the associated job growth within our market area."
SALEM OAK WINERY
Mandi Cassidy, Founder and Owner
"I love working with our local businesses, and most of all, our customers are awesome. [They are] really sincere and wonderful people. … We are the perfect county to visit: humble, rural and incredibly welcoming."
TOWN & COUNTRY GOLF LINKS
Karen Pierson, General Manager and Co-owner
"I'm a local girl, having grown up on a farm nearby, and the county has virtually remained unchanged, with a few exceptions like our golf course. Salem County is uniquely rural with a Western kick. [It has] acres of farmland and rolling hills dotted with cattle, horses and dairy operations, [and is] home to the longest running rodeo in the country and true Western apparel stores that rival those of the West. Here at Town & Country we've chased live bulls off the course, creating the brainstormed name andscheme of our casual pub room, Bull on the 19th."
LAURY HEATING COOLING & PLUMBING
Sean Laury, Director of Operations
"For us as a company, there is a lot of opportunity here. We're seeing a lot of homeowners becoming more energy efficient in their homes. There's a program called the New Jersey Clean Energy Program; it's a statewide program, but we've been doing a lot of jobs particularly in Salem County. When people install an energy-efficient heating and air conditioning system in their home, they qualify for a certain state incentive, and they're also becoming more energy efficient. I like seeing that happen in homes across the county."
THE FIRST NATIONAL BANK OF ELMER
Brian W. Jones, President/CEO
"The concerted efforts by community partners and local government to bring in new businesses, the ongoing effort of Salem Community College to expand programs to educate the youth and the great depth of culture and history—all of these things lead to growth in our county. … We believe that the marketing and delivery of friendly, personalized banking services enables The First National Bank of Elmer to continue developing meaningful long-term relationships with the members of the community. As such, we are very involved in the markets we serve and look forward to continuing to grow with our customers."
Published (and copyrighted) in South Jersey Biz, Volume 7, Issue 4 (April, 2017).
For more info on South Jersey Biz, click here.
To subscribe to South Jersey Biz, click here.
To advertise in South Jersey Biz, click here.