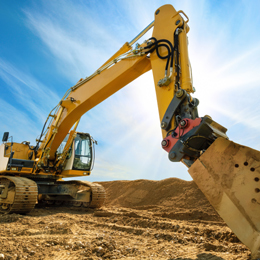 Moving Forward
The first quarter of 2017 has proven to be advantageous for those involved in building and construction in South Jersey— and you don't have to be in one of the related fields to feel the impact. Everywhere you look there are new buildings going up and new storefronts opening, which is a testament to the work that has been put in to the South Jersey region over the last few years.
A large part of the boom can be attributed to the New Jersey Economic Development Authority's job creation and retention program known as Grow NJ—this is especially true in Camden—however, it also appears as though the prime location of South Jersey is finally starting to garner the attention it deserves from investors.
"A lot of companies are expanding and need a bigger footing and are looking at this market a little more seriously because of the easier accessi - bility to places like New York and Philadelphia, and then there is also the Pennsylvania and New Jersey turnpikes and the AC Expressway," says industrial specialist Jonathan Klear, vice president of commercial real estate brokerage firm NAI Mertz.
Klear says from an industrial standpoint the building and construction climate is "still very strong … and pricing remains good, if not better, in 2017," and notes the "practical pricing" in South Jersey is also an advantage to making a move to the area.
Mark Goldstein, vice president and market officer of Liberty Property Trust's New Jersey office, agrees.
"The [industrial] market is as strong as we've ever seen it," he says, noting that while 2016 was quite strong, 2017 seems even stronger. "Typically, we find ourselves leasing the buildings before the construction is even complete."
Whatever the appeal, there are several areas in South Jersey that are benefitting.
CAMDEN
Having received over a billion dollars in NJEDA tax credits in recent years, the endeavors of many investors are finally coming to fruition in Camden.
Liberty Property Trust is leading one of the major projects, a billion-dollar multi-use complex that John Gattuso, senior vice president and regional director for the company, says has evolved over the past two years.
"[The attraction to Camden] was a combination of the tax credit program, together with a very amazing waterfront location," he says. "It's a very, very exciting project."
Gattuso says the work that is currently being completed by Liberty Property Trust on the city's waterfront is for the new American Water Corporation Headquarters, as well as infrastructure improvements, and that the company is still in negotiations with other parties for various parts of the project.
The Knights Crossing Development, headed by Brandywine Realty Trust, is also under construction, with two buildings currently going up for Subaru, according to Brian Berson, vice president of development for Brandywine.
"There are roughly six more development sites [we are marketing]," he says, noting that what goes onto the sites will depend on "how big the users are."
"There could be one more building or six more huge buildings," he says. "It really all depends."
The Philadelphia 76ers also moved their training facility to the city's waterfront in the fall of 2016, and power- plant supplier Holtec International opened a facility on a 50- acre parcel on the bank of the Delaware River this spring. Both received Grow NJ tax incentives.
While the projects will bring life to the languishing city, what remains to be seen is how the rest of the region will react to the large companies—American Water, Holtec and Subaru—moving from the South Jersey cities they've previously occupied.
CAMDEN AND BURLINGTON COUNTIES
Elsewhere in the region, there has also been a surge in building and construction. Redevelopment around Routes 70 and 73 in Cherry Hill and Marlton has been rich over the past few years, especially when it comes to medical facilities. Virtua, Lourdes Health System and Penn Medicine are just a few of the organizations that have opened new facilities in the area. And it looks as though this trend is expected to continue.
Evan Zweben, medical office space specialist and senior vice president for commercial real estate company Colliers International, says his team has seen "more activity in the first quarter of 2017 than any time during 2016, which is good. [However,] as always, time will tell."
Goldstein says that Liberty Property Trust, which developed the facility in Florence that Amazon now occupies, has acquired additional sites in Burlington Township and expects to commence development on these sites this year.
GLOUCESTER COUNTY
Nexus Properties of Lawrenceville's Chief Operating Officer/ Chief Financial Officer Dante Germano says 2017 has been busy in Glassboro so far. Additional portions of the company's contribution to the $350-million, 26-acre Rowan Boulevard redevelopment project are coming to a close, while others are just beginning to take shape.
"The A3 project is coming to a conclusion, which we're hoping to finish in August or September, and we have started the A4 project, where you probably have seen the stair towers now, and that will continue through next summer and open in 2018," he says. The A3 project includes three buildings and a parking garage, while the A4 project also includes three buildings. Both provide student housing, retail and public apartments, and, along with the company's A2 project, received Economic Redevelopment and Growth (ERG) credits from the NJEDA.
Nexus also has two other projects in Glassboro that are part of the redevelopment plan but set beyond the main area that is currently the major focus. They involve an apartment project and a mixedused building that will house a movie theater, a component of student housing and Rowan classrooms. Germano says the hope is to break ground on these projects in 2018.
Published (and copyrighted) in South Jersey Biz, Volume 7, Issue 4 (April, 2017).
For more info on South Jersey Biz, click here.
To subscribe to South Jersey Biz, click here.
To advertise in South Jersey Biz, click here.