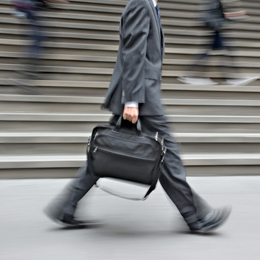 On the Move
David A. Kindlick
will be serving as the new chairman of Virtua's board of trustees. Kindlick has served for nine years in various leading positions, most recently serving as treasurer on the board and chairman of the Finance and Investment Committee and Compensation Committee.
Bret Buonadonna has joined CPI Companies with Gary DeVicci in forming an "Advisor Team" to work with CPI's asset management clients. Buonadonna, who has been working with the company for 13 years, will bring his expertise in investment manage- ment to CPI.
Law firm Parker McCay announced that Patrick J. Wesner and Steven E. Luttrell have both joined the Mount Laurel firm. Wesner will focus his practice in mortgage default service litigation to the firm's creditors' rights area while Luttrell will focus his practice in the firm's environmental law.
Petter Witt has been named the platform vice president, Northeast of Holman Automotive. Witt's responsibility will include overseeing the general managers of the 10 stores throughout Pennsylvania and New Jersey.
Tom Duffy has been elected executive vice president, industry affairs of Acosta. With Duffy's vast skills in community development, marketing, communications, and business development, he will continue to help the company grow as well as keep the company at the forefront in retail.
Wolf Commercial Real Estate has announced Tony Banks as vice president. Banks will continue his focus on sales and leasing, tenant and landlord representation, investment sales and mutli-family dwellings.
Co-founder of Big Sky Enterprise, Mike Regina, will be serving as chair of the YMCA of Burlington and Camden Counties' annual campaign for the third year. Regina has also served on the Y's board of governors and served as a member of the Development Committee.
Beverly J. Gerber has been appointed to The Bloom Organization's Businesses Committed to South Jersey board of directors. Gerber will continue building relationships with clients, inspecting properties, negotiating financial and legal terms and fostering long-term tenant relations as she has the last 28 years.
New Jersey chapter of Entrepreneurs' Origination announced Kayla Jackson, a Rutgers University stu- dent, won first place in the New Jersey regional Global Student Entrepreneur Awards competition. Jackson will go forward and compete in the nationals. LARISON WALSH
Continuum Health Alliance hired Richard Larison and Rich Walsh to help with business development, both having been skilled in their positions. Larison will serve as executive vice president of market development and Walsh will serve as vice president of business development and channels.
Sun Bancorp, Inc. released their fourth quarter net income amounting to $2.3 million. The company also recorded $53.7 million in partial deferred tax asset valuation allowance reversal.
The Third Annual Lauletta Birnbaum Ping Pong Tournament took place at the end of January. The company and their sponsors raised $5,000 for charities: An Opportunity's Knockin'; and the Toni Donato and Baby RJ Foundation.
Kennedy Health's Sepsis Program was awarded the New Jersey Hospital Association's 2017 Excellence in Quality Improvement Award for their acclaimed and life-saving program.
Tri Wire Engineering Solutions, Inc. has given 100 percent of the company's common stock to the employees through an Employee Stock Ownership Program. The transition allowed for the employees to have full owner- ship over the company.
Alloy Silverstein introduced a new service line and website, Alloy Silverstein Cloud Serv- ices, which aims to improve efficiency and financial clarity for business owners, start-ups and micro-businesses through outsourced accounting and cloud-based programs.
Published (and copyrighted) in South Jersey Biz, Volume 7, Issue 3 (March, 2017).
For more info on South Jersey Biz, click here.
To subscribe to South Jersey Biz, click here.
To advertise in South Jersey Biz, click here.