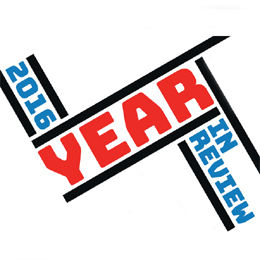 2016 Year in Review
Looking back at the stories featured in South Jersey Biz this year, it's clear that the economic climate continues to improve, despite some challenges.
Professionals such as our Top CEOs and CFOs, Women to Watch, 20 Under 40, Power 50, Executives and Entrepreneurs of the Year and many others are working from the inside to continue pushing the local economy forward.
Industry leaders in health care, real estate, construction, technology, tourism, nonprofit, education and other sectors are innovating processes and procedures to benefit those who live and work here. And, the community's neighborhoods and towns continue to provide an endless array of resources and incentives to boost business even further.
As all of these forces come together, the future of the South Jersey economy looks brighter than ever.
JANUARY
We began the year by speaking with local financial experts about their projections for 2016 and found, even with the uncertainty of a heated presidential election process and federal action (however small) on interest rates, the majority are glad to be in South Jersey. Those who manage local businesses are instrumental in achieving that. And our Top CEOs/CFOs feature shared the stories of 10 of these professionals including insight on what it takes to do the job.
Also in this issue, we looked at the ways in which a combination of financial incentives and repurposed commercial stock have contributed to low vacancy rates in Burlington, Camden and Gloucester counties.
FEBRUARY
Our 2016 Women of the Year are making an impact on the local economy as well. This month, we presented a snapshot of their experience as well as insights on how the landscape has changed for female professionals and advice for other women on entering and conquering the field. We also took a look at real estate trends in our area and found the residential growth, including housing for veterans and seniors; property re-use; expansion in the medical arena; restaurants; warehouses; and impact from e-commerce had significant impact here.
MARCH
Whether it's in the form of expanding or improving services to local patients, educating the doctors and nurses of tomorrow or bringing groundbreaking research to the medical community at large, our 2016 Best of Health Care winners are doing their part to ensure the area's health care sector continues to make strides. This month, we also looked at how South Jersey's institutions of higher education are making moves to be sure today's students are prepared to enter the workplace of the future as well as the ways in which our area is drawing more tourists via national parks, historic sites, wineries and breweries, outlets and more.
APRIL
Whether it's through training pro- grams, group activities, community involvement, office amenities or other initiatives, our 2016 Best Places to Work winners go above and beyond to make sure staff are happy, healthy and advancing in their careers.
Also in this issue, local building-and-construction leaders told us how new construction and renovation of existing buildings in South Jersey is boosting the local economy with new jobs and an improved quality of life. We also examined a combination of financial incentives and technology that could make the Garden State a "green" state in a whole new way.
MAY
These days, entrepreneurs are beginning their careers earlier than ever and making big waves across a range of industries. Our 20 Under 40 winners are already changing the face of our business community. On the flip side, local employers are taking steps to ensure open lines of communication because today's workers increasingly want to be kept in the loop. Experts told us corporate transparency isn't just the right thing, it's the smart thing and shared their insights on implementation.
In May, we also presented our annual Book of Lists, your go-to guide of business service providers right here in our area.
JUNE
South Jersey's health care sector has really grown over the past decade. This month, our Who's Who in Health Care put the spotlight on 20 nurses, doctors, administrators, researchers and more who are the driving force behind enhancing the scope of medicine and improving care for those who live and work here. Halfway through the year, we checked in with the area financial leaders who explained that despite some challenges, South Jersey's economic climate continues to improve.
We also looked at the ways innovative partnerships are changing the financial landscape as more and more public and private entities are entering into agreements that benefit all parties.
JULY
From established businesses to emerging influencers and innovative industries on the forefront of technology, there's no question that our area's economy has grown by leaps and bounds over the last few years. This month, our Power 50 list took a glimpse into the stories of the men and women shaping the future of South Jersey's business community.
Also in this issue, we explored how career service providers in our area are helping to train employees and match them with the right positions.
AUGUST
Your business doesn't operate in a bubble. We know it takes many moving parts and partnerships with other professionals. That's why we take the time to pour over hundreds of online nominations, past stories and our own experience to compile our annual Best of Biz list. Comprised of both readers' and editors' selections, this year's list provides you with the top-of-the-line South Jersey resources for everything your business needs.
New Jersey's food and agriculture industry is the third largest industry here, behind only health services and retail trade. In this issue, we looked at its impact and how the sector is poised for growth.
SEPTEMBER
Starting a business in any industry is not for the faint of heart. There are risks and naysayers around every corner. Our 2016 Outstanding Entrepreneurs took chances, persevered and are now soaring above the competition.
Checking in on health care trends, we saw how changes in the relationship between hospitals and insurance companies, new models of care and patients needs impact on the local health care industry. We also spoke with experts in the local business community who shared some ideas for what New Jersey might do with millions of dollars worth of settlement money.
OCTOBER
Mahatma Gandhi once said, "A small body of determined spirits fired by an un- quenchable faith in their mission can alter the course of history." This year's Small Business Award winners utilize every tool at their disposal to drive their industries forward and improve the lives and livelihoods of those who live and work here.
And, as 2016 comes to a close and analysis of the third business quarter is released, South Jersey's financial experts said they are cautiously optimistic about continued growth and prosperity throughout the region.
NOVEMBER
Our 2016 Executives of the Year shared with us insights on what they've learned, obstacles that lie ahead and advice for their compatriots. Their stories provide valuable lessons on how to move up the chain of command and inspire others.
Because any economy is only as sound as its community, South Jersey Biz recognized 15 local nonprofit organizations for their philanthropic work in our area, from children to adults suffering from illness, disabilities or financial and educational deficiencies or any number of disadvantages.
Published (and copyrighted) in South Jersey Biz, Volume 6, Issue 12 (December, 2016).
For more info on South Jersey Biz, click here.
To subscribe to South Jersey Biz, click here.
To advertise in South Jersey Biz, click here.