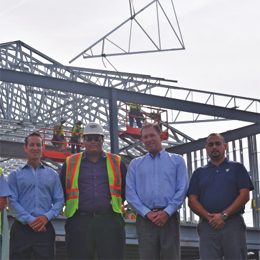 On the Move
Daniel F. Dougherty, CFA,
has joined Investors Bancorp, Inc., the holding company for Investors Bank, as senior vice president and treasurer. He previously served as senior vice president and treasurer of Astoria Bank and brings over 20 years of banking and treasury experience to the position. Dougherty succeeds Maria Lopes, who stepped down from the role in October.
Wohlsen Construction announced Angela P. Drayer has joined the firm as controller, where she will oversee the company's finances and to ensure operations can make informed business decisions. Drayer is a certified public accountant and chartered global management accountant and has over 15 years of experience in professional services and the construction industry.
DULY NOTED
Holman Enterprises was named among the Healthiest 100 Work- places in America by Healthiest Employers©. The international automotive services company was honored at the annual Employer Healthcare & Benefits Congress in Washington, D.C. on Sept. 26 based on its exceptional elements of workplace wellness demonstrated in its Healthier at Holman program. The health program includes on-site fitness centers, group exercise and nutrition counseling for employees.
Ancero, LLC announced the acquisition of Ground Swell, Inc. to expand the "communication solution provider" further in the Jersey Shore area. The Atlantic County IT company was founded in 1999 and retains an extensive list of clients in the business community.
Artis of Evesham, the newest community of Artis Senior Living, was presented an Award of Excellence in the Associated Builders and Contractors of New Jersey's Excellence in Construction 2016 Awards Competition. The award was based on the exceptional problem-solving, innovation and teamwork involved in its latest renovation designed by Law Kingdon Architecture. Artis and Law Kingdon are currently working with Wohlsen Construction Company on the construction of two new facilities.
The close of the White Horse Pike Redevelopment Project was signaled by Delco Development, LLC and the borough of Barrington with a groundbreaking ceremony for Wild Wing Café in Barrington on Nov. 3. This will be the Southern-based restaurant's first New Jersey location.
Wohlsen Construction Company helped celebrate new renovations at Hamilton Golf Club with a "topping out" ceremony. The celebratory ceremony is said to have originated in 600 A.D. when Scandinavian builders rejoiced over placing the final piece of timber for a large structure or bridge. The nearly $5 million improvement project of the renowned golf course is expected to be completed in early 2017.
Vania Fider, Esq. has joined Adinolfi & Packman, Pa. as a divorce and family law attorney. Fider has previously practiced as a solo practitioner and served as an Education Law Associate as well as provided legal counsel for a nonprofit organization in Tennessee.
Continuum Health Alliance CEO Don McDaniel has been appointed to the editorial board of new peer-reviewed open access journal Healthcare Transformation. McDaniel brings extensive experience in leadership roles and knowledge of health economics and markets and health information technology to the board and will serve the publication by recommending and contributing thought leadership on relevant topics.
Published (and copyrighted) in South Jersey Biz, Volume 6, Issue 11 (November, 2016).
For more info on South Jersey Biz, click here.
To subscribe to South Jersey Biz, click here.
To advertise in South Jersey Biz, click here.