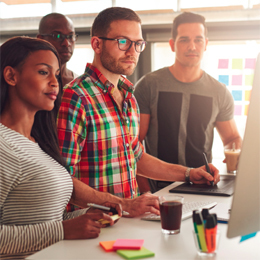 Small but Mighty
There is no denying that our area is home to some of the nation's oldest and most prestigious corporations and that these have influenced the economic stability of the region. This month, however, we pay homage to another set of equally influential businesses, those with fewer than 50 employees, who are also making a significant impact on our community. Mahatma Gandhi once said, "A small body of determined spirits fired by an unquenchable faith in their mission can alter the course of history."
This year's Small Business Award winners work every day to utilize every tool at their disposal to drive their industries forward and improve the lives and livelihoods of those who live and work here.
ALLSTATE INFORMATION MANAGEMENT
Founded: 1987
Top executive: Joseph Germinario, president and CEO
Total staff: 40
Allstate Information Management (AIM) offers clients a combination of valuable services. They are focused on storing, protecting and delivering customers' in- formation assets while maintaining the highest levels of confidentiality, security and professionalism.
ANSERCOMM
Founded: 1964
Top executive: Tony Greenfield, president and CEO
Total staff: 50
Tony Greenfield bought the Mount Holly answering service in 1964 and over the years, expanded to Cinnaminson, Cherry Hill, Vineland and Philadelphia, eventually buying about 50 smaller answering services in the region. About one-third of Ansercomm's business involves medical practices, with the rest consisting mainly of utility companies, municipal response teams and sales organizations.
ASTRO OUTDOOR ADVERTISING, INC./ASTRO SIGN COMPANY
Founded: 1983
Top executives: Chris, Doug and Jason Painter, owners
Total staff: 12
For over 30 years, Astro has built a reputation by providing quality products and outstanding customer service from design through installation. The company's specialties include billboards, digital printing, indoor and outdoor signs of all types and styles, along with banners, vehicle graphics, project/jobsite signs, storefront letters, main identification signs and last but not least, LED displays.
BORRIE'S OUTDOOR POWER EQUIPMENT
Founded: 1970
Top executive: Lauren Dunn, president
Total staff: seven
Borrie's understands the need for great customer service as well as great repair service, whether it's fixing your equipment quickly and correctly or getting you the right parts if you are a do-it-yourselfer, or even assisting in selecting new equipment for your needs. Their team will always communicate with you in the method you prefer.
BUSINESS ACCOUNTING SYSTEMS, P.C.
Founded: 1971
Top executive: L. Scott Elwell, MST, EA, vice president
Total staff: 17
At Business Accounting Systems, they will review your current financial status to pinpoint areas of concern and develop a plan to ensure your goals are realized. Their seasoned staff brings years of experience to the relationship, offering knowledgeable insight into your financial data, while providing guidance to assist you in making the best possible decisions.
BWM CONSTRUCTION, LLC
Founded: 2009
Top executive: Louis Mueller, managing member
Total staff: 26
BWM's principals have extensive experience in retail, commercial and medical construction, ranging from interior fit-outs and renovations to new construction of larger developments. They have developed a talented employee base with wide rang- ing experience in all types of construction from professional estimators, to carpenters and project managers.
CETTEI & CONNELL INSURANCE
Founded: 1958
Top executive: David J. Strout Jr., president
Total staff: seven
Cettei & Connell's mission is to provide the best possible coverage, the best possible service, for the best possible price to meet their clients' insurance needs. Their highly trained insurance staff, both in commercial and personal insurance matters, always puts the client first.
CLEAR PATH BY CINDY CIPRIANI
Founded: 2013
Top Executive: Cindy Cipriani, founder
Number of Employees: one
Using Clear Path's trademarked process, "The 5C Solution," people discover how to be the most successful version of themselves. The company's mission is to teach the language of the 5Cs to bring clarity, calm and character to the masses so that no matter what people are facing, they have guidance and direction in finding the answers.
COLLEGE FUNDING AUTHORITY
Founded: 2013
Top executive: Gerald N. Covella, president and CEO
Total staff: five
College Funding Authority provides counseling that ensures students are provided the best opportunity to enjoy a successful college experience through the careful design and implementation of a plan incorporating key student positioning strategies, careful college choice that best meets the student's goals within a budget and enabling families to successfully weather the inherent strains of funding college costs.
COMPUTER TECHLINE
Founded: 2006
Top executive: Herman McCargo, owner
Total staff: two
Computer Techline offers cost-effective IT consulting services for small businesses in- cluding managed IT services, network services, security, firewall, small business server, server migration, computer support and data recovery. Their Web development team also offers Web design, search engine optimization, ASP.net development, PHP and Java development and Web hosting.
CRITELLI & ASSOCIATES
Founded: 1979
Top executive: Robert J. Critelli, E.A., president
Total staff: four
Since 1979, Critelli & Associates' mission has been to provide tax, accounting and payroll expertise to a wide range of small and medium sized businesses. The company strives to offer cutting-edge technology, personal support and continuity in the context of a family business.
DESIMONE CONSTRUCTION
Founded: 1974
Top executive: Dennis N. DeSimone, president
Total staff: 13
With over 40 years of industry experience, DeSimone Construction's devoted and knowledgeable team members apply principled and innovative construction practices to ex- ceed customer expectations. They also commit their time, talent and resources to various causes that rebuild and strengthen the lives of their community.
DLC TECHNOLOGY SOLUTIONS INC.
Founded: 2005
Top executive: Darren L. Crane, president and founder
Total staff: seven
DLC Technology Solutions Inc. is a technology advisory and support services organization for growing businesses. Its mission is to make the operations of its customers' businesses more streamlined and profitable through the practical and appropriate integration of technology.
JANINE'S BOOKKEEPING
Founded: 2013
Top executive: Janine Kiriluk, owner and president
Total staff: four
Janine's Bookkeeping strives to bring small business owners peace of mind concerning their financial record keeping by providing exceptional bookkeeping services. Each client is met on a quarterly basis, at a minimum, to have a meaningful conversation about where they are, what direction their business is headed in, and what needs to be done to make it even more successful.
LABOR FIRST IN MOUNT LAUREL
Founded: 2005
Top executive: John P. Dulczak, chairman and CEO
Total staff: 35
With membership spanning across all 50 United States, Labor First is the only health care professional that solely services the union retiree benefit marketplace. They work to create a partnership-based strategy by providing hands-on skills, industry-leading technology and administrative capabilities to deliver positive results and improved efficiency.
PICS ITECH
Founded: 1995
Top executives: Terry Rossi and Richard Rosenthal
Total staff: 25
PICS ITech aims to create lasting relationships with their clients, whose impact changes the world, and to help them solve business problems and grow with technology. They do this by providing outsourced IT services, document management and business process automation software.
POSTNET
Founded: 2004
Top executive: John Lorenzo, owner and brand strategist
Total staff: five
At PostNet, their mission is to provide the business community with engaging graphic design and quality and affordable print marketing solutions. They provide a consultative approach to make sure that you are not just receiving a beautiful printed piece, but more importantly, an effective marketing tool.
RADIUS 180
Founded: 2009
Top executives: Dave Roberts and Dave Ewall, owners
Total staff: 30-plus
This managed IT services company focuses on software development, network management, help desk support and IT consulting. The experience of certified network engineers and technicians combined with strategic partnerships allows radius180 the ability to competently evaluate an organization's IT needs, thereby reducing costs, increasing revenue and mitigating business risks.
STEWART, A XEROX COMPANY
Founded: 1959
Top executive: Joe O'Malley, president
Stewart, a Xerox Company, is one of the region's largest and most respected business technology consultancy firms, serving the entire state of New Jersey, Eastern Pennsylvania and Northern Delaware. Their SBS360° assessment methodology provides insight, expertise and a consultative approach to simplify the way you use technology so that you can focus on what's most important: your business.
WODIFY TECHNOLOGIES, LLC
Founded: 2012
Top executive: Ameet Shah, CEO
Total staff: 45
Wodify's mission is to transform the business of fitness by empowering owners and athletes with leading-edge technology solutions. Their all-in-one solution provides comprehensive gym management and athlete tracking tools, improving the way people and companies run their businesses, and as a result, their lives.
WP HARDY CONSULTING
Founded: 2003
Top executive: Wanda P. Hardy, managing principal
Total staff: three
WP Hardy Consulting LLC is a multi- service boutique consultancy firm that develops success strategies for individuals and businesses. Led by seasoned professionals, their associates deliver winning solutions that generate insight, drive results and improve performance.
Published (and copyrighted) in South Jersey Biz, Volume 6, Issue 10 (October, 2016).
For more info on South Jersey Biz, click here.
To subscribe to South Jersey Biz, click here.
To advertise in South Jersey Biz, click here.