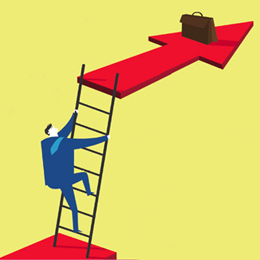 Fiscal Report: A Financial Forecast for South Jersey
As 2016 rapidly comes to a close and analysis of the third business quarter is released, South Jersey's businesses large and small seem cautiously optimistic about continued growth and prosperity throughout the region.
According to the South Jersey Business Survey released by the Federal Reserve Bank of Philadelphia, business activity in South Jersey actually advanced in the third quarter of 2016, and survey participants cited positive trends for their company throughout the year in terms of activity, sales and employment.
While expectations remain positive—and many businesses feel optimistic about their company activity over the course of the next six months— the region's business experts are noting that there is still reason to remain cautious.
"The best way to characterize Southern New Jersey's economy in 2016 is slow but steady improvement amid a hit-or-miss recovery," asserts Mark Vitner, managing director and senior economist at Wells Fargo.
Part of the reason for improvement is that many local businesses were more willing to invest in their companies this year. "Generally speaking, 2016 was a pretty good year for most of our customers because there was some level of predictability for them from an economic perspective, which allowed them to plan ahead and become more willing to pull the trigger on capital investments like updating machinery and equipment, building expansion and hiring. ... Which are, of course, all very good things for the local economy," asserts Joseph F. Rehm, executive vice president and chief lending officer for Capital Bank of New Jersey.
John O'Connor, market president of BB&T Bank, agrees that while economic growth in South Jersey has remained relatively flat, he has seen a recent uptick in existing clients borrowing money to expand their properties or to purchase equipment. "We take that as a positive sign, and it's my hope that this trend will continue into next year as customers gain more confidence about the way the economy is going," he says.
Rehm notes that a significant part of the reason that businesses seem to be feeling more comfortable making capital investments is the low interest rate environment. "When it comes to their business, the thing our customers care about the most is consistency and predictability. ... So when they're concerned about what the next day, month, or even year is going to look like, they're not going to be so willing to take risks or make capital investments," Rehm adds. "But we've been through a few years of fairly consistent growth and profitability, and from a financing perspective, that's why we feel it's a pretty good time to borrow money to help grow your business."
Another positive banking trend that's impacting local businesses this year is bank merger and acquisitions activity within the region. "These mergers continue to create opportunities for local community banks to have both feet on the ground and get to know their markets, and they become more able and willing to lend money to small- and medium-sized business owners," Rehm notes.
However, as businesses close out 2016 and move forward into 2017, Rehm notes they should be aware that the Federal Reserve has plans to increase short-term interest rates, but the rate of increase should be slow moving forward. Daniel Sulpizio, senior vice president and director of retail banking for ParkeBank, notes that this increase may not necessarily be bad news for businesses. "Lenders have become more aggressive in competing for their wallet share of the small business market, and we have seen some pricing battles between banks for very credit- worthy customers," he says. "I would see this continuing in to next year, especially if we do see a rate increase."
However, Richard W. Dapp, senior vice president and chief commercial lending officer for Franklin Bank, explains that an anticipated .25 percent increase in the Federal Reserve funds rate by year-end will gradually cause mortgage rates to increase in 2017, but that they may delay again on a rate increase. "In general, I believe the uncertainty of rate increases, the election results and global economic status will provide the back- drop for 2017—and no one can predict any of these things with any accuracy," he says.
Of course, the business community was not without its challenges in South Jersey this year. One undeniable factor impacting business decisions has been the upcoming presidential election, and the effect the results may have on the day-to-day operations of local business owners. "Our business customers continue to express uncertainty with regards to the national and regional political climate, and how that might play out with regards to taxes, rising health care costs and overall economic stability," explains Thomas M. O'Brien, president and CEO of Sun National Bank.
According to O'Brien, the region also continues to see economic fallout from the recalibration of the gaming industry, and local unemployment numbers continue to fluctuate. "Our bankers and business customers are approaching the coming year with cautious optimism. Rising health care and operating costs may continue to create hesitancy in hiring, capital investment or overall business growth," adds Mike Dinneen, senior vice president and director of marketing for Sun National Bank.
Still, in terms of unemployment, Vitner notes that South Jersey has managed to eke out modest economic gains, with nonfarm employment growth through August rising 2.2 percent from the prior year and the unemployment rate falling 0.2 percentage points to 5.9 percent. South Jersey appears to have gained momentum heading into the fourth quarter of this year, and Vitner expects economic growth to remain solid through the early part of 2017. "Surveys from the Federal Reserve Bank of Philadelphia show business activity gaining momentum over the past six months, and businesses remain optimistic about sales and hiring. Atlantic City's gaming industry still faces further dislocations, however, and that will cause overall job growth to slow for the region as a whole," he says.
However, despite challenges in Atlantic City, O'Brien adds that there have been seeds of meaningful economic development throughout South Jersey in 2016, such as new construction. "In the past year, we've grown or established significant commercial lending relationships in the manufacturing, retail, hospitality, transportation and service industries ... and we've established several important commercial lending relationships in Camden, which will help provide jobs and revitalize the community," he says.
According to Dapp, there has been an increase in residential construction loans both locally and nationally. "I believe the month of August had the largest increase in residential construction loans nationally for over 10 years, and understand that this is due to younger buyers who would prefer to own a new home than an older home," he says. Residential and commercial mortgage loan rates continue to be very low— in the 3.5 to 4.5 percent range—which Dapp says provides incentive for individuals and businesses to invest in new homes and commercial properties. "There is still an inventory of existing homes and business properties on the market due to past and current foreclosures in our local area, which are keeping prices for existing homes and commercial properties lower due to over- supply," he adds.
In addition to a surge in new apartment building and the construction of the new Comcast headquarters building, he says one of the biggest wins for the region this year was the American Water Works announcement that it would relocate its corporate headquarters and build a new state-of-the-art building along the Camden waterfront. "The announcement puts another well-known name among the businesses investing along the waterfront, and coincides with renewed interest in urban living, particularly among younger households," he adds. "The waterfront provides a striking view of downtown Philadelphia and holds the potential to become a successful hub of innovation, similar to how Jersey City and Hoboken have leveraged their location near New York City."
While Camden appears to be experiencing continued growth opportunities, O'Conner notes that the closure of four casinos in Atlantic City—and the recent closure of the Taj Mahal—has had a negative impact not only on the city, but on the county as a whole. "It's something that the county is going to have to continue to dig their way out of moving forward," he notes.
Along with the gaming industry, local experts also point to retail as an industry that continued to face its fair share of challenges in South Jersey—and nationwide—this year. "We're seeing that more and more local retail stores are struggling, mainly because of the internet and success of behemoth companies like Amazon where customers can buy everything they could possibly need without setting foot inside a store," says Steven Kalodner, senior vice president of wealth management for UBS Wealth Management.
Moving forward, he predicts that entertainment may also take a hit in 2017 thanks to the new 23-cent gas tax hike that is expected in early November. "When gas goes up, it tends to take a toll on retail and entertainment. ... Once people realize it's costing them more to fill up each week, they trim from their budget elsewhere, which usually means extracurricular spending like going out to eat or to the movies."
However, Kalodner notes that the local restaurant industry is seeing a somewhat surprising trend in that higher-end eateries like The Capital Grille or Fleming's Steakhouse have seen business pick up, whereas the mid-tier restaurants—where most local residents eat on a regular basis—have continued to struggle. Locally, he says that smaller "mom and pop" restaurants have been teaming up to buy in bulk together and get their costs down so they can improve their margins.
"Smaller businesses have had to start thinking like 'big box' stores to improve their buying power and use the low interest rates to their advantage," he says. "I recommend that businesses use the low interest rates to help them increase their inventory on anything that's non-perishable that they know they can sell, and reduce the price of their products in order to remain competitive."
Looking ahead, experts say another key to success for local businesses in 2017 may be to pay continued attention to securing— and maintaining—the right employees. BB&T Bank recently hosted a workshop for clients on how to grow their business by engaging their employees, and Kalodner points out that ever-growing competition in the internet technology space means that local employers have to consistently demonstrate to their employees that they are valued and prevent them from pursuing opportunities elsewhere to work for themselves.
"This year, employers realized more and more than they have to get smart and do things like invest in their employees' retirement programs, which we believe will be well worth it in the future. Now more than ever, you need your key employees to help drive sales and grow your profits," he concludes. "Not only will your business continue to grow, but everyone in the local community will benefit."
Published (and copyrighted) in South Jersey Biz, Volume 6, Issue 10 (October, 2016).
For more info on South Jersey Biz, click here.
To subscribe to South Jersey Biz, click here.
To advertise in South Jersey Biz, click here.