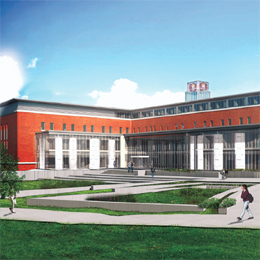 Focused on the Long Game
How often have you driven through Gloucester County, or caught up with a member of Rowan University—or Glassboro State—alumni and heard these words: "You won't believe what they've done with the place?"
Phrases like that have become the mantra of Gloucester County, whose slow and steady growth has led to a stunning and revolutionary new part of South Jersey that has people looking forward to the future.
PREPARING FOR THE PRESENT
Visually, the county has evolved drastically in the last decade. But the gears were turning in Gloucester County for almost 20 years, as manufacturing, eco-tourism and transportation became major industries.
"Right now [manufacturing is] the largest industry in New Jersey," says Les Vail, pres- ident and CEO of the Gloucester County Chamber of Commerce. "In Gloucester County you have about 500-plus manufacturers, including food."
The past decade has seen a true embrace of the county location.
"We've always been a place with proximity," says Vail, noting the county's distance from Philadelphia, New York, Washington, D.C., and the waterways. "From a distribution standpoint, Logan has become one of the largest distribution standpoints thanks to [Route] 295. From a business perspective, it all makes us attractive."
Charles Waters opened Pureland Industrial Complex in Logan almost 40 years ago, and it is now the largest per-square-mile industrial park in the state. "When we first started here 39 years ago, we thought the location might be in the middle of nowhere; now we have 3,000 people a day working here," he says. "And 90 percent of the companies in Pureland aren't local. They are benefiting because these companies need an East Coast presence and Pureland—and Gloucester County—pro- vide that."
Location has spawned a new business trend through agro-tourism, embracing Gloucester County's abundance of farmland and growth for the benefit of visitors. "The advent of eco-tourism in our region has been a wonderful addition to our economy," says Robert Damminger, freeholder director. "We have many farm- based businesses, including several wineries that have really built themselves into great enterprises and now we have a craft beer brewery in downtown Pitman. [And] we have farms ... that visitors flock to year-round for peaches, hayrides, apples and cider and so much more. "
Two clear building projects speak to the county's long-standing development: Rowan Boulevard and the Paulsboro Port.
"The borough and the leadership knew there was disconnect between the town and the university," says Ronda Abbruzzese, vice president of marketing and leasing for Nexus Properties, of the Rowan Boulevard project. Nexus built the Boulevard's parking garage and set up their own space right on the Boulevard, neighboring the Gloucester County Chamber of Commerce, Barnes & Noble and a handful of retail and food spots. "It's full of opportunity. All of these connections make this a vital part of the state, and we're very focused on what's happening here and making sure that we do a good job."
The soon-to-come Port of Paulsboro is proof that the county wasn't particularly hurt by the effects of the Great Recession.
"We started at the beginning phases of construction and planning probably around 2008 or 2009," says Kevin Castagnola, executive director and CEO of the South Jersey Port Corporation. The Paulsboro Port is aiming to begin operations this November. "It seemed like bad timing because the economy was bad, but for us it was good timing."
The port's convenient location on the mouth of the Delaware River, combined with the need for more space in the area, has made it very attractive.
"Paulsboro was a small port, and there was a footprint for us to start with," says Castagnola. "We took the natural facility, which was a brownfield, and put it to work. We like to say we planned it perfectly, but with just a little bit of luck it all worked out nicely."
AN EYE ON EDUCATION
Through any talk about Gloucester County business, Gloucester County's community or even residents, one word remains on the tip of everyone's tongue: Rowan.
"Rowan is growin'," laughs Dr. Joe Cardona, vice president for university relations at Rowan University in Glassboro. Growth would be an understatement: The school announced plans to open a medical school art medical school in 2012, was named a research university in that same year, then partnered with the former Gloucester County College— as well as Burlington County College—to create Rowan College at Gloucester County and Rowan College at Burlington County in 2014, a unique partnership that not only ties the public community college to the university, but also opens the county up for educational opportunities that were never possible.
The school is currently expanding its esteemed engineering program and building an all-new business school to allow room for more under-grad and graduate students. "The new building will allow us to double enrollment in the business school. By building the new college of business and engineering building we're able to expand the workforce because we're bringing in talent through the school," says Cardona. "These pieces of construction act as a hub and a catalyst."
The Rowan College at Gloucester County (RCGC) expansion is making real moves this academic school year with a series of programs designed to drastically reduce the cost of a bachelor's degree.
"The master's degree will soon become the new bachelor's degree," says Dr. Frederick Keating, president of RCGC. "Everything is moving up in credential demand, so we're looking at this as making the path to a degree affordable by encouraging people to start their education here."
That includes the traditional two-plus-two program, where a student attends RCGC and receives an associate's degree, followed by a two-year Rowan bachelor's degree. It also includes a Rowan Choice program that allows RCGC students to live on Rowan's campus and pay room and board fees and RCGC tuition.
New this year is RCGC's three-plus-one program, which just received state endorsement at the start of the school year. A student can attend RCGC majoring in psychology, nursing, liberal arts, criminal justice or communications (radio, TV and film) for three years, then finish their last year at Rowan University and receive a full bachelor's degree.
"Ultimately, you can get a degree from Rowan for under $35,000," says Keating. "It's the first in New Jersey and it's one of the more aggressive programs in the country."
"Students will not find a better bargain than higher education at up to half the price of traditional four-year tuition and it is not an accident that Gloucester County was one of the fastest growing locations in business creation," says Damminger. RCGC has also aggressively approached student work and high school course opportunities with county businesses. The campus recently received a $4.5 million Building Our Future Bond by the state and $30 million to build the College and Career Readiness Center, along with a new nursing and allied health building and a space for special needs employment transition.
These changes aren't just making the schools and their neighboring communities better, but growing the county as a whole. "We also have other construction on campus with the immediate benefit of hiring construction workers in the area," says Cardona, citing $630 million in building projects and future plans at Rowan alone. "That's a big boost to the economy on the front end, and then on the back end that means more students getting better education and access to more."
LOOKING FORWARD
If you ask Cardona for his five-year plan at Rowan, he'll tell you to think bigger.
"We like to picture our 25-year plan," he says. "In 10 years, we'll have more happening with construction; it will flip from Rowan Boulevard to High Street. In the next 10 years, there will be new buildings there that will make it more of an arts district. On our west campus you'll definitely see more buildings start to pop up as well. And by 2023 our goal is to have 25,000 students.
"When you work with a university you realize that you're going to be here with us, because we're going to be here for the next 100 years. Everybody involved in Rowan Boulevard has a view of the future, and is looking at the long view," says Cardona. "We'll see more and more of the partnership of businesses taking advantage of Rowan."
"Rowan is going to start to bring in an element of business that we don't traditionally have, and that is going to tie into the bioscience industry that didn't look at Gloucester County before. You're going to see a boon in high-level, higher-end housing as the white collar biomedical industry makes its move as well," says Vail. "You look into 10 to 20 years and we'll be working with all new industries. Now we'll be able to attract these people based on our affordable land and our wealth of talent."
When it comes to the immediate future, the final completion of the Paulsboro Port has everyone looking forward.
"I believe that when we see the Port of Paulsboro open later this year we are going to see many of our businesses really expand and find themselves being able to compete in a whole new marketplace," says Damminger. "It is going to literally open our county to a global marketplace."
As of now, NLMK Group, a steel company, is scheduled to be the first freight unloading in Paulsboro from Russia, the start of something truly big. "As soon as we get the first vessel and everything starts rolling, people will get to see what we can do," says Castagnola. "It's been a long time coming."
"Gloucester County is bursting with potential, from creating highly skilled jobs to unskilled labor jobs, to bringing in new industries and opportunities, and bringing in tourists through our tourism industry," says Vail. "I'm excited for the potential of our future, and for the direction that we're heading, which is the right direction."
WHAT BUSINESSES ARE SAYING
BARBARA WALLACE Mayor, Washington Township
"The growth and expansion of the health care industry in Washington Township provides many benefits to the county and to the entire Greater Philadelphia/South Jersey region. I'm excited to watch the industry grow in Washington Township and Gloucester County."
KIM NOLAN
Financial Services Officer and Branch Manager, Deptford Office Columbia Bank
"Everything you need is local and easy to get to. I live in Deptford where there is a mall and stores for shopping, professionals for personal needs like doctors, dentists, etc., and of course banks like Columbia Bank for the local hometown service."
WILLIAM HOFFMAN
President and CEO, Hoffman Exterminating Company Inc.
"We've found Gloucester County to be the best of both worlds. It's accessible to all different markets—Philadelphia, Wilmington, Camden, Burlington County. Gloucester County puts us right in the middle of our geographical footprint. It also has enough business here to support us and the farmland makes us feel comfortable, not in a city environment."
DEBBIE DUKES
General Manager, Compass Self Storage
"It is an absolute pleasure to operate a business in this county as well as take advantage of all of the businesses and amenities that it has to offer. What a great place to live, work, shop, eat, relax and just enjoy all that Gloucester County has to offer."
STEPHEN R. RANKIN
Executive Vice President, Brown & Brown of New Jersey
"Seeing the growth, development and revitalization of the area and all of the new opportunities coming into Gloucester County, providing new jobs, experiences and opportunities to the residents and others, we are proud and excited to be a part of that continued growth."
DAVID DRUBIN
Director of Sales, Courtyard by Marriott Glassboro
"The Gloucester County Chamber makes it very easy to do business because of their engagement within the community, within the political environment and with businesses in the area. And the Southern New Jersey Development Council keeps a focus on the economic development of the area from a building perspective."
MELISSA WALCZAK
Chief Executive Officer, YMCA of Gloucester County
"We're able to reach throughout the county, in Paulsboro, Clayton and Washington Township. And everyone is welcoming. It makes it a great environment to want to provide the very wide services that we offer, from healthy living, youth development and social responsibility."
RONDA ABBRUZZESE
Vice President of Marketing and Leasing, Nexus Properites
"Gloucester County has a lot to offer, whether it's Glassboro or beyond. The chamber is one of the largest chambers in the state. The county makes connections that are amazing. All of those things make this county so valuable."
Published (and copyrighted) in South Jersey Biz, Volume 6, Issue 9 (September, 2016).
For more info on South Jersey Biz, click here.
To subscribe to South Jersey Biz, click here.
To advertise in South Jersey Biz, click here.