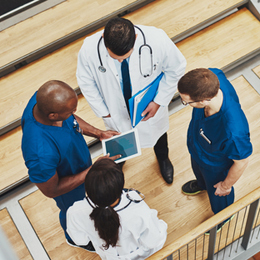 Trends in Modern Medicine
In South Jersey, the health care industry has transformed dramatically thanks to legislation like the Affordable Care Act, changed in the relationship between hospitals and insurance companies, as well as changing demands from consumers who are seeking the highest level of health care closer to home—and at an affordable cost.
Today, there aren't many communities in South Jersey that aren't home to an urgent care center—and more and more ambulatory care centers continue to crop up throughout the region. Serving the South Jersey market for nearly two decades, Nemours has been partnering with community hospitals to deliver enhanced levels of care in fields such as neonatology, as well as opening the doors of ambulatory specialty centers, such as its successful Voorhees location. Along with building a new hospital in Gloucester County near Rowan University, Inspira is also expanding its services by opening new urgent care centers, while AtlantiCare recently merged with Geisinger and is continuing its expansion into Camden County by open- ing multiple urgent care centers.
"Probably the biggest trend in the industry is that families have asked us to bring care closer to home. ... It was clear that we needed to develop ease of access and convenience within the communities we serve," says Pauline Corso, chief operating officer for Nemours Delaware Valley physician network.
Virtua also has a stable of urgent care centers, such as its Virtua Express Urgent Care in Cherry Hill, and has plans to open five or six more within the next two years, according to Rebecca Lynch, senior vice president and chief operating officer at Virtua Medical Group. The ultimate goal is to meet the rising demands of consumers wanting health care as quickly and conveniently as possible. "Today, consumers want what they want when they want it, and we've really made an effort to listen to our patients to learn how we can both create a network of ease and convenience as well as get to know them and their health care needs on a more personal level," Lynch says.
Not only are hospital systems expected to offer additional locations, but the ways in which health care is delivered has also changed dramatically. Virtua is meeting new demands by offering services ranging from call-ahead seating at its urgent care centers as well as telemedicine opportunities, where patients can use photos and video to connect with their doctors and receive a diagnosis or additional instruction on caring for injuries such as wounds. "Our mission is to help people get well, be well and stay well, and we feel that our urgent care centers and partnerships with organizations like Penn, CHOP and CVS are helping us to achieve that goal within the communities we serve," Lynch adds.
In their efforts to provide a higher level of service than ever before, AmeriHealth recently announced a collaboration with Accolade, an on-demand health care concierge for employers, health plans and health systems. The goal of the partnership is to offer a highly personalized health assistance service to help members make the most of their benefits; "Accolade Health Assistants" will serve as a single point of contact to help members and their families navigate the complexities of the health care system and learn how to utilize their benefits and health care coverage more effectively.
"We've essentially taken the traditional customer service model that's employed by health insurance companies and turned it upside down," says Mike Munoz, senior vice president of sales and marketing for AmeriHealth New Jersey. This shift represents the demands for a more holistic approach to health care, he notes. "A member will walk away with the number of an individual they will speak to all the time, so they can build a long-term relationship and have a better understanding of their available benefits and resources, and we can have a deeper understanding of that person's health care needs," he adds.
Many health care organizations are also opening specialized centers to bring the most highly trained specialists and the latest technology all under one roof, such as Nemours DuPont Pediatrics' new comprehensive pediatric center in Deptford. "We saw that there was a need for pediatric specialists in New Jersey, so we recruited dedicated specialists for our Deptford lo- cation and we're already seeing how grateful families are to have high-quality, world-class care right in their community and in a beautiful setting," Corso says.
But perhaps nothing is changing the economics of the industry more than the way health care is now being financed. Across hospitals and health care systems statewide, the Affordable Care Act brought forth a new emphasis on quality and prevention—with hospitals, and eventually physicians, being reimbursed based upon quality outcomes. "It's particularly affecting hospitals, which are being held accountable by the payers for quality and satisfaction. ... But meanwhile they're juggling the demands of the health care system to provide the highest quality care but at the lowest cost possible to the patient," explains Dr. Thomas Cavalieri, dean of Rowan's School of Osteopathic Medicine.
That's a big part of why South Jersey's universities are placing a greater emphasis than ever before on generating what Cavalieri calls "practice-ready physicians." "We have to be sure that we're producing physicians who can meet today's demands, and that are ready to practice in the current state of the health care environment," he adds. "If hospitals are being held accountable and evaluated and reimbursed based upon patient satisfaction, then the physicians of tomorrow need to be very skilled in assuring quality in patient care. ... which means they need to know how to combine their skills and training with good communication and compassion."
To that end, Rowan University is currently undergoing curricular reform for its medical students, with a focus on topics like quality assurance and patient safety, as well as population health. "We are evaluating our students and trainees to be sure they have effective interpersonal and communication skills with patients, and that they know not only how to take care of a patient at their bedside but also that they know how to do their part to help care for their community," he adds.
According to Dr. Ronald Barg, executive director of clinical care associates at Penn Medicine, the shift toward population health is a massive trend throughout South Jersey and across the country, with health care organizations going to great lengths to help patients manage chronic diseases in a long- term way and educating consumers on how to make healthier choices in their everyday lives. "We all once had to see ourselves as systems that sold a product— health care—and the more we sold, the better we did," he says. "But now we're all working toward taking a close look at the collective health of the population we're responsible for and focusing on maintaining their health through the improved delivery of preventive health care."
The spirit of teamwork is also alive and well, particularly in South Jersey. Among the most significant trends in the local industry is the drive toward consolidation and sharing efforts, especially when it comes to new initiatives in population control. Ac- cording to Betsy Ryan, president and CEO of the New Jersey Hospital Association, the major health care systems in South Jersey—Cooper, Inspira, Kennedy, Lourdes and Virtua—have teamed up to form the South Jersey Behavioral Health Collaborative in an effort to find solutions to the behavioral health crisis that is impacting both New Jersey and the nation. "We have patients with chronic conditions showing up in our emergency departments in crisis ... and we're trying to look at the system of care to see what we can do better," she explains. To meet the growth in the number of patients seeking surgery, for example, Cooper University Health Care has opened four new operating rooms since May.
Taking it a step further, many hospitals are actually merging their resources in order to combine and expand services. Among the most recent collaborations, Kennedy Hospital recently announced a merger with Jefferson Hospital in Philadelphia. "Hospitals are now increasingly focused on well care and keeping patients out of the hospital. ... that's why we're seeing outpatient clinics and urgent care centers springing up to care for people in the community in a lower cost setting—so they can avoid the cost of an emergency room visit," Ryan adds. "Consolidation and new clinical affiliations allow the sharing of best practices between one institution to the other, and enhancing the quality of care and patient safety."
The Kennedy and Jefferson merger still requires state and regulatory approval, but is intended to expand an existing partnership in cancer care and neuroscience in addition to enhancing the hospitals' offerings in other areas of medical care. Meanwhile, Kennedy is moving forward with several large-scale projects, including a medical office building and new patient tower at its Cherry Hill campus as well as a new patient tower and enclosed parking facility at its Washington Township campus. "We continue to see growth and change in health care, and the Affordable Care Act eloped bring opportunities and initiatives to have alternative care locations. …Buit we believe we still need to build up our hospitals," says Joseph W. Devine, president and CEO of Kennedy Health. "Now we'll have Jefferson working with us to continue to grow our services for the community and provide new opportunities for the highest level of care." The merger should be finalized around the summer of 2017, and will also allow Kennedy to continue to develop new initiatives, such as its successful diabetes control program to further the push toward population health management. "We want patients in our community to seek health care and have access to all of the services they need right here in South Jersey— without having to travel across the river," Devine adds. Dr. Erol Veznedaroglu, neu- rosurgeon at Lourdes and director of the Drexel Neurosciences Institute, agrees that for the past decade there has been a push to make the level of care that's associated with major cities like Philadelphia available right here in South Jersey. "South Jersey has been in the throes of this 'merger mania,' so to speak. ... But the key is really integration, and how we're going to integrate our hospitals and other health care organi- zations to deliver the high-quality care that today's consumers are demanding," Veznedaroglu asserts.
Lourdes recently cut the ribbon on a new hybrid lab that's designed for advanced, minimally invasive neurosurgery and cardiovascular surgery, from endovascular procedures for stroke and brain aneurysms to cutting-edge cardiac procedures. The hospital is also completing a major $100 million renovation of its hospital in Camden. "We believe that the days of huge 500-bed hospitals system that do all things for all people are coming to an end because they just can't provide the level of service that the industry demands," Veznedaroglu adds. "That's why we feel hospitals have to specialize and do one or two things really well. ... And, based on our statistics we're competing head-to-head with major health systems when it comes to neurosurgery and cardiac care."
Dean Molz, vice president of business development at COFCO, agrees that many hospitals are now focusing on specializing their services and branding their organizations—and, in some cases, no longer look like traditional hospitals. "When it comes to their physical facilities, what we traditionally think of as a hospital or sub-acute center has become very specialized because care is being offered in ambulatory locations out in the local communities," he says. Among the many changes hospitals have made over the last few years is how they brand themselves and their facilities. "Hospitals have had to embrace the idea of becoming retail outlets, and learning how to deliver health care in a very consistent, branded sort of way," he adds.
Penn Medicine is also working on a massive project to open a new location in Cherry Hill in response to what Barg notes is a major trend in the shift to delivering services in more a retail-based model. "More and more health systems are becoming large, integrated centers and offering primary, specialty and ancillary services. ... And I think that trend is going to continue," he says.
Looking ahead, health care professionals agree that the change in the relationship between hospitals and insurance companies will continue to have a widespread impact on both the local and national health care industries—but potentially for the benefit of patients. "It's no longer effective for the payer and provider to be on opposite ends of the table. ... They really have to come together and find sustainable solutions to get to a place where families have access to care in lower cost settings—without compromising quality," Corso concludes. "Families look to us and assume they'll receive quality care, and we know we can do that. ... But at the same time we want to take away some of the friction that has existed between payers and providers and channel that effort and energy into coming up with solutions that make sense to both of us moving forward."
Published (and copyrighted) in South Jersey Biz, Volume 6, Issue 9 (September, 2016).
For more info on South Jersey Biz, click here.
To subscribe to South Jersey Biz, click here.
To advertise in South Jersey Biz, click here.